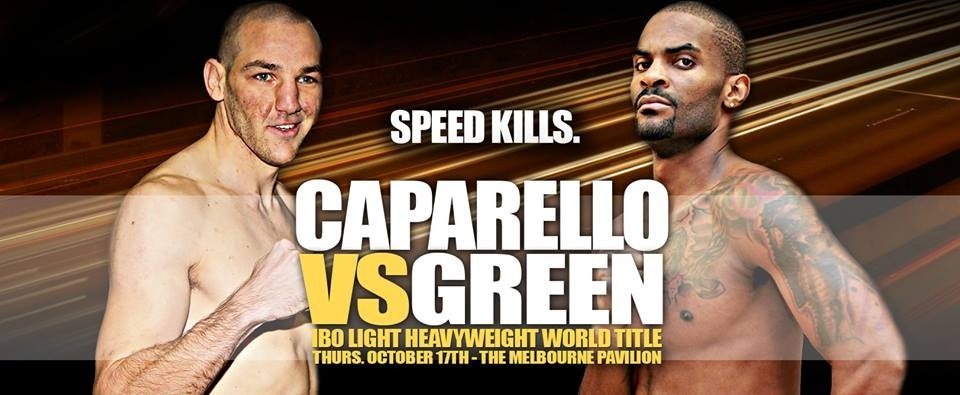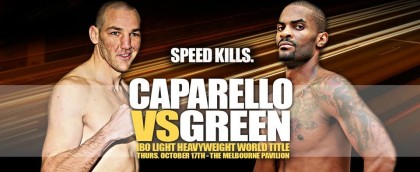 The vacant IBO Light Heavyweight World Title fight between American Allan Green 32-4 and Australian Blake Caparello 17-0 will take place in Australia, October 17 at the Melbourne Pavilion.
Green will start red hot favourite for the title despite travelling to Australia for the contest. Green had a stellar amateur career winning 4 regional Golden Glove tournaments and the 2002 National Golden Glove tournament finishing with an amateur record of 55-5. In stark contrast Caparello had only 9 amateur fights before turning pro.
I asked promoter Brian Amatruda his thoughts on the show: "Firstly I would like to thank my promotional partners Mick Gatto, Barry Michael, Sam Labruna and Noel Thornberry for getting this great fight card off the ground. Our goal is to bring these big fights to Australia and the IBO Light Heavyweight World Title has some great past champions in RJJ, Antonio Tarver, Bernard Hopkins, Chad Dawson and Jean Pascal."
When asked his thoughts on the match up Amatruda replied; "I'm kind of surprised team Caparello took the fight. On paper they are way over matched and outgunned, however this is why I love this fight as the home town fighter is the underdog so it's sure to get the crowd excited."
Comparing the two fighters pro records two things stand out – Allan Green has more than double the professional fights and more than double the knockout victories. While Caparello is undefeated, he has never faced the standard of opponents Allan Green has faced.
Allan Green's agent Greg Leon stated: "Allan won't lose to B-grade fighters, Caparello's team has made a big mistake in picking Green."
Caparello's manager and trainer Sam Labruna had the following to add: "End of the day this is a big step up for Blake. Green has obviously proven himself on the World scene and now it's Blake's chance to show he's at the same level." Labruna continued, "Green is a very good technical boxer however that style is ready made for us."
In what looks to be an enthralling contest, the real question is can youth overcome experience?
One thing is for sure some big fights await in 2014 for the new IBO light heavyweight champion.