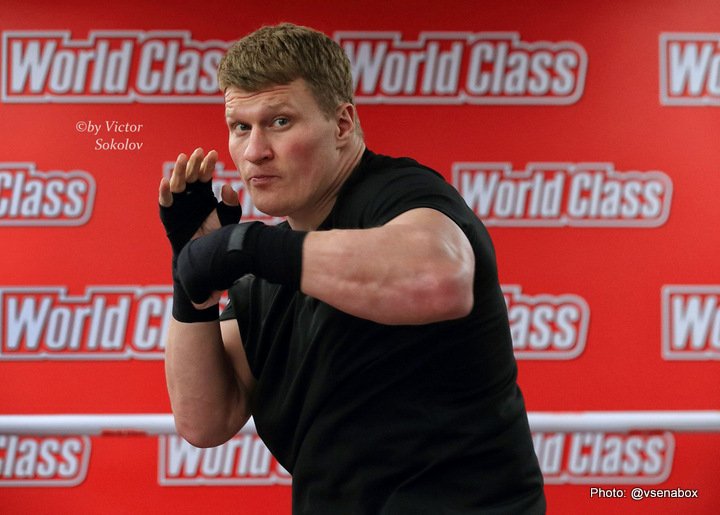 The upcoming clash between WBA and IBF heavyweight champ Anthony Joshua and WBO ruler Joseph Parker is intriguing enough – but for fans to really feel the urge to part with some pay-per-view cash a solid under-card may be needed. It seems Eddie Hearn is trying to provide one.
Heavyweight fights are always a good sell, and Hearn says the main event could feature an appearance by Russia's Alexander Povetkin. What's more, if the former WBA champ who has lost just once (to Wladimir Klitschko) does box on the March 31 card in Cardiff, Wales, "it will be against a Brit."
"We've got a great relationship with World of Boxing (who look after Povetkin) and he might box on the card," Hearn told Sky Sports. "We've offered it to Dereck Chisora and David Price. If Povetkin boxes on the card, it will be against a Brit. Povetkin is a good name, and a good heavyweight. And it gives a Brit a chance to be involved in a big fight."
It remains to be seen if either Price or Chisora takes the offer that is on the table, but what an interesting fight either match-up would be – in it's own right, even more so, value for money-wise, as an under-card fight. Chisora lost his last fight and he needs a statement of intent if he's to carry on in the minds of the fans, while Price, who has lost in devastating fashion on more than one occasion but has shown heart in refusing to give up, would benefit enormously by a win over Povetkin.
But can either Brit beat the tough, experienced and skilled Russian? Again, it sure would be interesting, and fun, finding out. Povetkin is not without his critics of course (those failed drugs tests, or alleged failed tests, do cast a shadow over the former champ's name) but he is, as Hearn says, a good name.
And what a good name he would be on the record of either Price or Chisora. It could be that Povetkin makes a big UK debut this late in his pro career. And of course, Povetkin, 33-1(23) is very much in the frame to fight Joshua later this year, being as he is the WBA mandatory challenger.