Alexander Povetkin still hasn't said whether he'd retire from boxing following his crushing fourth-round knockout loss to Dillian 'The Body Snatcher' Whyte on March 27th in their rematch on Gibraltar.
While Dillian said he would give the 41-year-old Povetkin a trilogy fight if he wanted, his promoter Eddie Hearn has already ruled that out.
When asked if there's a possibility of Whyte giving Povetkin a third fight, Hearn told DAZN that he needs to retire. Hearn's next opponent for Whyte is one of these three: Deontay Wilder, Andy Ruiz Jr, or Trevor Bryan. In other words, Povetkin is not in Whyte's plans.
Povetkin (36-3-1, 25 KOs) looked old and was never in the fight before getting dropped in the fourth from a left hook from the younger and much bigger 6'4″, 247-lb Whyte.
Povetkin was naturally upset at losing the fight, which he arguably should have never agreed to, given that he had a long bout with COVID 19 late last year. It would have been wiser for Povetkin to delay the rematch with Whyte until June or July to make sure he was 100% before fighting him again.
It worked in Whyte's favor for Povetkin to be coming off of COVID, and now there's no chance for him to avenge the loss.
Whyte and Hearn would have obviously been annoyed if Povetkin had decided to walk away after knocking Dillian out in the fifth round last August. Still, he graciously agreed to give him a rematch.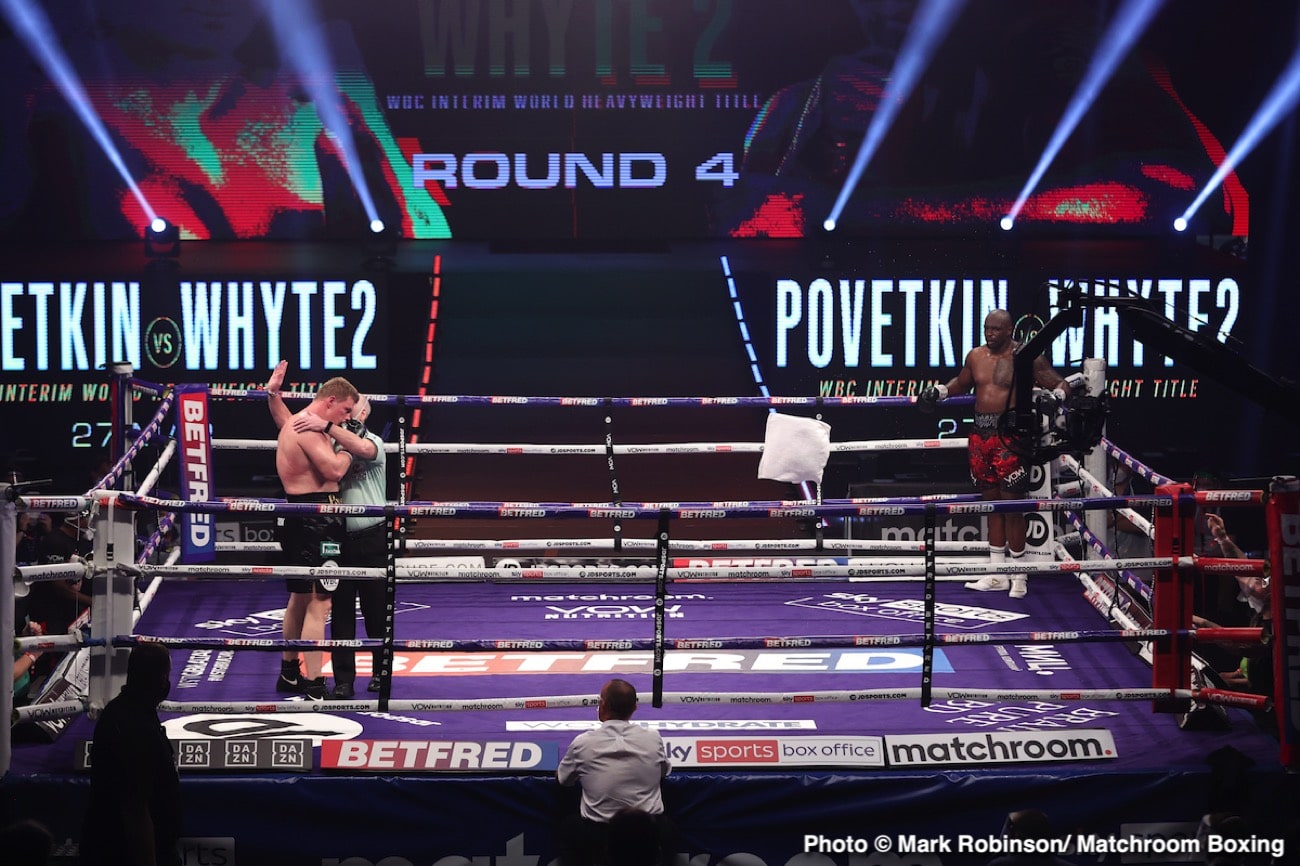 But now that Whyte has won, we're not going to see the same gesture given by him and his promoter, unfortunately.
"Now is the best time to end his career," promote Andrey Ryabinskiy said to Sky Sports about Povetkin. "Sasha has a 1-1 score with one of the best heavyweights in the world. I will try to persuade Sasha, but it's his decision to make.

"We will support him in any case. Yes, we've talked right after the fight. Sasha, of course, is upset that he couldn't beat Dillian. But it's a sport, you need to be prepared for any outcome."
The question is, can Povetkin get himself back to the level he was at when he beat Whyte last year? Povetkin looked like he only 50% of the fighter he was a year ago, and it's unknown if he has gone downhill because of age or if the COVID illness did something to him.
If it's the latter, Povetkin needs more time to recover from the illness slowly, and he should be back to full strength at some point.
Hearn seemed skeptical about Povetkin's ability to work his way into a position to fight for another world title, but he could be wrong.
If Povetkin puts together wins over Joseph Parker, Andy Ruiz Jr, or Michael Hunter, he'll be knocking on the door for another world title. It's not necessarily the end of his career just because he lost to Whyte.
With an illness like COVID, it would be hard for anyone to come back from it within four months to fight an elite-level heavyweight as he did. In hindsight, Povetkin needed a tune-up after his illness rather than jumping right back into a fight with Whyte.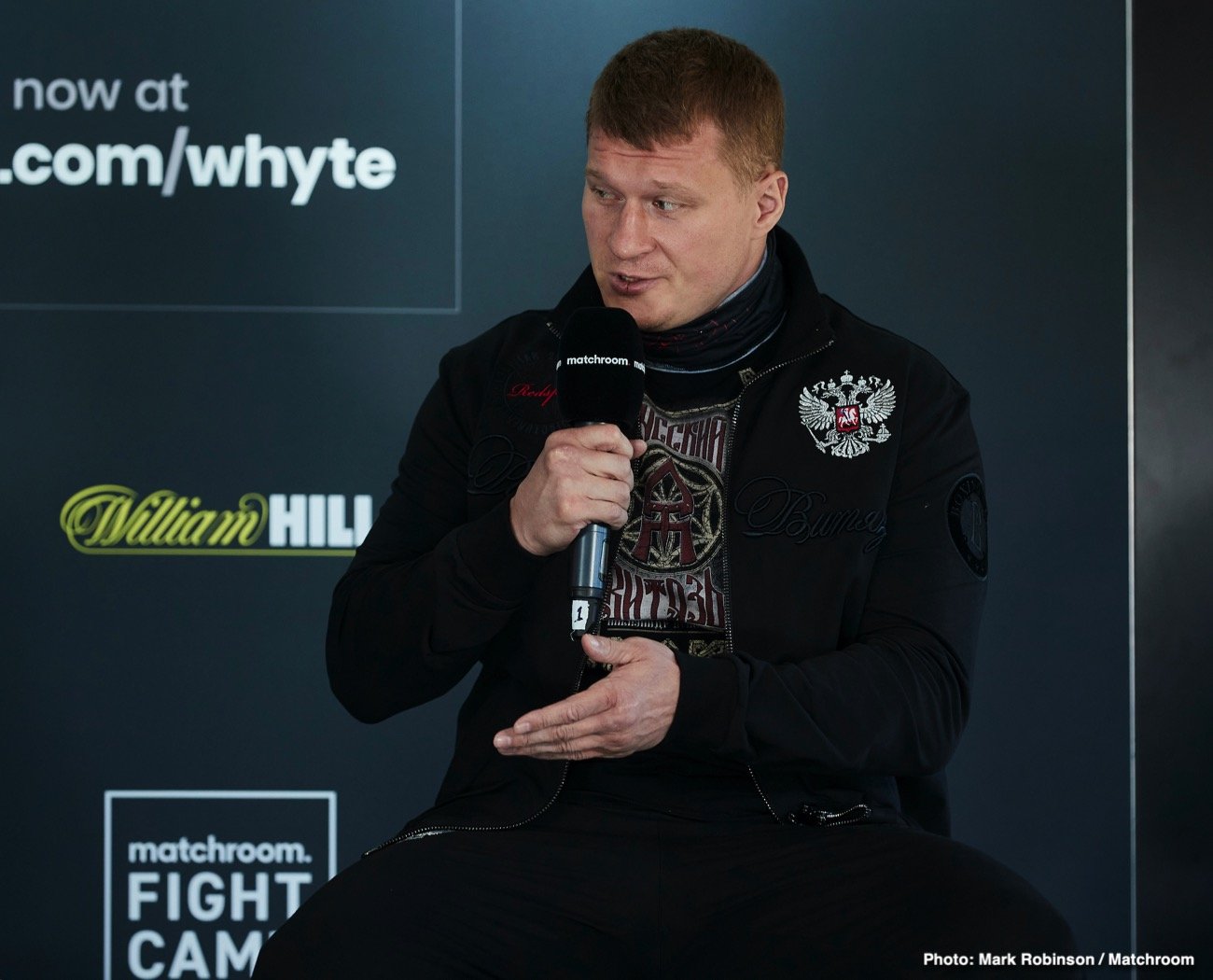 Obviously, it worked well for Whyte that Povetkin chose to fight him coming off the illness, but he didn't do himself any favors by returning so quickly against a top-level fighter.