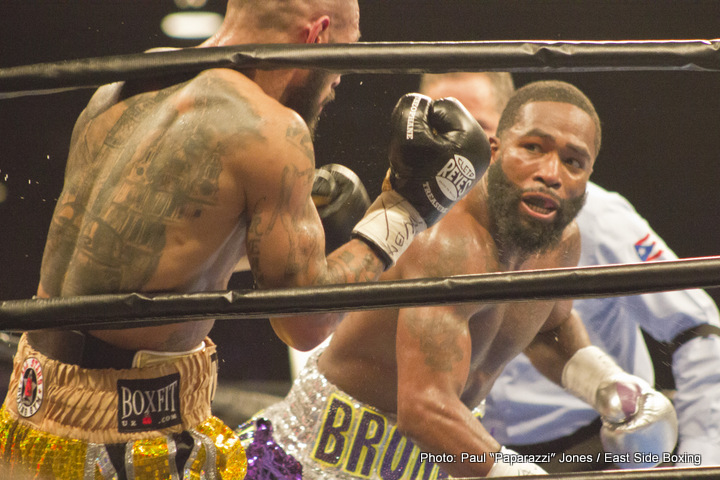 WBA 140-pound champ Ricky Burns, who has already enjoyed a quite amazing career, has even more incentive to successfully defend his belt against dangerous puncher Kiryl Relikh on October 7. Scottish hero Burns, who rejuvenated his career by winning the WBA light-welterweight title earlier this year, becoming a three-weight champion, could fight American bad boy Adrien Broner in December of this year if he comes through next month against the Ricky Hatton-guided Relikh.
Speaking with STV News, Burns, 40-5-1(14) said talks between his team and Broner's team have been ongoing and that a fight out in Las Vegas would be something he'd really like. Burns insists, however, he is not underestimating the unbeaten Relikh, 21-0(19)
"Adrien Broner sent out a Tweet saying, 'Go out and get the job done and then me and him are going at it,'" Burns said. "I don't really like looking beyond opponents but I know that fight has been talked about at super-featherweight, lightweight and now light-welterweight. There were a few different names mentioned, all top names that could happen in America. But Kyril has got my full attention right now and it's going to be a tough fight. A trip out to Vegas would be nice but we need to get by the October 7 fight first."
Burns, who has never been stopped, says he has the chin needed to beat Relikh, and that training has been going well. Hatton, though, says his fighter is destined to become a world champion and that he will ruin Burns' plans next month. If this happens, will Broner look at challenging the 26-year-old from Belarus? That's a different story. Burns may be a fair bit older than Relikh at age 33 and he has only won four of his last seven fights (having overcome a sticky patch that saw him lose three out of four fights in 2014/15) but he has great experience.
Relikh is young and hungry and he can bang, but he has never before fought anyone of Burns' class. October's fight will prove very interesting, and Adrien Broner and other big names at 140-pounds will be tuning in to see what happens.