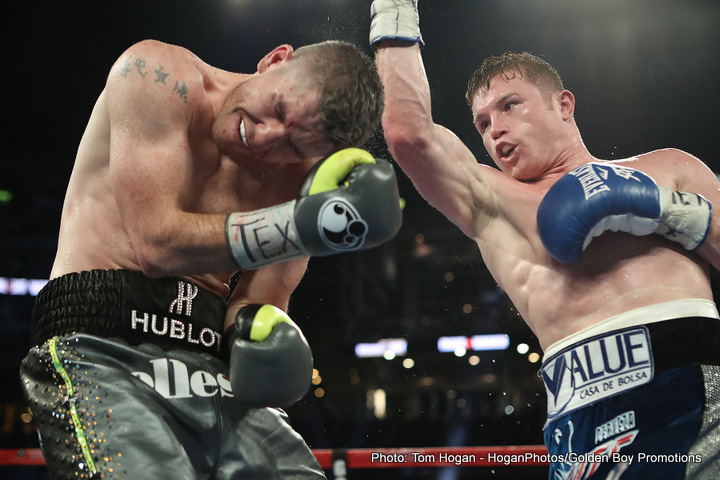 Today Canelo Alvarez visited specialist Dr. Pedro Jaime Lomeli, after injuring his right hand during his ninth round knockout victory over Liam "Beefy" Smith to win the WBO Junior Middleweight World Championship on September 17, 2016.
After taking x-rays and conducting a CT scan, the doctor found an avulsion fracture of the right thumb. Canelo does not need surgery and the prognosis is excellent.
Canelo's hand will be immobilized for the next six weeks, and he will be unable to fight again in 2016.
This does nothing to Canelo's plans to move up and take on the best in the middleweight division next year.
REAL COMBAT MEDIA WEEKLY BOXING REPORT
By Jason Gonzalez,Real Combat Media Arizona Boxing Correspondent
Welcome back to another edition of the Real Combat Media Boxing Weekly Report "Boxing Blaze Edition" where we cover all the top news stories in boxing each week!
Sunday (September 11, 2016)
Saunders has a belt but Jacobs is the mandatory
Gennady Golovkin currently holds the WBC, WBA, IBF, and the WBO belts at Middleweight and might be on his way to get the WBO belt. A week ago Golovkin beat Kell Brook by 5th round technical knockout in the O2 Arena in England. The day after the WBA order that Golovkin fight his mandatory Daniel Jacobs which is another prominent name at 160 lbs. The WBA Middleweight belt was not on the line in Golovkins fight against Brook. Maybe it was to preserve the fight against Jacobs in the occasion that Brook pulls of an upset. As of September 11th Golovkin and Jacobs now have 30 days to negotiate a fight and 120 days for the fight to take place. If they do not negotiate the fight in 30 days the fight will go to purse bid.
Golovkins promoter Tom Loeffler says that if for whatever reason they can't make the fight with Jacobs then they would want a unification match against Billy Joe Saunders who has the WBO middleweight belt. Golovkin and Saunders have negotiated a fight in the past but it didn't go far. It seemed like Saunders did not want to fight Golovkin but Saunders is now assertively calling out Golovkin. Saunders has gone as far as posting videos on his Twitter page where he yells saying he's ready for Golovkin. The only thing getting in the way of Golovkin vs Jacobs is network problems because Golovkin only fights on HBO and Jacobs only fights on Premier Boxing Champions or Showtime. Saunders wouldn't have a network problem with Golovkin making the fight easier to make. HBO has a November 26th date reserved for Golovkin. Frank Warren did mention at the Canelo vs. Smith media week, he is back in preliminary talks with Saunders and Golovkin for a possible fight that may take place in February of 2017.
Monday (September 12, 2016)
Eubank Jr Wants Golovkin fight
Gennady Golovkin was believed to be this indestructible monster at 160 lbs and now people are questioning if that's true after he looked vulnerable verses Kell Brook. One of the fighters interested in fight Golovkin is Chris Eubank Jr.
Before Golovkin signed to fight with Brook he was in negotiations with Eubank but the negotiations did not go through. Eubank Jr was given a contract and an expiration date to that contract. When Eubank didn't sign the contract his promoter proceeded to offer the fight to another of his fighters which ended up being Brook. According to Eubank's promoter, Eddie Hearn, Eubank Sr. who happens to be Jr's manager was asking for too much. Hearn said that Eubank Sr wanted to pick commentators, ticket cost, fighters on the undercard, and the salary of those fighters. That in fact is the promoter's job to worry about all those things. Now that Golovkin need a new opponent Eubank Jr has come out once again to express his interest; let's hope this time his dad doesn't get in the way.
Klitschko and Fury take Vada Testing **
At one time Wladimir Klitschko was undisputed Heavyweight Champion and hadn't lost over 11 years but that changer when he stepped into the ring with Tyson Fury. On November 28, 2015 Tyson pulled off the upset of the year and beat Klitschko. The two will now meet in the ring once again in a rematch almost a whole year after their first fight. Most importantly the two will be going under VADA testing which is known as the best and most strict drug testing available. Wladimir Klitschko and Tyson Fury are set to meet on October 29, 2016 in the Manchester Arena.
Tuesday (September 13, 2016)
WBC President wants Wilder vs Joshua
Currently American Champion Deontay Wilder holds the most prestigious belt at heavyweight which is the WBC belt. Across the world British Champion Anthony Joshua holds the IBF heavyweight belt. The WBC President hopes that Wilder and Joshua face off in the ring soon. He's not the only one wanting to see that fight, boxing fans alike would rejoice over news of these two finally getting the chance to trade shots. As of now Wilder is looking into fighting against the winner between Alexander Povetkin and Bermane Stiverne. Anthony Joshua on the other hand has a fight scheduled for November but the opponent is yet to be determined.
Wednesday (September 14, 2016)
Monroe is ticket to Rosado vs Canelo
Saturday night on September 17, 2016 Gabriel Rosado and Willie Monroe will fight on the undercard of Canelo vs Smith. As of right now there it is not clear who might fight Canelo next. Rosado thinks that a win over Monroe on Saturday can be his one way ticket to a Canelo fight. With Golden Boy taking extra care of Canelo Álvarez at the moment it wouldn't be out of the realm of possibility for a Rosado fight. And if Rosado wins his fight on Saturday by knockout it would certainly increase his chances too. So what about Monroe? Monroe has a similar style to Lara where and it would be a difficult fight and most likely not as entertaining as the fans would like it. A fight with Monroe would be too much of a risk plus Monroe currently doesn't have a name or a belt so why would Canelo go chasing after this difficult fight?
Kovalev lands right punch and he can knock down Ward
The throne for the best pound for pound fighter in the world has yet to be filled after Floyd Mayweather retired about a year ago but that spot might be filled soon. Sergey Kovalev and Andre Ward are set to fight in the T-mobile Arena in Las Vegas on November 19, 2016 and the winner will most likely be the number one on many boxing analysts pound for pound list. Recently Kovalev's trainer said that he believes that if Kovalev lands the right shot he can knock Ward down. Ward has been knocked down in the past by smaller fighters so it is possible that Kovalev can replicate those same results. Kovalev's trainer also believes that his camp needs make some adjustments due to Ward's high ring IQ; after all Ward hasn't lost a fight since he was 12-years-old.
Thursday (September 15, 2016)
According to De La Hoya 40,000 ticket sold wants 70,000
The AT&T stadium has a capacity of 80,000 people and Oscar De La Hoya hopes to fill 70,000 of those seats for the Canelo vs Smith fight. Currently only 40,000 tickets have been sold so a lot selling needs to take place by that time.
Friday (September 16, 2016)
Lomachenko willing to go up or down in weight
Vasyl Lomachenko (6-1) is said to be a glitch in the matrix, meaning he is unbelievable good at boxing. Lomachenko moved up from 126 lbs to 130 lbs to fight Roman Martinez for the WBO belt a that weight class and Lomachenko was victorious. Most of the fighters at 126 lbs were signed with Al Haymon and fought on Premier Boxing Champions while Lomachenko could only fight on HBO so he moved up in weight. Recently Lomachenko's manager, Egis Klimas, said that Lomachenko might not be done moving. According to Klimas, Lomachenko is willing to move up in weight to fight and could even go back down in weight depending on the fight that is offered to them. Lomachenko is currently looking for a date to fight on. His team is currently looking at November. As of now his next opponent is yet to be determined.
Saturday (September 17, 2016)
Canelo vs Smith
Saul "Canelo" Álvarez (48-1-1) successfully defeated Liam "Beefy" Smith (23-1-1) on September 17, 2016 at the T-mobile Arena in Las Vegas, Nevada. The fight ended in the 9th round by knockout when Canelo landed a devastating shot to Smith's liver. Smith had went down a total of three times in the fight, the first two times were also caused by body shots so it was only a matter of time before Canelo found the sweet spot to end the fight for good. From the first round it was apparent that Canelo was the better boxer overall. Canelo was stronger, smarter, and faster than Smith. It seemed like Canelo took no affect to Smith's punches. Not once in the fight was there an x-factor that made you wonder if Canelo was ever in danger.
Often times Canelo would lean on the ropes and give Smith a chance to let his hands go. It looked like Canelo was doing this to tire Smith down and it also looked a trap where Smith would walk in thinking he was in charge when in reality Canelo was leading him into the lion's den. Canelo claims that in the second round he hurt his right hand and had to minimize its use. This begs the question, could he have finished the fight sooner if his hand didn't get hurt in the 2nd round?
An even more important question is who will Canelo fight next? Obviously boxing fans are begging for a fight with the monster at 160 lbs who goes by the name of Gennady Golovkin, but it seems that matchup is not in the interest of Canelo's promoter Oscar De La Hoya. During the post fight interview commentator Max Kellerman called out De La Hoya's inability to put Canelo in the ring with Golovkin. It seems like Canelo is willing to dive in head first to prove the critics but De La Hoya on the other hand might be afraid of losing his cash cow. One thing that didn't make sense was when Max Kellerman asked Canelo about the possibility of a fight with Golovkin and Canelo said that they had offered golovkin the fight with a eight digit salary. One month ago Canelo was in training camp for Smith so how could he be negotiating such a big fight during his camp. Golovkin has come out and implied that this offer was never made. As of now it is not clear which team is lying and which team is telling the truth.
It's not clear whether or not Canelo is moving up in weight or if he's staying at 154 pound division. Right now the some of the possible fights would be against (but not limited to) Billy Joe Saunders, David Lemieux, and maybe even Curtis Stevens.
Undercard
On the Undercard of Canelo vs Smith there was three fights all of which had Golden Boy fighters in them. The first fight was between Diego De La Hoya (16-0) , Oscar De La Hoya's cousin, verses Luis Orlando Del Valle (22-3). De La Hoya and Del Valle were almost evenly matched but De La Hoya's punches were the cleaner and more effective. De La Hoya won the fight by unanimous decision. Next on the undercard was Joseph Diaz (22-0) vs Andrew Cancio (17-3-2). More often than not Diaz was outworking Cancio and to make it worse Cancio didn't have much to respond with. In the 9th round the referee thought Cancio had taken enough punishment and stopped the fight. Diaz won the fight by technical knockout.
In the co-main event Gabriel Rosado took on Willie Monroe at the middleweight division. Rosado had hoped that a win over Monroe would be his one way ticket to a fight with Canelo. Unfortunately for Rosado he could not compete with the faster and smarter Monroe. A majority of the fight was Monroe waiting for Rosado to make and move and then Monroe would counter him. Rosado wanted to a fight but Monroe likes being a chess match where brains beats brawns. The judges scored the fight a unanimous decision for Willie Monroe.
Please stay tuned every week for news and updates. If you have any questions that you want answered in the weekly report please email me at jasongonzalez@realcombatmedia.com or follow me on Twitter @boxingblaze or on Facebook at Jason Gonzalez.