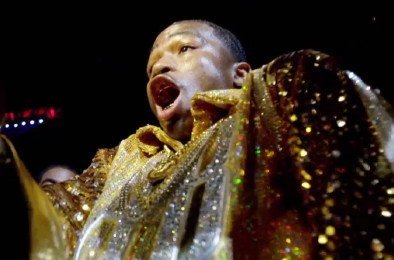 On New Years day former WBA welterweight champion Adrien Broner (27-1, 22 KO's) surprised many fans by saying that he'll win another world title belt at 147. This is kind of a shock, because Broner looked so bad in losing to Marcos Maidana last month by a 12 round unanimous decision on Showtime. So bad was the loss that many fans recommended that Broner move down in weight.
Even Broner's role model Floyd Mayweather Jr. advised him to move down to 140 at least to try his hands at that weight. But judging by Broner's comments it doesn't look like he's going to follow Mayweather's advice of the advice of his many fans and critics.
I love everybody that hate me and the ones who stayed down with me while they try to bring me down I will be welterweight champ again

— Adrien Broner (@AdrienBroner) January 2, 2014
It's going to be awfully tough for Broner to find his way in he 147 lb. division unless his promoters at Golden Boy can steer the perfect course in matching him against vulnerable fighters. But Broner's goal is to be welterweight world champion again, and the only way he can do that is to beat one of the following 147 lb. champions: Mayweather Jr., Maidana, Shawn Porter, or Tim Bradley. You can scratch Mayweather and Bradley off that list, because Broner won't fight either one of those guys.
That leaves Porter and Maidana. The only way that Broner can beat Maidana is if he changes his fighting style to become a lot busier as far as throwing punches. Broner doesn't throw enough punches to beat someone like Maidana, so the chances are he'll get outworked by him again if they face each other in a rematch this year. Maidana is stronger and he throws more punches. That right there is enough for him to beat Broner every time they fight unless Broner can score a stoppage win over Maidana, and that's not likely.
Broner would have a lot of problems with Shawn Porter as well because he's strong, and he does a good job of crowding his opponents and outworking them on the inside. Unless Broner could throw more punches than he typically does, he'd find himself needing a knockout to beat Porter.
At some point Broner will figure out that he'd not cut out for the welterweight division. It might take another loss or two for the message to sink into his head, but he'll eventually get it and move down to 140 or 135. Right now Broner probably doesn't want to be seen giving up on the welterweight division because that's where most of the big money fights are located at.