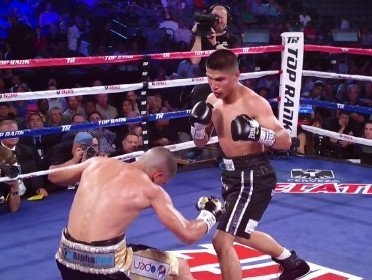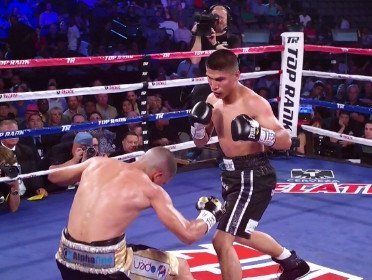 While WBO super featherweight champion Mikey Garcia (33-0, 28 KO's) still hasn't even proven that he's the best fighter in the 130 lb. division, that's not keeping his promoter Bob Arum of Top Rank planning on matching the skinny Mikey up against his cash cow fighter Manny Pacquiao in the near future. Arum hasn't given a date for when he wants to match the 26-year-old Mikey with Pacquiao, but don't be surprised if it happens really soon if Pacquiao decides to leave Top Rank. His contract is up with the company this year, and anything is possible if this is his final year with them.
"I wouldn't be surprised as he [Mikey Garcia] gets older to move up to 140 and possibly fight Manny Pacquiao," Arum said.
The question of Mikey getting older before getting a big money fight against Pacquiao could be skipped if Pacquiao chooses to move on after this year. I'm not sure that Arum would wait around for Mikey to get older if it means that he'll miss out on a Pacquiao-Mikey bout. Arum doesn't really have a lot of guys in his Top Rank stable that he can match against Pacquiao at this point, and I guess that's why he's looking at Mikey as a future opponent. Arum did this with Brandon Rios, a former WBA lightweight champion. It didn't take Arum long to put that fight together once he started mentioning Rios as a future opponent for Pacquiao, and it's likely the same thing with Mikey.
With Juan Manuel Marquez no longer interested in fighting Pacquiao, it makes it more important that Arum match a popular Mexican fighter like Mikey against him, because it might be the only guy left in Arum's Top Rank stable who is capable of generating big PPV numbers. It's not like Mikey is a proven PPV attraction, because he's never headlined a PPV card before. But just by being matched against Pacquiao, there's a good possibility that the fight will rake in a lot of money. Rios was a different situation than with Mikey. Rios was coming off of a loss to Mike Alvarado, and he had a controversial decision win over Richard Abril. Rios was never a dominant fighter like Mikey's been at featherweight and now super featherweight.
I wouldn't give Mikey any chance at all of beating Pacquiao if that fight takes place. Mikey's too skinny, and he doesn't seem to react well when he gets hit solid. In the Roman Martinez fight, Mikey hit the deck in the 2nd round after getting hit hard. In Mikey's fight with Orlando Salido, the fight was halted after Mikey suffered a nose injury in the 8th. The timing of the injury came right when Salido was starting to nail Mikey with big shots, and you see the momentum of the fight changing. We'll never know how that fight would have gone because it was halted due to Mikey saying he had a broken nose. Salido said he had a broken nose too, but he wasn't going to let it stop him.
At 140-147, Mikey probably won't be nearly as much of a big deal as he is at super featherweight. There's too many big punchers in this division, and Pacquiao would be the king of the hill.
If Arum does push for Mikey to fight Pacquiao in September, Mikey would be going from fighting Juan Carlos Burgos in January to facing a much stronger and faster Pacquiao in September. It would have massacre written all over it. But it would probably sell well, and Mikey would get the biggest payday of his career. It's a win-win for everyone.