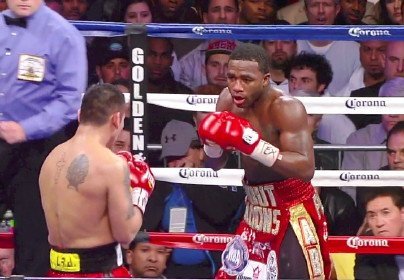 While many boxing fans have serious doubts about whether Adrien Broner's career will ever recover from his loss to Marcos Maidana last December, Broner is still incredibly confident and he sees himself coming back to make $1-10 million+ for his fights in the future. Broner sees himself continuing on the course to become boxing's next big money fighter after Floyd Mayweather Jr. and Manny Pacquiao both retire from the game. Broner's confidence in himself is refreshing, and it would be great for the sport if he an succeed.
In the near future, Broner will need to show that he can beat the top guys at 140-147 if he's to come back from the Maidana loss and continue in the direction of being boxing's next cash cow. Broner will need help from Golden Boy Promotions in terms of them matching him against guys that he can beat, and he's going to need to listen to wise people like Mayweather when it comes to match-making. Mayweather can definitely help Broner by recommending opposition that is better suited towards his style.
I have fun in what ever I do yeah I might have took my first L but watch how I come back fightin like noting happened an make 7 to 8 figures

— Adrien Broner (@AdrienBroner) January 2, 2014
Broner may end up getting the last laugh if he can pick up another title at 147 by beating IBF champ Shawn Porter or avenging his loss to Maidana. Broner can also move down to 140 and possibly knock off WBA/WBC champ Danny Garcia or IBF champion Lamont Peterson. However, it's doubtful that Golden Boy Promotions will look to match Broner in a world title fight in his next fight unless he pushes hard for that to happen. It wouldn't make a lot of sense for Broner to be matched tough in his next fight, because he needs to make some improvements with his defense and work rate before he challenges the likes of Maidana, Garcia and Peterson. Broner's loss to Maidana revealed some serious flaws in Broner's game that he needs to fix if he wants to be one of the top guys in the sport. There's no way that Broner should have been hit as much as he did by Maidana if he had his defense working right.
Floyd Mayweather Sr. has offered to train Broner to help him become more Mayweather-like and improve his defense, which he feels is too poor for him to go anywhere in the sport. Thus far there's been no indication that Broner will accept Mayweather Sr's offer.