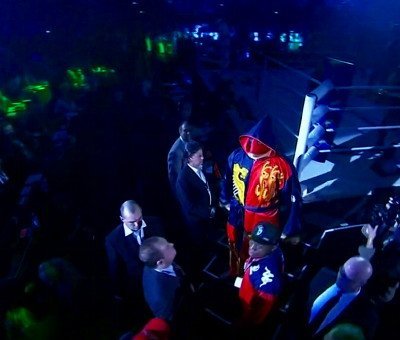 Dereck Chisora says he'll smash through big-hitting Klitschko clone Andriy Rudenko on Saturday 15th February at London's Copper Box Arena to keep in line for a potential world title shot this year.
Chisora, 30, has his first fight of the year against the undefeated Ukrainian ace, live and exclusive on BoxNation (Sky Ch. 437/Virgin Ch. 546).
The Finchley puncher, who holds the European title, turned his career around last year and won all four fights by stoppage and aims to continue his KO run into 2014 as he targets a second shot at the world title.
Hammer-fisted Rudenko, 30, is unbeaten in 25 fights with 16 KO's and in the last five years has knocked-out all but one of his opponents with ten coming inside three rounds. The Ukrainian is considered a hot talent in his homeland and an heir apparent to the Klitschko brothers.
Chisora, however, is relishing his first challenge of the new year – which is expected to be confirmed as a European title defence shortly – and knows he needs another powerful showing to keep in line for a future world title shot.
"Happy New Year everyone and let this be the year that I get an opportunity at the world heavyweight title and bring it back to Britain," said Chisora.
"Rudenko is a great start to the year for me, he's a strong, powerful and undefeated challenger who's got his own ambitions for the world title and will be coming over here to knock me out,"
"I couldn't get to the Klitschko brothers, they didn't want to know about me. Vitali retired and vacated the title, but good luck to him and his political ambitions. I gave him a hard twelve rounds when we met and next time round he wouldn't have come away with the title. Wladimir looks like he'll be around for a little while longer and I've got unfinished business to settle with him so I want to get to him and finish him off,"
"So for now I'm facing the Klitschko clone in Rudenko. This man can punch, he's gone the last five years knocking everybody out apart from one, but he's not carrying on with that run against me,"
"The threat level goes up and so does my performance. I'll be at my sharpest against him and you'll see another destruction job from me. I'm at an ideal fighting weight, the flow of punches and power are coming together, the 2014 Dereck Chisora is going to be a real force to be reckoned with."
Tickets for the Copper Box Arena show, priced at £40, £50, £70 and £120, are available from Eventim on 0844 249 1000 or online at www.eventim.co.uk
Watch live and exclusive on BoxNation (Sky Ch. 437/Virgin Ch. 546). Join at www.boxnation.com