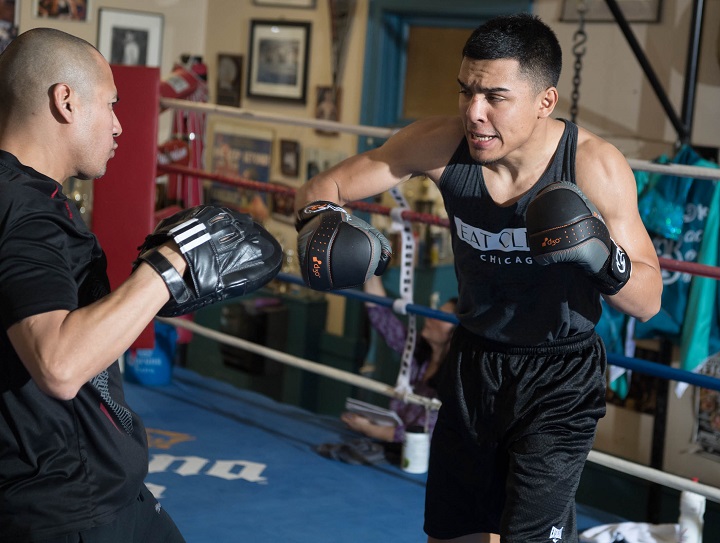 Hard-hitting contender Adrian Granados hosted Chicago media at the Garfield Park District Fieldhouse Tuesday as he prepares for his main event showdown with former four-division world champion Adrien "The Problem" Broner Saturday, February 18 from the Cintas Center at Xavier University in Cincinnati and live on SHOWTIME.
(Photo credit: Tom Barnes/SHOWTIME)
Televised coverage on SHOWTIME begins at 9 p.m. ET/6 p.m. PT with unbeaten light heavyweight contender Marcus Browne meeting hard-hitting former title challenger Thomas Williams Jr. in a 10-round showdown and also features WBA Welterweight Champion David Avanesyan battling former two-time world champion Lamont Peterson.
Tickets for the live event, which is promoted by About Billions Promotions and Mayweather Promotions in association with TGB Promotions and K1 Promotions, are priced at $250, $100, $75, $50 and $30, not including applicable fees, and are on sale now. Tickets can be purchased online at www.ticketmaster.com or by calling 1-800-745-3000.
Granados has pledged to dedicate the fight to his friend and former training partner Ed Brown, who fell victim to the violence on Chicago's West Side in December 2016.
Here is what Granados, along with his trainer George Hernandez, had to say Tuesday:
ADRIAN GRANADOS
"We finally have a huge opportunity. I feel I paid my dues. I know Amir Imam wasn't a fluke. And the robberies on my record were just that – robberies. You get in the ring with Adrian Granados and you're going to get a hell of a fight.
"I wasn't intimated by Broner when we sparred and I'm not intimidated by him now. I know I belong in this fight, at this level.
"It's a tough fight. People are saying I'm going to have to fight like Marcos Maidana. But I'm going to be Adrian Granados and I'm going to win my way.
"With our two styles it's going to be a firefight. It can't be anything but exciting. I have a great team behind me and I can't wait to make everyone proud.
"Ed Brown was the heart of this neighborhood, and now I need to carry on his legacy. This is my opportunity to do something for my career, but also this community. I have to be twice as great, for me and him.
"Winning this fight not only changes my life, but it changes a lot of other lives. Beating Broner would change the sport in Chicago.
"It's very motivating to know that I'm an inspirational figure for people in Chicago. It helps me get through those long days in the gym, when you don't want to get up and train. I know what I'm fighting for and I use it as motivation.
"I started fighting in high school just shadowing my friends when they went to the gym. I asked my mom and dad if I could keep going and luckily they helped me get started and get on this path to where I am."
GEORGE HERNANDEZ, Granados' Trainer
"Broner puts his gloves on the same way we do. This is what we want. We want the big names. Beating Broner can get us to the next level.
"No one is going to give us anything. We need to earn it. We're going to his backyard and we're going to take it from him.
"This is one of the toughest areas to train in. If you can persevere through that you know you can make it in this sport. We could have gone away for camp but we wanted to stay here because it's home. The only way to make this city better is by staying here and leading the charge and showing these kids that we can get away from that norm and bring better attention to this area.
"If Adrian can beat the hell out of this kid in his hometown that will send a message to all the kids in this community. It will let them know that you can succeed and do great things. Every kid that's in here dreams of this opportunity. We're ready and we're not going to let it slip away."
# # #
For more information visit www.SHO.com/Sports follow on Twitter
SHOWTIME AVAILABLE FOR A FREE PREVIEW WEEKEND STARTING ON FEBRUARY 17
SHOWTIME will be available to more than 73 million households during a Free Preview Weekend from Friday, February 17 through Monday, February 20. Viewers nationwide will be able to sample the network's award-winning programming on SHOWTIME, SHOWTIME On Demand®, SHOWTIME ANYTIME® and via select distributors' TV Everywhere portals. The Free Preview Weekend will include the season two premiere of the powerful drama series BILLIONS, starring Oscar® nominee and Emmy® and Golden Globe® winner Paul Giamatti and Emmy and Golden Globe winner Damian Lewis. Additionally, viewers will be able to sample new episodes of the Emmy-winning drama series HOMELAND, along with a live SHOWTIME CHAMPIONSHIP BOXING event, feature films and compelling documentary programming.
Saturday's primetime lineup will be anchored by the SHOWTIME CHAMPIONSHIP BOXING presentation of Broner vs. Granados live at 9 p.m. ET/ 6 p.m. PT. Four-division world champion Adrien Broner will face the hard-charging Adrian Granados in a welterweight showdown. In co-featured bouts, WBA Welterweight Champion David Avanesyan will defend his belt against former two-time champ Lamont Peterson, while 175-pound contenders Marcus Browne and Thomas Williams square off in a crossroads match. At 6:30 p.m. ET/10:30 p.m. PT on Saturday, SHOWTIME will also premiere the Academy Award nominated film Bridge of Spies, the Cold War drama directed by Academy Award® winner Steven Spielberg and starring multiple Oscar winner Tom Hanks, Academy Award winner Mark Rylance, Academy Award nominee Amy Ryan and Emmy winner Alan Alda.
Free Preview Weekend viewers will have access to current and past episodes of critically-acclaimed SHOWTIME original series including HOMELAND, BILLIONS, THE AFFAIR, SHAMELESS, RAY DONOVAN, MASTERS OF SEX, PENNY DREADFUL, EPISODES and DICE, all available on SHOWTIME On Demand and SHOWTIME ANYTIME. The network will also make available over 300 feature films on SHOWTIME On Demand and SHOWTIME ANYTIME including Carol, The Hateful Eight, Southpaw, The Imitation Game, The Hurt Locker and No Country For Old Men. Documentary programming will include the SHOWTIME documentary film WEINER, focusing on the life of former congressman Anthony Weiner in the face of an ongoing high-profile scandal, and MADONNA: REBEL HEART TOUR, the music icon's concert film shot around the world, featuring a collection of live and behind-the-scenes footage.
Sunday's Free Preview lineup will feature a full season one marathon of the hit drama BILLIONS, starting at 9 a.m. ET/PT. The marathon will lead into an all-new episode of the Emmy and Golden Globe-winning series HOMELAND at 9 p.m. ET/PT. Then, at 10 p.m. ET/PT SHOWTIME will premiere the second season of BILLIONS. Season two picks up immediately after the season one finale, as U.S. Attorney Chuck Rhoades (Giamatti) squares off against billionaire hedge fund king Bobby "Axe" Axelrod (Lewis), scorching the earth in a costly war for personal domination. It's law versus money, with power, sex, and the soul of New York in the balance. Maggie Siff stars as Wendy Rhoades, Chuck's estranged wife and the top performance coach in the hedge fund world. Malin Akerman plays Lara Axelrod, Axe's fiercely loyal and street-smart wife. Toby Leonard Moore, David Costabile and Condola Rashad also star. Guest stars this season include Rob Morrow, Dan Soder, Kelly AuCoin, Mary-Louise Parker, Danny Strong, James Wolk, Christopher Denham, Glenn Fleshler, Eric Bogosian and Asia Kate Dillion. BILLIONS is created, written and executive produced by showrunners Brian Koppelman and David Levien. The series is also created and executive produced by Andrew Ross Sorkin.
The Free Preview Weekend is available on both SD and HD feeds to digital subscribers of participating providers only. Select providers will also offer the Free Preview via SHOWTIME ON DEMAND and SHOWTIME ANYTIME. The preview will be available through a number of distributors including AT&T U-verse, Comcast's Xfinity, DirecTV, Dish, Verizon Fios, Altice USA (Optimum and Suddenlink), CenturyLink Prism® TV, Frontier Communications, RCN and Sony PlayStationTM Vue, among others. Available platforms will vary by participating distributor. Previews may contain PG, PG-13, TV-14, TV-MA and R-rated programming. For additional details and a full schedule of programming, go to SHO.com/freepreview.
Showtime Networks Inc. (SNI), a wholly-owned subsidiary of CBS Corporation, owns and operates the premium television networks SHOWTIME®, THE MOVIE CHANNEL™ and FLIX®, and also offers SHOWTIME ON DEMAND®, THE MOVIE CHANNEL™ ON DEMAND and FLIX ON DEMAND®, and the network's authentication service SHOWTIME ANYTIME®. Showtime Digital Inc., a wholly-owned subsidiary of SNI, operates the stand-alone streaming service SHOWTIME®. SHOWTIME is currently available to subscribers via cable, DBS and telco providers, and as a stand-alone streaming service through Apple®, Roku®, Amazon and Google. Consumers can also subscribe to SHOWTIME via Hulu, Sony PlayStation Vue and Amazon Channels. SNI also manages Smithsonian Networks™, a joint venture between SNI and the Smithsonian Institution, which offers Smithsonian Channel™, and offers Smithsonian Earth™ through SN Digital LLC. SNI markets and distributes sports and entertainment events for exhibition to subscribers on a pay-per-view basis through SHOWTIME PPV. For more information, go to www.SHO.com.