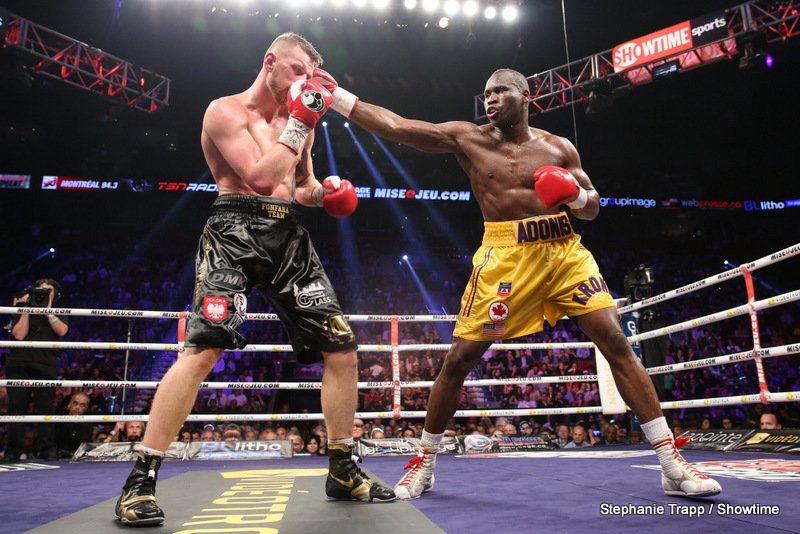 Share the post "Adonis Stevenson Retains Light Heavyweight Title In Thrilling Bout Against Fonfara"
MONTREAL (May 25, 2014) – Adonis "Superman" Stevenson (24-1, 20 KOs) successfully defended his WBC light heavyweight title for the third time Saturday night in a thrilling 12-round battle with world-ranked challenger Andrzej Fonfara (25-3, 15 KOs) on SHOWTIME CHAMPIONSHIP BOXING at the Bell Centre in Montreal.
Stevenson won via unanimous decision, with the three judges scoring the bout 115-110, 115-110 and 116-109 in his favor.
"Superman" started strong and knocked Fonfara down in the first and fifth rounds and looked to be en route to an easy win. But Fonfara showed his mettle and battled back to floor the champion in the ninth. From there, Stevenson and Fonfara went toe-to-toe, trading powerful shots and asking each other for more up to the final bell.
In the end, Stevenson secured the victory on the strength of his early round dominance and his resilience in latter part of the fight. Stevenson landed a notable 59% of his power shots, according to SHO Stats.
After the fight, Stevenson told SHOWTIME Sports® ringside reporter Jim Gray, "(It was a) good fight. I hurt my left hand in the second round. He did very well. I threw the punch but I caught the elbow and I hurt my hand."
Stevenson was satisfied with his victory despite getting knocked down. "Everyone gets knocked down. But I came back strong. I showed the world because I'm a true champion.
"I told everybody (Fonfara) is strong. He's been training since December. He is ranked No. 1 and No. 3 in the world. He was ready for this fight. I never overlooked him because he's a tough fighter."
When asked by Gray about the prospect of fighting Bernard Hopkins and Sergey Kovalev, Stevenson said, "I accept any challenge. Bernard can be next. And I have no problem with Kovalev. If I fight him I fight him."
Fonfara, despite the loss, made an emphatic statement. After the fight, he said, "I survived because I have the heart to fight. Every time he hit me I felt the punch. Tonight Stevenson is better. I'm still young. I'm only 26 years old. I'm training hard and one day I'll be a world champion."
Share the post "Adonis Stevenson Retains Light Heavyweight Title In Thrilling Bout Against Fonfara"