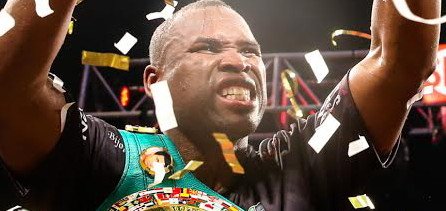 (Photo Credit: SHOWTIME/Stephanie Trapp) WBC light heavyweight champion Adonis Stevenson (24-1, 20 KO's) was badly exposed tonight by Andrzej Fonfara (25-3, 15 KO's) in winning a very, very unimpressive 12 round unanimous decision at the Bell Centre in Montreal, Canada.
The 36-year-old Stevenson proved that he can dish it out, but he sure couldn't take it from Fonfara. Stevenson was on the deck in the 9th round after getting hit with a right to the head. The thing is Fonfara isn't a noted puncher, yet he still have Stevenson down on the canvas. Stevenson came back in the 10th and 11th rounds and was able to hurt Fonfara with body shots, but he wasn't able to finish him off because he'd lost a lot of the zip on his shots. Stevenson punched himself out after the first 5 rounds, and had to depend on body punching to control the second half of the fight.
The judges scored the fight 115-110, 115-110, and 116-109.
Stevenson dropped Fonfara with a straight left to the head in the 1st. In the 5th round, Stevenson put Fonfara down with a left to the body.
After the fight, Stevenson said he wants to fight Bernard Hopkins next. He also said he wants to fight Sergey Kovalev. However, there's no longer any chance of Stevenson taking that fight because Kovalev is with HBO and he's with Showtime.
—
In the co-feature, David Lemieux (32-2, 30 KO's) stopped 2nd tier fighter Fernando Guerrero (26-3, 19 KO's) in the 3rd round. Lemieux knocked Guerrero down four times in the fight. He had Guerrero down once each in the 1st and 2nd rounds, and then twice in the 3rd. Guerrero was cut over the right eye in the 2nd. Lemieux finished the fight with an uppercut while Guerrero was trapped against the ropes.
Overall, it was a decent win for Lemieux, but nothing special. He was matched against a fighter who'd been knocked out previously by Grady Brewer and Peter Quillin. Lemieux wasn't in there with anyone with a real chance of beating him, and it would scary to think of what would happen if he was put back in with Marco Antonio Rubio or even Joachim Alcine, both of which beat him in the past. It looks like Lemieux's promoters are going to keep matching him very carefully until he eventually gets a title shot. At that point it's going to be sink or swim for Lemieux, and I can't see him doing well at all.
—
Unbeaten junior middleweight Jermell Charlo (24-0, 11 KO's) turned off the crowd with a boring 12 round unanimous decision win over the 5'6″ Charlie Ota (24-2, 16 KO's) in a WBA junior middleweight eliminator for the No.2 spot. Charlo showed that he could move and hold for 12 rounds, as he did a great job of doing both. The judges scored it 115-111, 118-109, and 118-109. Charlo was knocked down in the 3rd round by Ota. Charlo had a point deducted for hitting Ota low in the 9th.
Charlo wouldn't be a bad fighter if he didn't move and hold so much, but it was pretty disappointing to see him grabbing and running all night against the much shorter Ota.
The Canadian fans are known to be pretty patient when watching boxing events, but Charlo seemed to wear out their patience because the fans were booing him frequently.
Hopefully, Charlo improves his game in the future because I can't see him beating the likes of WBA junior middleweight champion Erislandy Lara with the way he fought tonight. Charlos holds and runs way too much to get a victory over someone his own size like Lara. Floyd Mayweather, he is not. I thought Charlos should have had at 2 points taken off for his excessive holding tonight.
—
Other boxing results on the card:
Eleider Alvarez UD 10 Alexander Johnson
Julian Williams KO 8 Michael Medina
Yves Ulysse Jr TKO 1 Carlos Alberto Olivera