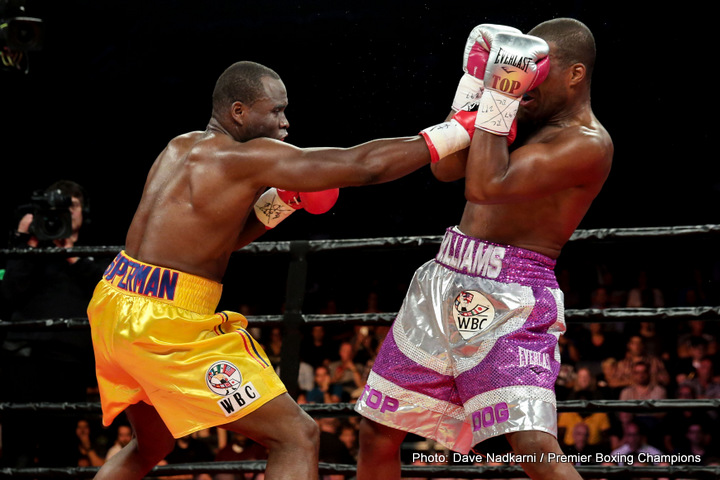 WBC light-heavyweight king Adonis Stevenson has officially announced his next fight: "Superman" will face tough Polish warrior Andrzej Fonfara in a return bout on June 3 in Canada.
Fonfara, as fans may recall, made a big name for himself back in May of 2014, when, as a 25-2 contender, he pushed Stevenson hard, dropped him late, and lost a highly competitive 12 round decision. A lot has happened to both fighters since.
Stevenson, 28-1(23) has since retained his belt on four occasions, fighting decent if not great (as in not Sergey Kovalev) opposition. The southpaw bomber has entertained his fans, yes, but the super-fights that once looked a certainty for the one-time Emanuel Steward trained star have thus far failed to come. Stevenson's critics will likely moan and groan some over the announcement of this rematch.
Fonfara, 29-4(17) is of course coming off a late rounds stoppage win over Chad Dawson – the man Stevenson sensationally iced in a round to become WBC champ back in June of 2013 – the Pole coming back to prevail in the must-win fight after having fallen behind on points. Before this March win, Fonfara, aged 29, had been upset in a round by new blue collar hero Joe Smith Jr.
Has Fonfara earned another world title shot? The June 3rd challenger does have a quite impressive resume: his wins over Julio Cesar Chavez Junior, Nathan Cleverly and a faded Glen Johnson being notable wins, and Fonfara did give Stevenson a surprisingly tough night three years ago. But can Fonfara do any better in the rematch?
Maybe, if Stevenson, aged 39 (he will turn 40 this September) is feeling his age and is beginning to slow down, Fonfara will be in the right place at the right time. Otherwise, the champ looks set to register another expected retention. Should Stevenson have looked for better challengers, both now and throughout his near 4-year title reign? Will Stevenson have any shot at going into The Hall of Fame? Is it too late for Stevenson to engage in the mega-fights, or will he surprise us and face the Kovalev-Andre Ward II winner?
Fonfara asked for a second go at Stevenson immediately after losing three years ago. "The Polish Prince" now has what he wants. But is this a fight the fans really want?