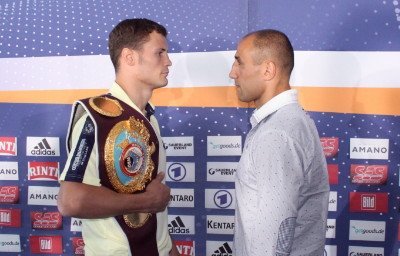 By Dwight Chittenden: Tonight, WBO super middleweight champion Robert Stieglitz (42-2, 23 KO's) will be defending his title against a desperate former IBF middleweight champion Arthur Abraham (34-3, 27 KO's) at the O2 World Arena in Berlin, Germany. Abraham, 32, is at the ends of his rope and can't afford another loss after losing badly in three fights in the Super Six tournament against Carl Froch, Andre Dirrell and Andre Ward.
It's no secret that Abraham has struggled since moving up in weight from the 160 pound middleweight division. Although Abraham has done well recently winning his last two fights he's done it against less than the best opposition to get the title shot against the 31-year-old Stieglitz. As the IBF middleweight champion, Abraham was able to defend the strap 11 times beating the likes of Edison Miranda, Raul Marquez and Lajuan Simon.
However, the knock on Abraham is that he never really faced anyone all that good and his first win over Miranda was highly questionable. You can't look at Abraham's resume during the three years that he held the International Boxing Federation middleweight title and wonder why he never fought anyone really dangerous to him like Kelly Pavlik and Felix Sturm. With the less than spectacular opposition he faced at middleweight, it's not surprising that Abraham found himself struggling when he moved up in weight to the 168 pound division. He was for the first time forced to fight good opponents that could actually fight and he wasn't ready for it.
Abraham remains immensely popular in Germany where he's highly respected. His fight tonight against Stieglitz will likely be a sellout. However, it's going to be interesting to see whether Abraham will continue to be a big star in Germany if he loses to Stieglitz. It's one thing being a champion and another thing altogether having to settle for being just another contender. Abraham has option,s though. He can always move back down in weight to 160 and see if he can make a comeback at that weight. Moving up in weight to the 175 pound division is out of the question for the 5'9″ Abraham because he's simply too short to compete against the bigger fighters at that weight.