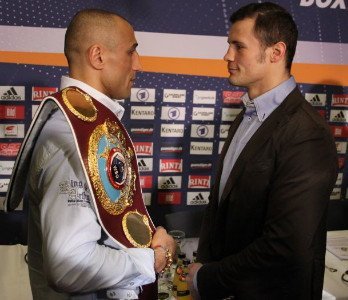 (Photo Wende) By Vladimir S: WBO super middleweight champion Arthur Abraham (36-3, 28 KO's) and Robert Stieglitz (43-3, 24 KO's) will be doing it again tonight in a rematch at the GETEC Arena, Magdeburg, Sachsen-Anhalt, Germany. Abraham defeated Stieglitz last August by a 12 round unanimous decision by the scores of 116-112, 116-112, and 115-113, but the German public loved the fight and saw it as a competitive one.
It really wasn't all that competitive from what I saw. It was one-sided except in the rounds where Abraham, who major stamina problems, needed to take rounds off to rest. When Abraham wasn't resting, he was winning easily, and it's hard to get excited about fight that really won't likely be a competitive one in the true sense.
This fight does give Abraham a chance to hold onto his WBO title for a little while longer than he normally would, because as soon as he faces his #1 WBO challenger George Groves, Abraham can pretty much kiss goodbye his WBO title because he's going to lose that fight unless he knocks Groves out or is given a controversial win.
Abraham's stock is still way down after his incredibly poor performances in the Super Six tournament where he was beaten by Andre Dirrell, Carl Froch and Andre Ward. He looked like a limited fighter out of his weight class. The fact that Abraham has since been able to turn his career around and capture the WBO 168 lb. title is more of a statement about the talent level of Stieglitz and the mostly poor opposition that Abraham has fought since leaving the Super Six tournament than it is about him improving.
Abraham hasn't improved. He's winning now because he went after a champion, Stieglitz, who many boxing fans saw a paper champion, and he was able to beat him. It's good for Abraham and his promoters that he's fighting Stieglitz again because he'll get to keep his WBO title for a little while longer, but his days are numbered as the champion. Eventually, he's going to have to face Groves, and like In said, unless he can KO him or win by a controversial decision, Abraham is going to lose that fight badly.
Also on tonight's card will be undefeated heavyweight Robert Helenius (18-0, 11 KO's) fighting journeyman Michael Sprott (37-19, 17 KO's) in a 10 round fight that has mismatch written all over it. Helenius should win this fight no problem unless Sprott is able to fight on the inside and replicate the performance that Dereck Chisora put in with his controversial loss to Helenius two years ago.
Sprott isn't a good inside fighter, so it's doubtful he'll be able to stay in close to take advantage of Helenius's lack of inside game. Helenius looked poor in his last fight against 40-year-old Sherman Williams last November, and was even hurt by him in the 6th round from a right hand. If Sprott can connect with some big shots like Williams did, he'll have a chance to win, but it's not likely to happen enough for him to win. Helenius can take a good shot, and Sprott doesn't have the firepower to take him out.
George Groves (17-0, 13 KO's) will be on the undercard fighting Baker Barakat (37-13-4, 25 KO's) in a fight scheduled for 10 rounds. This one should be over with fairly early. My guess is Groves will stop Karakat in the 1st or 2nd round. This is a bad mismatch, but it'll at least give the German boxing fans a look at the guy that Abraham will eventually have to face at some point in the future when the WBO makes Abraham fight him.
It goes without saying that it was Groves' promoter Eddie Hearn that pushed for the opportunity to put Groves on the undercard because there's no way that Abraham's promoter would have asked for him to be on the card. As the saying goes, 'out of sight out of mind.' Groves being on the card is a painful reminder about what lies ahead of Abraham at some point when he finally stops fighting the Stieglitz's and Mehdi Bouadla's of the boxing world.