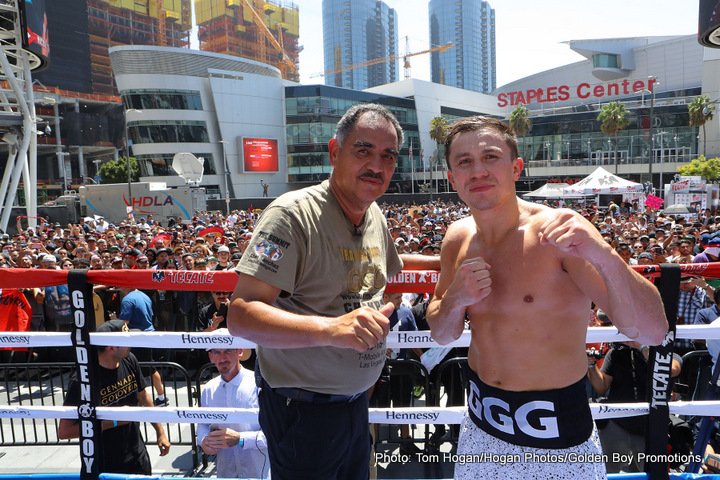 Practically everyone is looking forward to a hugely exciting, perhaps explosive fight on Saturday night in Las Vegas, and trainer Abel Sanchez says the middleweight title fight showdown between his fighter Gennady Golovkin and challenger Canelo Alvarez had better be exciting, or else more and more boxing fans will find themselves drifting away to MMA.
Sanchez, in speaking with USA Today, said all boxing matches have an obligation to be exciting, as there is "an alternative" to boxing today: MMA. Sanchez fears more and more boxing fans will become MMA and UFC fans if the big boxing matches do not deliver in the action stakes.
"We are in a different era," Sanchez said earlier this week. "I think that Floyd [Mayweather] and unfortunately some of the other guys with that kind of [boring] style caused a lot of fans to go away from the sport, because of MMA. [Years ago] there was no MMA, no UFC, so there wasn't an alternative. Today there is an alternative and if we are not entertaining we are not going to sell. We have to be entertaining, we have to make sure they remember this fight. And they want to buy the next one."
Of course, plenty of people say it's a good thing that boxing has a "rival" combat sport to live up to, simply because it makes the boxing promoters and match-makers work that much harder to ensure that boxing fans get good quality fights each time out. Bottom line, fight fans do have more choice these days. But if a series of dull boxing matches may urge a fan to switch over to MMA, might the exact same thing happen the other way if a series of dull MMA bouts take place?
We've heard many times people say how boxing is either dead or dying (Sanchez never went that far of course) but despite this claim the sport is still thriving. Sanchez, though, fears a number of potential buyers of Saturday's GGG-Canelo fight might give the fight a pass due to having paid a lot of money to watch the recent Mayweather-McGregor fight.
"I think that the price – there is a lot of casual fans who would have bought this fight if they hadn't spent $99 on a spectacle," Sanchez stated. "But it is a different month, the budget may still be there. We are past [Mayweather-McGregor] now. We are walking around town and everyone is talking about this. Maybe it will hurt us but it won't hurt us as much as everyone thinks."
It will of course be interesting to see how many numbers GGG-Canelo pulls in on pay-per-view, and how it fairs against the massive numbers the crossover Super Fight pulled in. But boxing and MMA can coexist, even if there is more pressure on the fighters to fight in an entertaining way.
Rest assured, tomorrow night's fight will be entertaining!