Share the post "2013 Year End Awards: Fighter of the year, KO of the year, Fight of the year, Upset of the year"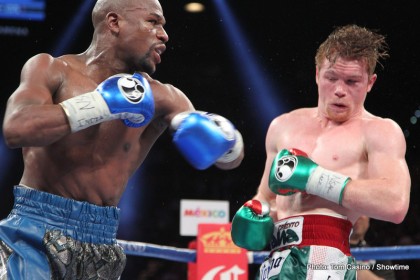 It's that time of the year again: when fight fans take a look back at what went down in the fistic calendar. 2013 was, in many years one of the best for boxing in a long time. We saw some great action fights, we saw some superb displays of The Sweet Science, we saw a number of electrifying KO's and we saw our share of controversy.
That said, this writer now gives his picks for the recipients of the following awards:
Fighter of the year. Fight of the year. KO of the year. Upset of the year.
See what you think:
Fighter of the year:
It may seem like a dull and obvious choice to some, but the truth simply cannot be denied: the incomparable Floyd Mayweather Junior once again shone over a 12-month period, this year making the business of beating up and outclassing two young and very talented fighters look almost laughably easy.
Mayweather, in barely losing a single round (aside, that is, from a score-card handed in by an infamous judge known as C.J Ross), dominated both Robert Guerrero and a previously unbeaten Saul Alvarez. Quite simply, Mayweather boxed superbly and out-pointed two fighters a number of good judges had made a compelling case for beating him. It's arguable that 2013 saw Mayweather look as unbeatable as ever. And at age 36 going on 37, Mayweather's exquisite skills look nothing approaching faded. Truly remarkable.
Runners up: Timothy Bradley. Adonis Stevenson. Danny Garcia
Fight of the year:
Tim Bradley W12 Ruslan Provodnikov.
Whether it was down to Bradley's eagerness to prove a point after the flack he'd received due to his ultra-controversial points win over superstar Manny Pacquiao in his previous fight, whether it was down to Bradley's willingness to fight a far more aggressive fight than usual so as to please those fans who called him a dull fighter, or whether it was down to Provodnikov proving once again how tough and dangerous he really is, the absolute war these two welterweights gave us was an unforgettable tear-up that started off the year.
Trading heavy blows from the get go, with Provodnikov getting the better of things early on, the two gutsy warriors went toe-to-toe in true Rocky-like fashion. The action was breathtaking enough, but the final round saw Provodnikov turn things up a notch in coming so close to taking out a spent yet still full of courage "Desert Storm." The power in Provodnikov's fists came within a whisker of denting the unbelievable chin of Bradley. In the end, after the close, some said debatable decision went to Bradley, the reputation of both fighters went up hugely.
Runners up: Marcos Maidana W12 Adrien Broner. Omar Figueroa W12 Nihito Arakawa. Carl Froch TKO9 George Groves.
KO of the year:
Deontay Wilder KO1 Serghei Liakhovich.
This one was truly chilling. Liakhovich, the former WBO heavyweight champion, was expected by most to give "Bronze Bomber" Wilder his toughest test yet, instead, the past his best yet still capable Liakhovich was crushed in ruthless fashion inside a round. Sent reeling to the mat courtesy of a Wilder right hand, Liakhovich began to spasm as the darkness of unconsciousness befell his mind. His brain sending out massive bursts of electricity to his incapacitated limbs, Liakhovich twitched disturbingly. Amazingly, perhaps a sign of how badly Wilder had hurt his man, the KO loser later called for a rematch!
Runners up: Adonis Stevenson KO1 Chad Dawson. Gennady Golovkin KO3 Matthew Macklin. Sergey Kovalev KO2 Ismayl Sillakh.
Upset of the year:
Jhonny Gonzalez KO1 Abner Mares.
Mares, a peaking, possible future star, against a faded yet still capable former champ in Gonzalez? A relatively easy win for Mares as he waited for the big, big fights, right? Wrong. Gonzalez, underrated throughout his entire career, came out fast and stunned Mares and the large crowd in taking the WBC featherweight crown. Mares, an unbeaten talent who had seen off names like Vic Darchinyan, Joseph Agbeko and Anselmo Moreno, didn't know what hit him in August. Gonzalez aims to prove the KO win was no fluke in the return that is set for February.
Runners up: Simpiwe Vetyeka WRTD6 Chris John. Adonis Stevenson KO1 Chad Dawson. Tony Thompson KO2 David Price.
Share the post "2013 Year End Awards: Fighter of the year, KO of the year, Fight of the year, Upset of the year"