Dillian Whyte is keeping his game plan secret for Saturday for his long-awaited rematch with Alexander Povetkin at Gibraltar.
Whyte (27-2, 18 KOs) has planned his revenge for months now, and he's ready to spring it on former conqueror Povetkin (36-2-1, 25 KOs) to even the score.
Whyte-Povetkin will be streamed on DAZN and shown on Sky Box Office this Saturday, March 27th, from Gibraltar. The winner of the fight will capture the interim WBC heavyweight title and will be mandatory for the WBC belt that Tyson Fury currently holds.
Dillian lost to Povetkin by a fifth-round knockout last August in Brentwood, Essex, at the Matchroom Boxing Fight Camp.
That was a much different atmosphere than the one we'll be seeing this Saturday with the Whyte vs. Povetkin 2 fight taking place in front of fans.
Whyte not buying Povetkin's excuses
"He's a professional, he's an Olympic gold medalist, and he's got money. He doesn't need to train if he's not well," said Dillian Whyte to the media in reacting to Povetkin's comments about training after coming off an illness with COVID.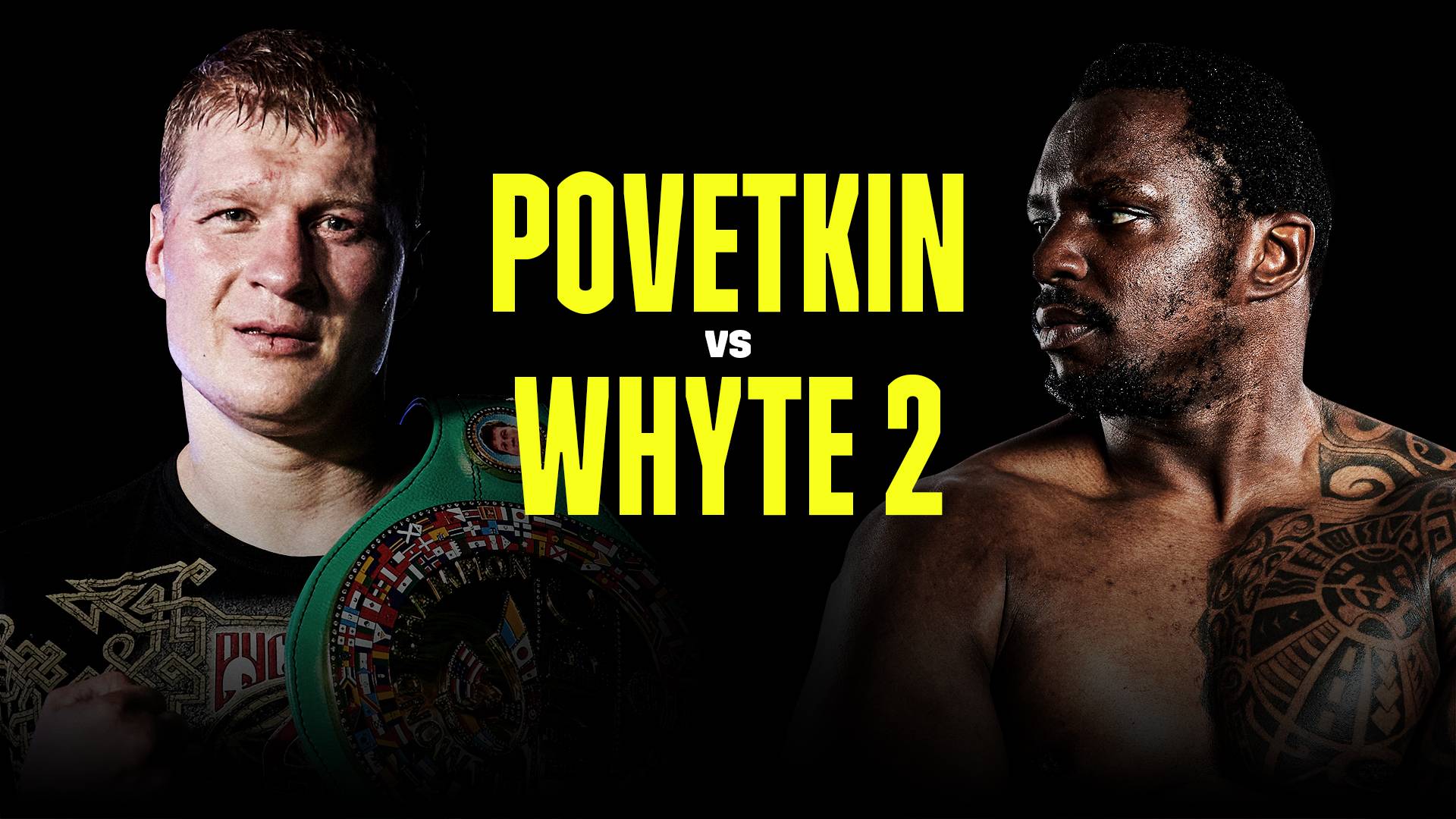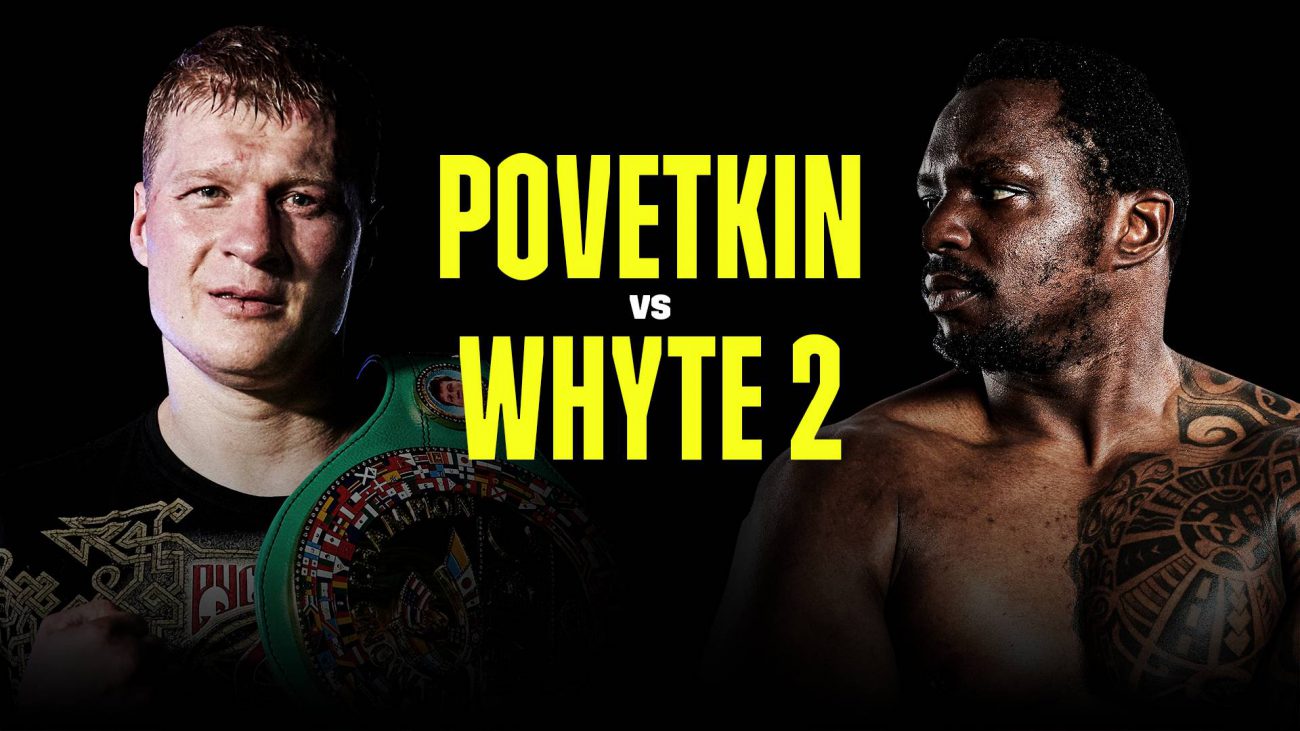 "If he weren't well, he wouldn't be taking the fight, but it's a good excuse having the coronavirus. I gave him enough time to recover. When he said he had COVID, I said, 'No worries. I want to fight the best Povetkin I can fight, so have the time to recover.'
They agreed to this date. I said, 'Make the date whenever your ready,' and they agreed to the date. His team wouldn't put him at risk if they didn't think he was ready. That's not my problem.
"This is nothing. For me, I just go in and get revenge. I should be #3 in the world, and I should get a title shot this time, so let's see," said Whyte when asked what his immediate future will look like if he beats Povetkin on Saturday.
"I was ready to go in November. I'm not one of those guys that need to process things mentally," said Whyte about his loss to Povetkin.
"We dust-up, we regroup and go straight back in again. That's my mindset because I've always been a warrior since I was a child," said Dillian.
While Dillian might not buy the excuse that Povetkin could potentially use if he loses about him coming off a COVID 19 illness, enough boxing fans will believe it to take away credit from him if he comes out victorious.
Dillian wants revenge
"Saturday, you guys will see," said Dillian on his rematch with Povetkin. "The mandatory situation is still going on. Me and Povetkin are in-contract.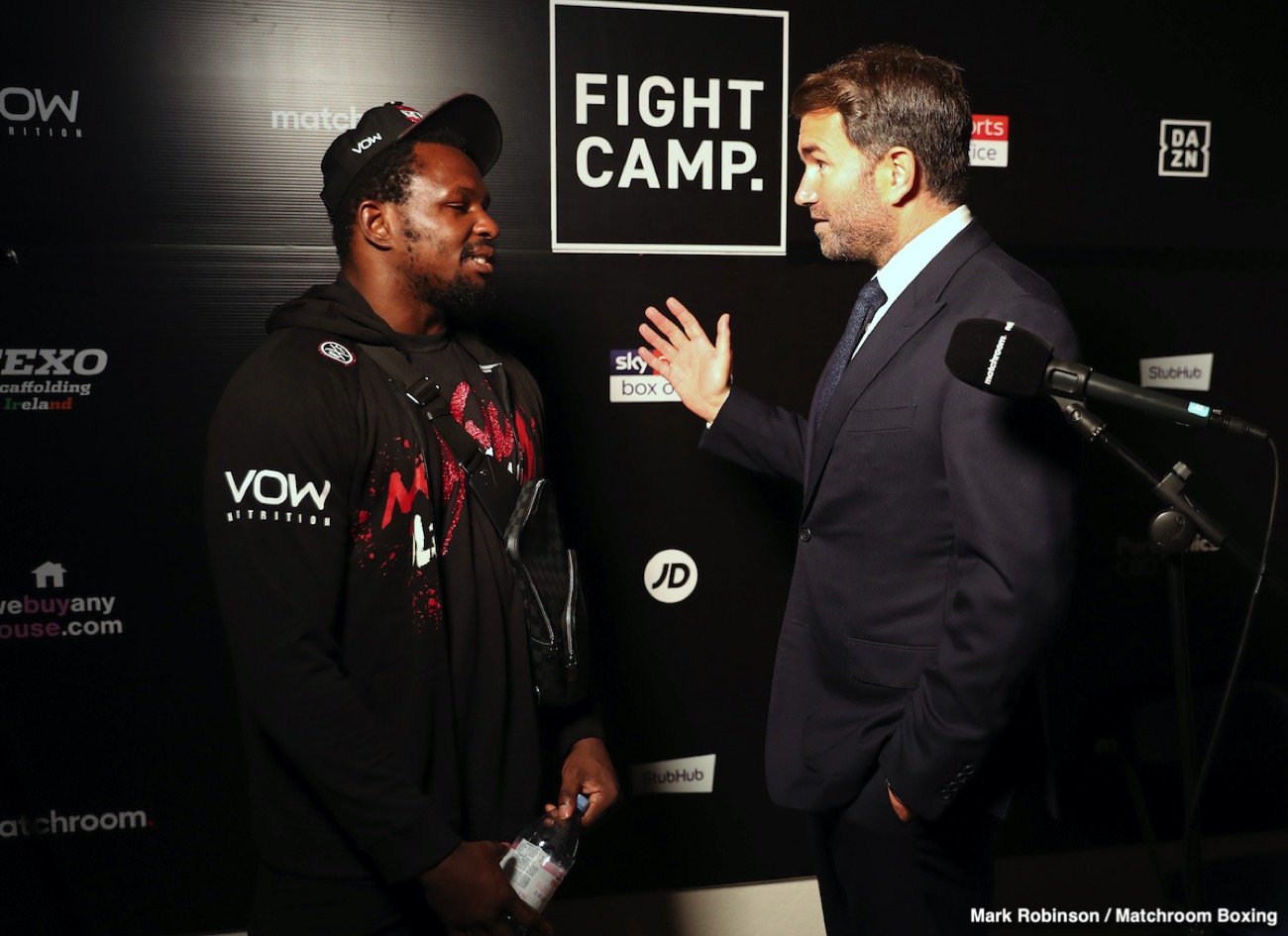 "It's still a contract. So mandatory position is on hold for the minute. The winner of this fight should be mandatory and be in line for a world title fight next.
"So hopefully, I don't have to wait 1,000 days again of whatever it was. There's VADA testing. I had two VADA tests two days ago.
"It's just about minor adjustments," said Whyte about the changes he's made for the rematch with Povetkin.
"It's been frustrating but the thought of victory and avenging my loss because I'm a person that doesn't like losing.
"For me, it's about winning because I don't like losing.  My motivation is winning, winning, winning, revenge," Whyte said.
That knockout loss that Dillian, 32, suffered last August has been a constant irritant, and he's been forced to deal with the memories of the loss a lot longer than he would have liked.
The pandemic and Povetkin's COVID 19 illness have delayed the rematch.
Dillian expects to fight Joshua-Fury winner
"The interim belt is a good thing because it's the same thing as the WBC world title," said Dillian. "It's the equivalent of the same world title.
"It's a belt that holds your place in the rankings, obviously. Boxing is a strange sport. You can pay all the sanctioning fees and still not get a title shot.
"If you're dangerous, guys will avoid you because I'm the kind of guy that can throw a spanner in the works for these big fights not to happen because I can knock somebody out.
"Of course," said Whyte when asked if he thinks the winner of this fight with Povetkin should face the winner of the Joshua vs. Fury fight rather than the Oleksandr Usyk vs. Joe Joyce winner facing the Joshua-Fury winner.
"If you look at how long I've been mandatory. How many top guys I've fought.
"Why should then guys get a shot before me? Who has Usyk fought? Dereck Chisora and Chazz Witherspoon, and now he's going to fight Joe Joyce. I've been fighting top heavyweights for years," said Whyte.
The winner of this Saturday's rematch between Povetkin and Whyte won't get a title shot right way, though.
They're going to have to wait until 2022 after Joshua and Fury have fought their two fights. It's unfair to the challenges that the sanctioning bodies are allowing Joshua and Fury to consecutively this year, as it puts the careers of the mandatory challengers on hold when it shouldn't be that way.
It's like having two Super Bowls in a row where two teams play two games instead of just one.
Whyte not giving away the game plan
"You have to wait until Saturday to see because I'm not going to say this and say that because we're about to fight, and there's a lot of people watching what I'm saying," said Dillian in choosing not to reveal his game plan for the Povetkin fight. We're about to go to war, man.
"Listen, if the fans want to see it, and it makes sense, I'm all about that," said Whyte when asked if he'd be interested in fighting Deontay Wilder while he waits for a title shot against the winner of the Joshua vs. Fury fights. "When those guys lose, they all want to fight me.
"You look at when I got knocked out; I was about to knock him out," said Whyte. "I went around the side, and he came up the middle.
"It was a split second to make a judgment. If his punch hadn't landed and my punch knocked him out. If you watch the fight, you see, we're both on par to land.
"I'm about to land my right hand and left hook. My right hand missed, and he came up the middle. It's heavyweight boxing. It's like a game of dice.
"I'm trying to chase goals in life and make stuff happen. A lot of people that talk crap up, they're just bums in their mother's house at whatever age they are.
"It's a good fight," said Whyte about a fight between him and Otto Wallin. "I called for Otto Wallin after he fought Tyson Fury. I could have fought him when I fought Povetkin.
"I'm up for fighting whoever as long as it makes sense. I don't pick my fights. Eddie comes to me and says, 'Oh, these three names, which one do you want?' I usually take the best name.," said Whyte.
It's pretty obvious what the game plan will be for Whyte on Saturday, as he's always been a pressure fighter. For Whyte to come in and do something different, it's unrealistic.