IBF super middleweight champion Caleb Plant is so confident that he'll have the beating of Canelo Alvarez that he's guaranteeing that he'll defeat him in September to become the first fighter to become the undisputed 168-lb champion.
The only thing that Plant (21-0, 12 KOs) isn't certain about is whether WBA/WBC champion Canelo 55-1-2, 37 KOs) will get past his next opponent, WBO champ Billy Joe Saunders on May 8th, and also whether he'll come out of the fight injury-free and ready to face him in September.
Canelo, 30, has always had problems with pure boxers with excellent jabs and with the ability to move around the ring.
In terms of overall size, skills, and the jab department, Plant maybe the best that Canelo will have ever faced.
That's bad news for the 5'8″ Canelo because he's a flat-footed fighter who requires his opponent to stand stationary and let him blast away on them.
Canelo has become spoiled in his last five fights, as his opponents have stood there and let him land on them. Saunders (30-0, 14 KOs) will likely give him a different look on May 8th and make it difficult for him.
But if Canelo can somehow figure out Saunders, he'll advance to meet up with Plant in September.
There won't be much time for Canelo's injuries to heal up in the four months that separates his May 8th fight against Billy Joe from his September match against Plant. That means if Canelo wants to play brave, he might be battle-worn by the time he faces Plant.
Caleb is certain he'll beat Canelo.
"I absolutely beat Canelo and get my hand raised," said Caleb Plant to Fighthub. "I truly believe that in my heart of hearts that I'm going to beat Canelo Alvarez and become the first undisputed super middleweight of all time.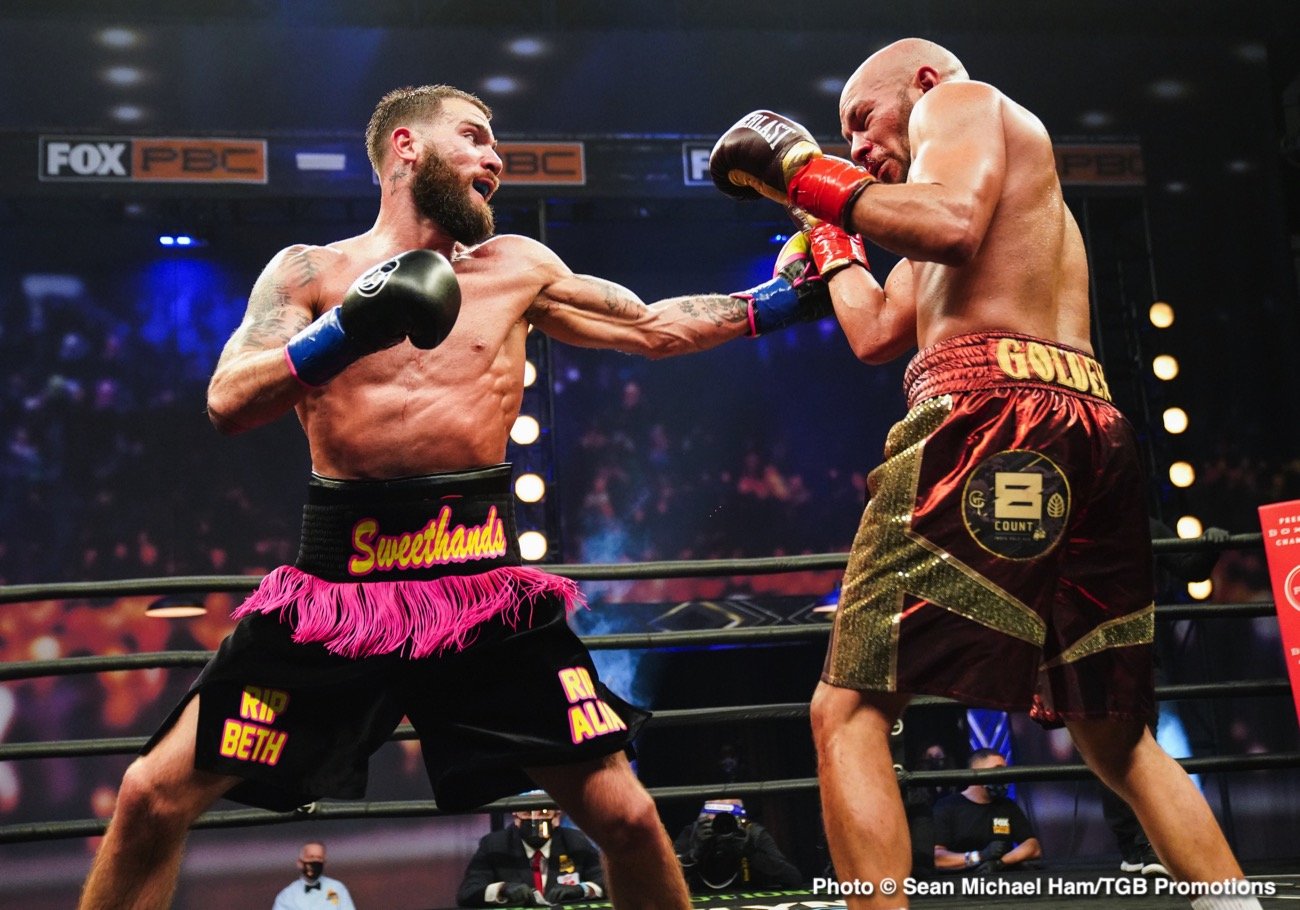 "If you think I'm blowing smoke, if you think I'm going to go rope to rope, corner to corner like Callum Smith did, or if you think I'm going to shell up like Yildirim did and quit on my stool after the third round.
"I promise you that you don't know nothing about me all, that's not going to happen. So watch and see," said Plant.
The form that we've seen from Plant against Mike Lee, Caleb Truax, Vincent Feigenbutz, and Jose Uzcategui could pull off an upset against Canelo.
Plant has boxing skills similar to Floyd Mayweather Jr, but with more size and a much better jab. His jab is the best in the 168-lb division, and it might be better than anyone at 175 as well.
I don't know how Canelo will be able to get past Plant's jabs for him to land his shorter punches. If he tries to get to Plant, he's going to have to walk through a storm of jackhammer jabs to the head.
Canelo's fighting style is similar to Rogelio 'Porky' Medina, a fighter that Plant easily outboxed in 2018 in beating him by a one-sided 12 round unanimous decision. Medina is a better puncher than Canelo, but Plant had no problems getting the better of him.
Plant to wait until September
"I'm waiting until September," Plant continued. "With the had injury, I don't want to get back in the gym too soon and start being on it and have it flare up and have any issues.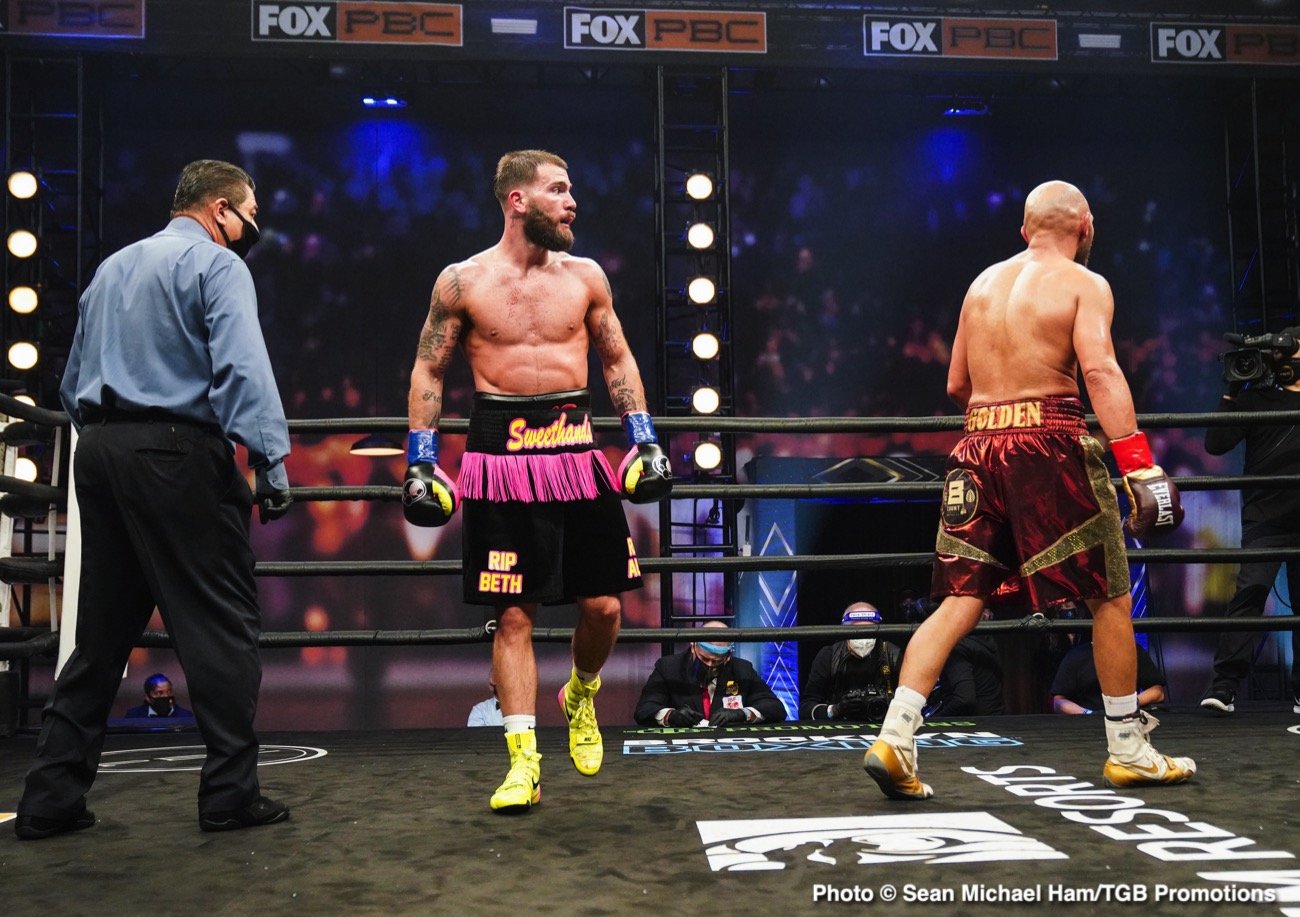 "Let it fully heal and let it fully rest and fight in September sounds like a great plan to me.
"Most fighters of this caliber fight twice a year anyway. I'll see Canelo in September if he gets past Billy Joe.
"I don't know, we'll see," said Plant when asked if he'll be ringside for Canelo's fight against Billy Joe Saunders.
"I probably will. I feel like I'm the fighter that steps up when all the pressure is on.
"That's a fight that is definitely going to be the case. I've always been that guy that steps up at that moment.
"I feel like that's going to bring out the best out of me to the best Caleb Plant you've seen yet.
"I'm not looking to be, and I'm not hoping to be, I will be," Plant said about him becoming the undisputed super middleweight champion of the world in September when he beats Canelo.
It's a good move for Plant to rest until September because he doesn't need to be fighting with an injured hand, especially with it being his lead hand used for jabbing.
That's going to be Plant bread & butter punch that he uses to stifle Canelo's offense in September. Whatever time that Plant needs to get his left hand healed, he needs to take it.
Even if it means postponing the fight with Canelo until November or December, Plant should do it. Plant won't be given another chance to fight Canelo if he's less than 100% and ends up losing to him.