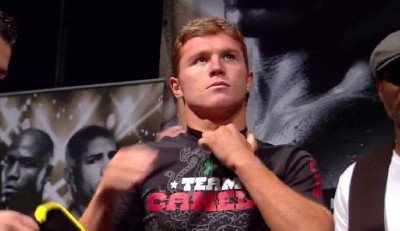 Canelo Alvarez – Good afternoon. It's a pleasure to be here with you.
O. De La Hoya – Great. So, now we can open it up for questions. Thank you.
Q – Okay, great. First of all, I'd like you to ask Canelo, he's coming back to another city in Texas in Houston when he was in San Antonio a couple years ago and he had that huge crowd for the Austin Trout fight. I want to know how pumped up is he because by all accounts, you're going to have another crowd similar in size in a different city in Houston for this fight. How much does he feel that love from his fans, particularly the Mexicans and the Mexican-Americans and get him motivated, let's say, for this kind of fight?
C. Alvarez
No, it motivates me tremendously. That's what gives me that extra push to train harder, to have the support from the fans, all the love is what gives me the extra drive to train harder because it's also a big responsibility and that's where the discipline and the dedication takes in, to work hard.
Q
Another question I had for him, Robert, is he's been off for a bit because of the injury to the foot so he did not fight in the fall after having a couple of fights in the earlier part of last year. I want to know how is his foot and does he feel that there's any issue because he's been off for quite a while at this point.
C. Alvarez
No, I feel real good. I'm healed up. I've been training for a while now. I've been here three and a half months working and training, preparing my body, preparing myself for this fight, looking forward to the fight. My body is clean and it gets in condition pretty quick, so I'm ready. I feel very well.
Q
Terrific. Another question for him also, and this is regarding the fact that there's already a deal in place that should he win the fight May 9th and that should Miguel Cotto win his middleweight championship fight in June that they would meet each other in what would be a very big Pay-Per-View in the fall, and I'd like to know from Canelo does he view that in any way, some would say maybe by having that huge fight in front of him, it might be a distraction to what's going to happen on May 9th, others would perhaps say it's the motivation because they know they got to win to get to that huge fight. What are his thoughts about having this fight with Kirkland but knowing that he has the impending fight with Cotto down the road?
O. De La Hoya
This is Oscar. There is no deal done whatsoever.
Q
Oscar, you know that's not true, my friend. Maybe you didn't sign the paper, but we know that the deal is agreed to. Come on. It's a reasonable question. Is Canelo going to answer that?
C. Alvarez:
At this particular time, my only opponent, my only focus, my only goal right now is James Kirkland. That's who I'm focusing on. There's been talks of that fight. There's been talks of that fight with Cotto for a long time, yes, but right now, my focus is on James Kirkland. There's nothing else.
Q
I had a quick question. I feel in the last few fights that you've had that you have the same style, you've approached them all the same way. Can we expect to see anything different coming into this Kirkland fight, or is there anything that you changed in this training camp that will showcase any of your other boxing skills?
C. Alvarez
You're always learning in this game. You're always going back to the gym and correcting some mistakes and learn from that and try new things. Sometimes the opponents aren't willing to engage and participate, but it's a part of the game to learn and we're going to do our part and hope that the fans leave very happy.
Q
Okay, great. And then another question-when can we expect to see Canelo back in San Antonio?
C. Alvarez
At this time, I can't answer that. I don't know. It's definitely like to go back. The people have always treated me well and loved me there. So, definitely we'd like to go back, but right now, I can't tell you that because I don't know.
Q: You had an opportunity to fight Kirkland back in 2011. Then, the fight didn't happen. It's been now a few years. Why even take the risk in giving Kirkland this opportunity after his inactivity, your inactivity and knowing that he's such a big puncher?
C. Alvarez
Yes. It's a fight that's been talked about many years because it's a very good fight. He's one of the most dangerous fighters in the division, and there was an injury back there that didn't let the fight happen, but now this is the fight that we're at, and that's why we're preparing ourselves with knowing what we have in front of us and training really hard and we're ready for the fight.
Q
You fought different styles, a difficult style in Mayweather, a standup aggressive style in Angulo, a runner like Lara, and now you're facing one of the biggest punchers. What is the goal? You're fighting all the different styles. You just want to fight them because you're fighting the best or you're fighting also to prepare for bigger fights down the road?
C. Alvarez
No, my goal is always to fight the best, the best in the world, that the fans get what they want: to see the best fights possible and independent of their styles. As long as they're at the top, I want to fight the best.
Q
It's finally done, the Mayweather/Pacquiao fight even if it's a little old, we're towards the end of their careers, but it's finally happened, two of the bigger names in boxing. Once they've retired, are you ready to take on that role of the Pay-Per-View king, the Pay-Per-View star, and how do you feel about that?
C. Alvarez
I'm ready. I'm ready for whatever comes to my career. I work hard, I train hard, I fight the best, and if that's the role that I have to take once they're gone, then yes, I'm ready for it.
Q
You recuperated from the injury. You mentioned it earlier. What kind of strategy do you have now that you're facing such a strong, aggressive fighter that comes forward and is a big puncher?
C.Alvarez
Yes, absolutely, recovered from the injury. That's in the past, that's behind me. Right now, we're just working really hard. We know what James brings to the table. He's a very dangerous, very strong and come-forward fighter, and that's what we're working for. That's why we have the correct sparring partners working hard every day, working on strategy. We just have to be more intelligent and prepared and ready for it on fight night.
Q
The question is so many fighters are so concerned of only fighting in casinos. You seem to be getting out of that and fighting and filling arenas, what you did in San Antonio and now probably what you're doing here in Houston filling that up as well. Do you want to continue that and maybe going on to even bigger stadiums and why not 50, 60, 70,000 people around the world?
C. Alvarez
No, I'll fight anywhere. I'll fight. As long as the fans go and enjoy the fights and walk out happy, I can fight anywhere. It doesn't matter.
Q
There's talks about a Miguel Cotto fight. There's talks about other fights. Obviously, there's the Mayweather/Pacquiao fight. If everything comes out well against Kirkland, in the future, you're more mature, you're more experienced, would you like a rematch with Mayweather if he is to beat Pacquiao?
C. Alvarez
Yes, of course, I would love it. It would interest me. I've learned more things, there's more experience, but right now, this fight is what's more important to me, and that's James Kirkland on the 9th.
Q
You said that James Kirkland is a dangerous fighter. I wonder if you could describe James Kirkland as a fighter. What kind of style does he bring to the table?
C. Alvarez
Yes, he's a very dangerous fighter because of his punch. His power is extreme. He can finish the fight with one punch, and then he also throws out of different angles, punches are coming from all angles, so it makes it even more complicated, more difficult, but more than anything, it's that power that he can finish a fight with one punch.
Q
Have you fought anybody with comparable power to Kirkland? Have you fought anybody with that much power before?
C. Alvarez
At this particular moment, I can say no, but ask me the same question after the fight and then I can tell you how I feel his punches.
Q
Yes. Well, you've fought a lot of different styles. Do you prefer to fight a guy like Kirkland who you know where he's going to be rather than Lara, Mayweather, guys like that?
C. Alvarez
Yes, I'll fight any style. I'll be clear-I'll fight any style. I'm ready and willing to fight anybody, but the fans like this style because that's the fans, what they go to see. They want to go see action, and these are the kind of fights that where the people will leave happy.
Q
Do you predict it's going to end early before you think it'll go the distance?
C. Alvarez
People are talking and the percentages are that it's going to be a knockout, that it won't make the distance, but I'm preparing myself for 12 rounds. I don't like to predict or talk about a knockout. If it comes, great. If not, I'm trained and ready to go 12 hard rounds.
Q
Over the past few years, we've had boxing greats like Morales, Barrera, Marcos exit the sport, and the boxing world is looking for the next big Mexican superstar. Do you feel you've done enough to fill that void or that role, or do you need another victory to make that happen for you?
C. Alvarez
I'm working hard, I'm training hard. I'm taking the tough fights, the biggest fights, the biggest challenges. They people will put me where I belong. Of course, that's what I'm here in the sport to be one of the biggest names and to be one of the greats, but only time will tell, and I'll just keep doing my job.
Q
This last Saturday Chavez Jr. lost in the big fight. Does that give you an example or give you an idea about in the future moving up in weight?
C. Alvarez
No, I don't use that as an example. I keep doing my job, my work dedicated with a lot of discipline, and I've never used anybody else's examples. It's just what I do, my work and my dedication.
Operator: Thank you. I'll now turn it over to Team Canelo for your closing remarks.
C. Alvarez
I just want to thank all the press for all the support and all the media attention they're giving it, giving my fight, giving our fight. I want to thank the fans for all the love and that I'm ready and I can't wait to see them all on May 9th.
Operator: Thank you, and now I'll turn the call back over to Oscar De La Hoya for his closing remarks.
O. De La Hoya: Thank you very much. Thank you to all the press, to both teams, and we will see you on May 9th in Houston. Gracias.
Operator: Thank you. And thank you, ladies and gentlemen. This concludes today's conference. Thank you for participating. You may now disconnect.
###
SAN DIEGO (April 20) – Mexican superstar Canelo Alvarez (44-1-1, 31 KOs) today hosted a media workout at the House of Boxing in San Diego in advance of his fight against Texas titan James "Mandingo Warrior" Kirkland (32-1, 28 KOs) on May 9 at Minute Maid Park in Houston, Texas and telecast live on HBO World Championship Boxing ®.
Oscar De La Hoya, President and Founder of Golden Boy Promotions, Canelo Alvarez' manager and co-trainer, Chepo Reynoso and head trainer Eddy Reynoso were all on hand for today's media day. Below is what Team Canelo had to say:
Canelo Alvarez, Former WBC and WBA Super Welterweight World Champion:
"I feel very happy. I am ready to fight tomorrow if needed. I feel excited that the fight is around the corner.
"Kirkland's style will complement mine, he is a fighter that likes to come forward and May 9 will bring a great fight for all the fans.
"We have the right strategy to beat James Kirkland. I have been sparring with southpaws to be prepared. Kirkland is a strong puncher, but I am also a strong fighter. On fight night I plan to hit hard but I also plan to fight an intelligent fight.
"I am very honored to have the first boxing event at Minute Maid Park, and I promise fans will not be disappointed. I train very hard to please all my fans.
"I like to challenge myself, and I am not afraid to fight southpaws. I want to feel satisfied with myself, and I also want to put on fights that the people want to watch.
"House of Boxing has always supported me, and I am grateful to Carlos Barragan (owner of House of Boxing) for supporting my career.
OSCAR DE LA HOYA, President and Founder of Golden Boy Promotions:
"This is Canelo mania. This is what people are waiting for. Canelo vs. Kirkland is going to be exciting. People are excited to watch him train and take pictures of him.
"This is a sure knockout type of fight. Whether Kirkland knocks out Canelo or Canelo knocks out Kirkland, it's going to be one of those fights. Styles make fights. We are going to see a good clash. It's going to be a good fight.
"We are taking boxing to venues that are not the norm. We are going to have a stadium where we can open or close the roof, depending on the weather. It's going to be awesome. For the millions that will be watching live on HBO, it's going to be a special treat. HBO is going to give the fans watching live aerial views of the stadium during the fight. It's going to be pretty cool."
Chepo Reynoso, Manager and Trainer of Canelo Alvarez:
"Kirkland is a complicated fighter; he is a southpaw, a hard hitter and throws a lot of punches. He is not afraid to brawl and looks to fight. That will help us with Canelo plan and move forward in his training.
"Canelo is a dangerous fighter because he is smart fighter. He is strong and shows great discipline. He learns every day and uses it in the ring.
"On May 9 fans will see a fast, strong, exciting and intelligent fighter in the ring. He will knockout James Kirkland and he will come out with his hand held up high and say: 'Viva Mexico!'
"We are in the final stages of sparring. To date, he has done 125 rounds of sparring with five different partners, all southpaws with similar fighting styles to James. By Friday we hope to complete a total of 155 rounds of sparring.
"We are all very happy that Canelo's fight week is on Cinco de May week; the holiday belongs to the Mexicans! Viva Mexico."
Eddy Reynoso, Head Trainer of Canelo Alvarez:
"He is strong and we are working on his speed these last two weeks to make sure he is ready for James Kirkland.
"We are working like normal, making sure he focuses on his defense. Defense will be very important on May 9, Kirkland is a fighter that is not afraid to come out looking for a knockout and that is something we feel Canelo is prepared for.
"I think Canelo is prepared to James' style. We have done a great job to prepare him for a left-handed fighter. Come fight night, Canelo will show the world that he is not afraid to fight anyone."