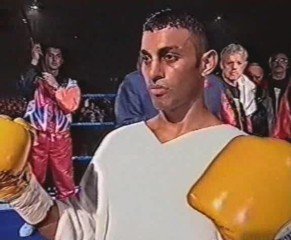 Back in April of 2001, "Prince," Naseem Hamed, then sporting a perfect 35-0 record, faced "The Baby Faced Assassin," Marco Antonio Barrera, then holding a 52-3 pro ledger in one of the biggest featherweight fights in recent history. What took place in the ring proved memorable.
The showdown, at The MGM Grand in Las Vegas, was widely expected to provide another exciting knockout night for "Naz" – instead we saw a would-be great humbled almost to the point of retirement.
Who can forget the way Hamed, by now trained by the great Emanuel Steward, took so long in coming out of his dressing room for battle? A good fifteen or twenty minutes passed before Barrera, who had made his way to the ring with no fuss at all, was joined by the U.K superstar who was attempting to gain similar status in America. On the way to the ring, carried in as he was by a huge, sort of hoop/swing that held him aloft, Hamed was pelted by unimpressed fans, who threw beer over the deeply religious, non-drinking Muslim. The irony was not lost!