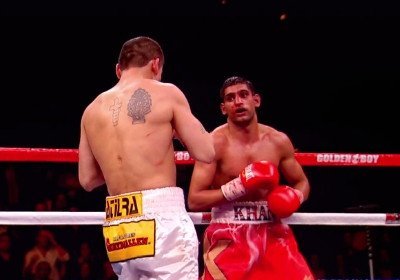 By Michael Collins: Former IBF/WBA light welterweight champion Amir Khan (26-3, 18 KO's) now has a venue, a U.S cable network carrier and a date for his next fight against lightweight Carlos Molina (17-0, 17 KO's). Khan, 25, will be fighting Molina on December 15th on Showtime on in the U.S. a the Sports Arena, in Los Angeles, California. It's a date the conflicts with a Top Rank card headlined by WBO welterweight champion Tim Bradley possibly against light welterweight Lamont Peterson on HBO. As such, the audience for both fights will be much less than could be, not either of the main events are all that interesting.
One question you have to wonder about is whether Khan's promoters at Golden Boy Promotions attempted to sell the Khan vs. Molina fight to HBO first and were turned down? HBO is where Khan's fights have been televised recently in the U.S, and there have been rumors that they previously turned offers of Khan vs. Joan Guzman and Khan vs. Humberto Soto. If so, then it's not surprising that they might have turned down Khan-Molina because this fight would seem a much bigger mismatch than those fight.
I'd pick Guzman and Soto to beat Molina every day of the week. I rate them as much better fighters than Molina. Not even close. The only thing that I can see that Molina has going for him is an unbeaten record but those wins have come against weak opposition, so it's really not surprising that he still has an unbeaten record.