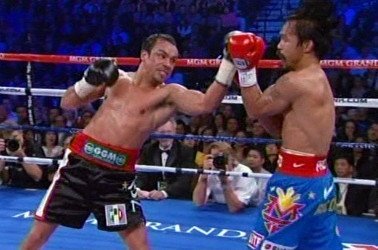 By Rob Smith: 33-year-old Manny Pacquiao (54-4-2, 38 KO's) is expected to sign to fight 39-year-old Juan Manuel Marquez (54-6-1, 39 KO's) on December 8th now that Marquez's only real competitor for the fight, Miguel Cotto, has decided on taking on Austin Trout on December 1st. Technically, WBO welterweight champion Tim Bradley is still in the running for Pacquiao's next fight on December 8th, but he's not a serious option because of the controversy that surrounded his win over Pacquiao last June. But importantly, Bradley isn't an option because the Pacquiao-Bradley fight brought in low pay per view totals last time out.
Money is the name of the game, and Pacquiao's promoter Bob Arum is trying to maximize the income he can get for his fighter with what little time he's got left in the sport. Judging by how Pacquiao has looked in his last two fights, I don't think he's got too much time left at the top of the game unless Arum starts spoon-feeding him weaker opposition at some point. A lot of boxing fans think that's already been going on with Arum putting Pacquiao in with Antonio Margarito, Shane Mosley and Bradley instead of Floyd Mayweather Jr. or Andre Berto.
Marquez brings in a lot of Hispanic fans to a fourth fight with Pacquiao, and Arum realizes that. It's a fight that could make a lot of money due to the casual boxing fans that will be excited about seeing this. However, it's a fight that the hardcore boxing fans have seen one too many times it's utterly predictable how the fight will take place and end.