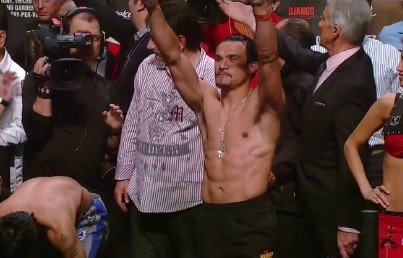 By Rob Smith: Manny Pacquiao (54-4-2, 38 KO's) made weight today for his bout tomorrow night against Juan Manuel Marquez (54-6-1, 39 KO's) at the MGM Grand in Las Vegas, Nevada. Surprisingly, Pacquiao weighed in 4 more than Marquez. Pacquiao weighed in at 147 pounds, while Marquez weighed 143 lbs. Marquez looked bigger than Pacquiao despite being four pounds lighter, but much of Marquez's weight was in his upper body.
Pacquiao is the favorite in this fight with the oddsmakers, you have to ignore them and focus on who has been looking like the better fighter of late. That would have to be Marquez. He arguably beat Pacquiao last year in November, and then followed it up with a one-sided 12 round unanimous decision win over a very defensive minded Serhiy Fedchenko last April.
Marquez may not have looked as good he normally does, but he was facing someone that was running away each time he would even hint at throwing a punch in Fedchenko. Pacquiao looked poor against Marquez and then looked even worse in his loss last June to Tim Bradley. Boxing fans as whole saw Pacquiao as the winner of that fight, but he still looked bad in that fight, and nothing like what he once did in his prime.