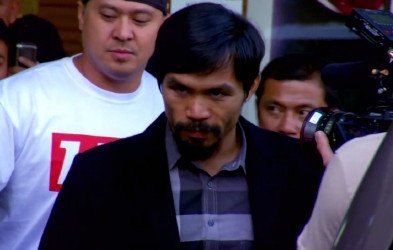 By Michael Collins: Top Rank promoter Bob Arum is close to putting the finishing touches on a fourth fight between Manny Pacquiao and Juan Manuel Marquez. The bout will take place on December 8th in Las Vegas for a still yet to be determined pay per view asking price. Count on it being in the $49.99 range.
Arum said to Dan Rafael at ESPN "We're having a meeting about Manny's next fight and to get it finalized. My goal is to finalize the Marquez fight, but I have to meet with [Michael Koncz]."
This might good news or bad news depending on whether you're one of the fans that want to see Pacquiao fight Marquez for a fourth time. Hardcore boxing fans are getting a little tired of seeing Pacquiao fight Marquez again and again, but casual boxing fans seem to really like the fight judging by the 1.2 million fans that purchased tickets for the Pacquiao-Marquez III fight last November. With boxing fans continuing to show interest in seeing Pacquiao fight Marquez, Arum is likely going to keep this rivalry going until it no longer brings gold for Pacquiao, him and Marquez.
Tim Bradley is no out of the running for the fight. However, Arum has something planned for him. He wants to have Bradley fight next in New York at Madison Square Garden so that he can have some visibility there according to ESPN. It could be that Arum is possibly hoping that he can get Miguel Cotto to agree to fight Bradley in the near future.
It's hard to imagine a fight between the 5'6″ Bradley and Cotto. It might be a mismatch, but casual boxing fans will go for it. Arum doesn't have a lot of other fighters to use at that weight for Bradley, so one of his ex-fighters like Cotto could be a good alternative if Arum can get that fight made.
In the meantime, Pacquiao's trainer Freddie Roach isn't happy about Pacquiao fighting Marquez again, saying to RingTV "I don't like that fight. It's a very difficult fight. I think we'd go in three to four rounds down already."
Pacquiao has won two controversial decisions over Marquez. I guess it wouldn't hurt for Marquez to finally win one himself. A lot of boxing fans feel that Marquez should have won all three fights.