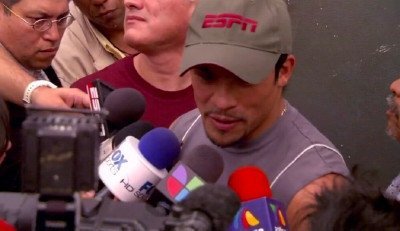 By Rob Smith: Juan Manuel Marquez's promoter Fernando Beltran is saying that a fight between Marquez and Manny Pacquiao (54-4-2, 38 KO's) is almost complete with a reported "95%' of it being done for December 8th. Whether they can get the last 5% remains up in the air but it's good sign if you're interested in seeing Pacquiao fight the 39-year-old Marquez yet again after having fought three times in the past already.
Pacquiao's promoter Bob Arum seems to want to put this fight together after another one of their big money options Miguel Cotto bailed out of the Pacquiao lottery in order to fight WBA junior middleweight champion Austin Trout.
In an interview at the Record.com.mx, Beltran said "The only reason I can not guarantee the fight is because there isn't a contract of Pacquiao before us. However, in the coming hours we will. Verbally we can announce that on December 8th, we will make this fight…It is 95% finished."
That does sound promising that Marquez (54-6-1, 39 KO's) will be getting the December 8th fight in Las Vegas, Nevada. There's really not much other options for Pacquiao if he and his promoter Bob Arum want a proven pay per view money fighter for their next fight. Pacquiao-Marquez brought in 1.2 million buys last November in Las Vegas, Nevada, and it looks like Arum is counting on similar numbers in a fourth fight.
Marquez is at a stage in his career where he has a lot of boxing fans that are willing to see him fight, especially someone like Pacquiao. The fans probably don't care that Marquez has never beaten Pacquiao in three previous fights, but they'll still pay to see him none the less hoping he wins.
It's unknown whether Pacquiao is excited about fighting Marquez for a fourth time given that their fights have been so closely contested. Pacquiao didn't seem all that thrilled at facing Marquez last time, and you got to imagine that he may not be too excited about facing him now.
Pacquiao is coming off a controversial 12 round decision loss to Tim Bradley last June in Las Vegas. You can make an argument that Pacquiao deserved to win the fight, but you can't ignore that Pacquiao starting to show signs of serious aging in his ability to get around the ring and fight hard for the full three minutes of each round. He's no longer doing either very well, and it's surprising that he's already showing signs of age at only 33. Perhaps it's the affects of his many tough fights against the likes of Marquez, Erik Morales and Antonio Margarito that is starting to catch up to him.