SANTA YNEZ, Calif. (July 19, 2012) – The four fighters competing on an eagerly awaited doubleheader on ShoBox: The New Generation tomorrow/Friday, July 20, live on SHOWTIME® (11 p.m. ET/PT, delayed on the West Coast) made weight on their first attempts Thursday at Chumash Casino Resort..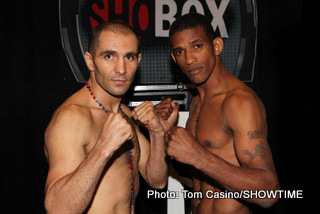 In the ShoBox main event at Chumash, undefeated Art Hovhannisyan (14-0-2, 8 KOs), of Glendale, Calif., makes his first start in 11 months when he faces former World Boxing Association (WBA) lightweight champion Miguel Acosta (29-5-2, 23 KOs), of Caracas, Venezuela, in a 10-round bout with a contracted weight of 134 pounds.
It is Hovhannisyan's second consecutive fight against a former world champion. In his last outing on Aug. 5, 2011, at Chumash, he fought to a fourth-round technical draw with ex-International Boxing Federation (IBF) featherweight champion Cristobal Cruz.
Promising unbeaten Roman Morales (10-0, 6 KOs), of San Ardo, Calif., takes on Alexis Santiago (11-2-1 5 KOs), of Las Vegas by way of Phoenix, Ariz., in an eight-round super bantamweight bout in the co-feature. It is the ShoBox debut for both youngsters.
Tickets for an event presented by Gary Shaw Productions in association with Thompson Boxing Promotions are priced at $35, $45, $55, $70, and $85 and are on sale at Chumash Resort Casino Box office or online at www.startickets.com.
WEIGHTS: Hovhannisyan weighed 132¼ pounds, Acosta 134; Morales and Santiago each tipped the scale at 122 pounds.
What the fighters said Thursday:
ART HOVHANNISYAN
"I'm rally excited to be getting back into the ring. This is a great opportunity to get myself noticed. Cruz was a tough guy. Acosta is a tough guy, too, but with a big punch. I'm treating this like it is the biggest fight of my career, and the toughest fight of my career, which it is.
"In my last fight I made a mistake. I played around too much and then the fight was called because of an accidental headbutt. I had a great training camp and I'm 100 percent ready for tomorrow night.
"My best fighting weight is 130, but I couldn't turn down an offer to fight somebody like this. It was a risk worth taking. But I'm always willing to fight anybody.
"Acosta is known for his punching power, but I wouldn't be surprised if he tried to move on me, especially for at least the first couple rounds.''
MIGUEL ACOSTA
"I definitely feel I am good enough to fight for and win another world title. I'm looking at this fight as a measure for me to see exactly where I'm at.
"I've been in with some really good fighters. I had things going my way against (Brandon) Rios before I ran out of gas.
"Both of us need to win tomorrow, so it will be a great fight. Physically and mentally, I'm ready. My opponent is a good fighter, but this will be a real test for him. I came to the United States to establish myself; now I can re-establish myself with a big win on Friday.''
RAMON MORALES
"I'm relaxed and ready to go. I like to apply pressure but I've been working hard on my jab in the gym. I'm in great shape and have been sparring a lot. I've never gone eight rounds, but I'm not concerned about the distance.
"This is really a great opportunity. I know that if I win and look good that could mean more TV fights for me. This guy has more ring experience and is a step-in class, but I'm ready. I'm trying to get to the top, one step at a time, and this is the next step.''
ALEXIS SANTIAGO
"This is my third fight since I started working with Roger Mayweather about nine months ago. Moving to Las Vegas from Phoenix has made a huge difference in training. Before I would go to the gym for 30-45 minutes and basically train myself. Since I've been in Vegas, I've been training really hard and sometimes I stay at the gym for three or four hours. I'm totally dedicated.
"I really feel for the first time that I am coming into my own. Roger has really been working with me on setting down my punches.
"I've always felt that I knew how to win and now I'm facing a good young opponent like me. I feel this is going to be a breakout fight for me. I'm confident and ready. I can't wait for this fight on SHOWTIME.''
Weights: Hovhannisyan-Acosta
Art Hovhannisyan 132 vs. Miguel Acosta 134
Roman Morales 122 vs. Alexis Santiago 122
Francisco Santana 148 vs. Larry Smith 150
Jonathan Maicelo 135 vs. Daniel Attah 135
Rufino Serrano 125.5 vs. Rob Diezel 125.5
Edgar Alvarado 157.5 vs. Erick Prado 161
Tureano Johnson 160 vs. Arturo Rodriguez 159