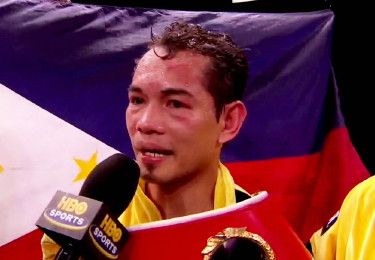 By Vitali Shaposhnikov: Nonito Donaire's stock skyrocketed after his impressive fifth round TKO of Vic Darchinyan in 2007, but it reached new heights after the stunning second round TKO of Fernando Montiel in February of 2011 in Las Vegas, Nevada.
Despite the fact that he has gained an army of fans and his popularity in the sport of boxing is through the roof, Nonito's recent resume is far from impressive. Between the Darchinyan and the Montiel fights, Doanire's competition has been less than impressive, and his three performances since the Montiel fight have also been unentertaining for the fans that expected much more. Many people wonder why such a roller coaster in his ring performances?
According to a recent interview that thaboxingvoice.com (http://thaboxingvoice.com/?p=2154) held with Donaire, Nonito attributes his lackluster fights to experimentation:
"I've kind of been experimenting with power and with counter punching a lot and just trying to do something different that I could bring to the table with the much tougher guys. The last three fights [the opponents] weren't dangerous for me, with a better fighter I'll be a lot smarter; [it was a fight] you can kind of experiment with and I took the chance to learn from it so now I'm a more [well-rounded] fighter. So when I do fight with someone on top like Mares or Rigondeaux, I'm definitely going to be the [kind of fighter] you've always seen. My performance suffered because of the [experimenting] but when I do fight someone who I feel is going to give me a hard time all that knowledge will come in handy."
This is either an excuse or the truth coming from a very brave and at the same time naive young champion. Taking chances in losing his title and credibility just for the sake of experimentation is simply unintelligent. If he was curious, a few sessions with his sparring partners could surely feed that curiosity.
Donaire claims that his recent opposition was not at all dangerous to him, yet he took the time and the vigorous preparation routine to make sure he is absolutely ready for anything that comes his way. And he did, and it did.
While Donaire is a tremendously skilled fighter, his competition is what could be the jagged rock under his feet. If he was able to experiment knowing there is no risk in it, then he was clearly not challenged by his competition, and that in itself limits what we know about Donaire as a world class fighter.
When asked about fighting Rigondeaux, the man most boxing fans want to see Donaire face, Nonito said the following:
"I would love to make the fight with Rigondeaux; I've never had problems with southpaws. He has a lot of amateur experience but there's only a handful that make it, he apparently made it. I'd rather face Mares, he's a true fighter. I told Cameron Dunkin, I want to take all the belts, and I want to beat the guys before I move up, I don't know how high I can raise my body to gain weight. I'm hoping we can get this fight with Rigondeaux, it's a good fight. I've wanted this fight to happen [in place of the last fight], but I presented the names that I wanted to fight but none of those guys came out."
Are we seeing in Donaire the very same curse that has been plaguing Pacquiao? Does he have absolutely no say in what fighter he faces next?
When the people make it clear whom they want Donaire to fight next, when the public practically demands it, the team should take that into consideration and do all it takes to make it a reality. A fight with Rigondeaux would most certainly be a money fight, and would undoubtedly provide both fighters with a change to solidify their name in current boxing state of affairs.
Tossing Nonito back-and-forth between suboptimal opposition will not only give him and the fans a false sense of his true abilities, but will mask and prevent his true potential from coming to light. Either Rigondeaux or Mares, doesn't matter which one, Donaire must not waste time with the little fight, and has to take the chance and fight the fights that add to his resume and potentially HOF legacy.