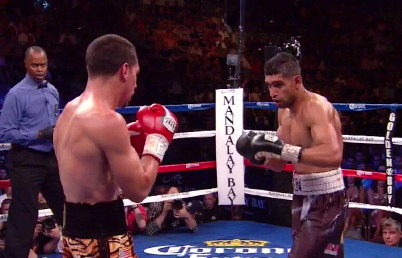 By Ming Lai: Amir Khan is done. I can't think of a single prize-fighter who suffered a devastating loss like Saturday night, and came back to be close to the fighter he was. Watching Kenny Bayless call a halt to the fight reminded me of Meldrick Taylor suffering that devastating KO loss to Julio Cesar Chavez. As we all know, Taylor was never looked the same again after that fight.
The boxing world has come out saying Khan fought the wrong fight, a reckless fight that Freddie Roach should be held accountable. I disagree. Khan is done, but he did nothing wrong. He got caught with a shot to his neck, below the right ear. It was a crushing blow from which he was never able to recover. Amir had just thrown what was the second punch of a 3 punch combination; a right uppercut. Danny Garcia caught him on the neck with a left hook that Amir never saw coming.
Did Khan do anything wrong? Was he reckless? Khan is beloved by many, fills seats, and attracts viewers because he fights with incredible speed and heart. To blast him for what he did on Saturday night? Shame on you, boxing fan. Amir Khan was caught not by an amazingly lucky shot, but by a lucky shot that was just amazing. No boxer in the world can throw a right uppercut, and simultaneously be prepared to guard against a blind left hook. No trainer can ask his fighter to throw combinations, but have the ability to block a punch no one can see coming. It happens to the best of them, just ask Roy Jones Jr.
Khan has chin issues, and in this case, neck issues. He was born with a weak chin the same way he was born with amazing hand speed and god given skills. He was born with this, and there isn't anything he or Freddie Roach can do about it. He did nothing wrong, and in fact, he did everything right. As boxing fans we crave for fighters who are not afraid to throw combinations and are willing to risk the chance of getting hit. The way Khan fights, the heart and competitive fire he brings into every fight, is what is keeping boxing alive. Instead of blasting Amir Khan for who he is, let's just thank him for what he brings to the game.
What now? I haven't read anyone suggest this, but I hope Golden Boy Promotions matches Khan up against Victor Ortiz at 147. Both Amir and Vic have had suspects chins (in Vic's case, he now has a surgically repaired jaw which may or may not help his chin). I would be very interested to see who wins that fight, and ultimately an opportunity to continue his career. Most, including I, think both fighters are shot. No one comes back from these devastating losses. But we know that neither Vic nor Amir will stop fighting, and the boxing world will not stop watching them. Let's give them a chance to prove the world wrong.