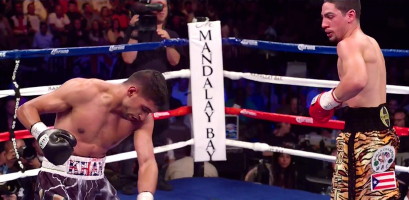 By Robert Jackson: This writer wasn't shocked regarding the outcome of the Khan/Garcia fight, in fact I saw it coming. Going back 4-fights to the Marcos Maidana fight, Khan had the troubling habit of not focusing on his current opponent, instead constantly referencing a future fight against Floyd Mayweather Jr. This was again the case this past Saturday night, Mayweather was brought up pre-fight as a future opponent for King Khan to conquer. Overlooking his opponents had become a 'bad habit' that Khan needed to take care of and eliminate, focus is a very important trait of elite fighters. Mayweather NEVER says or elaborates on who he's going to fight next.
Also troubling was Khan's inability to 'clinch' correctly when hurt, Khan RAN the last 3 rounds of the Maidana fight and also ran throughout the Peterson fight. Garcia's quick feet didn't give Khan a chance to run, and Khan didn't know how to clinch. What this writer saw was a digression of Khan's skills, defensive holes you could drive a Volkswagen thru, an overall limited fighter. Sure Khan looked good against Zab Judah and Paulie Malignaggi albeit both men are on the downside of their careers, and in Paulie's case no punching power. And sure there's an upside to Khan who at 25 years old is just entering his prime as a fighter.
Khan needs to go back to the drawing board, evaluate his strengths and weakness, then retool and make another championship run although he'll be starting from the end of the line this time around. Sometimes overcoming past difficulties helps a fighter move forwards and get better rather than never dealing with those difficulties at all. It may also be the case that Freddie Roach has taken Khan as far as he can go technically and it's time for Khan to move in another direction as to a trainer who can teach him new technique, tactics and tricks of the trade.
At best Khan has learned from this bad spot he's going thru, and can use this experience to return to form when he decides to return to the ring. Or worst case he fails to learn from mistakes made in previous fights and repeats those errors over and over. In this writers opinion Khan has gone as far as he can go technically no matter who's cornering him – for him it's mental, just a matter of focus and settling down into his fighting, setting up what he wants to do and not always looking for a 'homerun' every time at bat. Khan must be able to box for a whole 12 rounds and not lose focus or discipline, which takes him out of the gameplan. There's nothing wrong with believing you're the better man, but Khan must also stop underestimating his opponents – he was very dismissive towards Danny Garcia, and Lamont Peterson. Last but not least sell the fight but after that keep your mouth shut and let your fists do the talking.
In this writer's opinion Khan should've taken an easy fight after the Peterson fight to get in some rounds where he could control the action against a lower level fighter, which he can still do so after some time off and re-evaluation. More than anything Khan needs some steady rounds outside of sparring to mold his fighting style which to this point in his career he hasn't done. Khan hasn't developed his fighting identity yet, and as far as the writer is concerned Khan is still learning.