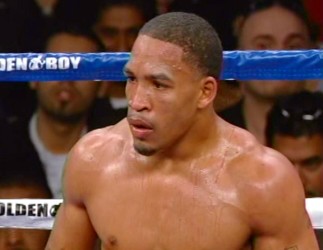 by Robert Jackson: Primetime…a word that conjures up images of American NFLer Deon Sanders intercepting a pass and running it back for a touchdown, dancing his way into the endzone. 'Primetime' the nickname Sanders a 14 year pro was given based on his preparedness for the BIG game/moment and the many highlight reel plays he made during his career, had 9 career interceptions returned for touchdown and is considered one of the most feared pass defenders to ever play the game.
Applying this word and what it means to boxing, one would have to surmise that a few of the advertised fighters just aren't ready for 'Primetime'. The following list of high expectation/low achievement fighters should make the meaning of primetime quite clear.
10) Amir Khan – potential = 10, ability = 10, skills = 7 (still fights in amateur style), needs to control himself in the ring, have more poise and stop crying so much-running his mouth and let his fists do the talking.. Some will argue he shouldn't be on this list but if he loses to Lamont Peterson in their rematch, Khan will jump up a few notches on this list. And who can forget Breidis Prescott?
9) Devon Alexander – potential = 9, ability = 10, skills = 8, needs rounds to gain confidence and settle down into his fighting, should improve his defense to stop getting hit so much. Unable to prove much at 140lbs, Devon has a lot to prove at 147lbs where the competition is much better. Don't know who he fights next, who does he even matchup with?
8) Tavoris Cloud – potential = 9, ability = 8, skills = 8, needs to be MORE active and fight more than once a year, competition in the 175lb division is stiff, and gift victories won't get Cloud where he wants to go. Hopefully Cloud and Jean Pascal will get it on and we won't have to wait another year to see Cloud fight again. He needs to give Gabriel Campillo a rematch.
7) Andre Berto – potential = 8, ability = 7, skills = 7, Berto's ranked here because he seems to have digressed from a smooth, crafty boxer into a crude brawler who'll stand and trade shots with his opponent neglecting his craft, including defense.
6) Victor Ortiz – potential = 6, ability = 8, skills = 7, Ortiz has lost it and self destructed in two fights, which definitely shows that the BIG GAME affects him negatively, Ortiz like Alexander, needs to settle down into his fighting, and, leave the emotion in the gym, in the ring 'it's business'.
5) Chad Dawson – potential = 8, ability = 6, skills = 6, Dawson, formerly the most promising 175lb fighter has meandered in his boxing career, stagnating his ascendance to the elite level of boxing's hierarchy, has never been the same since firing Floyd Mayweather Sr as his trainer, and has jumped from trainer to trainer since with limited success. His career has become 'on again-off again'. His upcoming rematch against Bernard Hopkins will say a lot about Dawson's future.
4) Juan Manuel Lopez – potential = 7, ability = 6, skills = 5, finding a new trainer would really help Juanma, because he has declined into a face first fighting style, using little defense or versatility in his offense– Pedro Diaz who works with Miguel Cotto could really help Lopez improve.
3) Edison Miranda – potential = 5, ability = 5, skills = 4, the once promising El Pantera has degenerated into a 'punchers chance' type fighter, unable to improve skillwise, Miranda's only chance is to get an opponent out early or take a beating.
2) Allan Green – potential = 4, ability = 4, skills = 5, Green once a staple of the FNF circuit has not been able to make it whenever he's had to step up, against the elite fighters which Allan claimed he was one, his record is 0-3, his last shot may just be his upcoming fight against Mikkel Kessler.
1) James Kirkland – potential = 10, ability = 2, skills = 2, Kirkland could be rated lower on this scale, but a loss in early 2011 to an unheralded foe and a gift in his latest fight, coupled with an inability to adjust to his opponents style and tactics has James stuck in the mud and the #1 guy who is not ready for primetime. Let's see if Kirkland is able to reverse his fortunes in a rematch against Carlos Molina.
This list is in no way a disrespectful rendering any of these fighters – all of whom are decent and credible, it only points out where they are in their careers compared to the expectations they held. It can also be said about Deon Sanders as great a pass defender as he was, his critics argued that he was a poor tackler making him less effective for running plays.