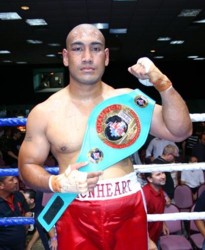 By Young Runyon – Sunday April 1st will see Brisbane's Doomben Racecourse transform into a first class boxing arena when Australia's Alex Leapai battles American Kevin Johnson over 12 rounds for the IBF Australasian title. The bout, which will be available via internet stream, puts the winner in line for a huge fight with the cream of Europe. Eastsideboxing.com caught up with the Samoan hit man, who owns an impressive 25-3-3 (20 KO) record. Leapai, always humble, spoke with a steely determination, seemingly all to aware of just how much this fight meant to his career, family and his supporters.
Q. Alex, firstly thanks for taking the time to talk to ESB.
A. Always a pleasure.
Q. What can you tell us about your next fight?
A. I'm very excited about this next fight as my opponent has been in with the best and it will give me an idea where I stand in the whole scheme of things..
Q. Have you watched much footage of Johnson? If so, what are his strengths and weaknesses?
A. I have watched Johnson and he is a very good technical fighter who has underrated power. He obviously has a great jab, he's a big Heavyweight and very tough. As for his weaknesses, I will create them.
Q. This fight was meant to happen a few weeks ago. What caused the delay?
A. Kevin travelled all the way from New Jersey to Los Angeles only to turn around claiming he had the flu. After a lot of back and forward between my Promoter and Trainer Noel Thornberry and Brian Johnson, Kevin's manager and brother we have re-scheduled the event for April 1st at the Doomben Racecourse in Brisbane.
Q. How has your preparation gone? Have you and Noel Thornberry been working on anything new?
A. We always work on something relative to the opponent but stick to our basics. So with out giving too much away, I just want to say I am ready and waiting for this fight.
Q. What has been your hardest fight to date?
A. The Travis Walker fight was my hardest as I was stepping into the ring with a very strong experienced fighter with virtually no sparring after being repeatedly let down by different sparring partners. Travis is a strong guy, however I believe it would not have been anywhere near as hard a fight with the right preperation. The idea of pulling out of the fight never came into my mind as I would rather fight than sit home on the couch watching guys I know I can beat.
Q. What are your thoughts on the recent Klitschko fights against both Chisora and Mormeck?
A. The Klitschko's can both be beaten and I have the style to do it. The fact that they are defending their Titles against a fighter who lost his last 2 fights against inferior opposition and the other was fighting a blown up cruiserweight, shows the urgency for a challenge that has some sort of intrigue – I will provide that intrigue when I knock out Johnson!
Q. What are your thoughts on the recent Kali Meehan vs Travis Walker fight? You've already beaten Walker and were rumoured to face Meehan at some point this year.
A. Travis fought a smart fight and waited for the edge to go off of Kali, then made his move. I think they thought that Travis wasn't that good, but he beat Ruslan Chagaev, he just didn't get the decision and Chagaev beat Kali soundly on points.
Q. What are your goals for 2012?
A. This year is the 50th anniversary of Samoan independence. I cannot look past Johnson as he is my biggest challenge yet, but my full intention is to go to Germany, Ukraine, Switzerland or wherever I have to and win the Heavyweight Title, bring it back home to Australia and then take the belts to my parents in Samoa and celebrate independence.
Q. Alex, thanks for taking the time to speak with ESB. Anything you'd like to say in closing?
A. I urge all supporters of mine and Boxing in general to tune into www.epicentre.tv "LIVE" on Sunday April 1st at 1pm Australian time and watch this fight as it will be a great fight. Allowing for International time zones the fight is "LIVE" USA time 7pm March 31st, 2012.