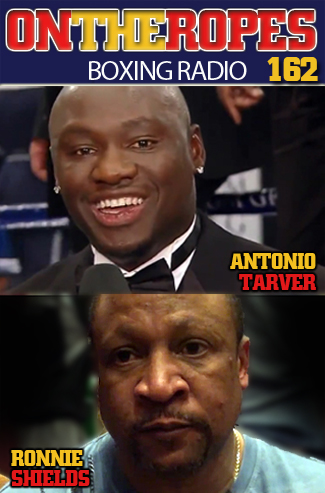 by Jenna J – This week's 162th edition of On the Ropes Boxing Radio features exclusive interviews with IBO crusierweight champion Antonio Tarver & top boxing trainer Ronnie Shields
On the Ropes Boxing Radio is back to bring you the latest in boxing news & upcoming fight discussion! Join me Jenna J, the Hostess, along with my amazing Producer and Co-Host Geoffrey Ciani.
TOPICS FOR DISCUSSION:
• Sergio Martinez's tougher then expected TKO11 victory over Matthew Macklin
• Has Martinez started to decline or is he just fighting to the level of his opponents?
• Who should Serio fight next?
• Thought on Edwin Rodrigeuz's rise up the Middlweight rankings. Is he ready for a title shot?
• Juan Manuel Marquez vs Serhiy Fedchenko and Brandon Rios vs Richard Abril double header announced for April 14th split PPV bill.
• Mikkel Kessler moving up in weight, and possibly fighting Allan Green on May 19th in his first bout at 175. Can Kessler be an effective light heavyweight?
• Erik Morales vs. Danny Garcia, James Kirkland vs. Carlos Molina, Zab Judah vs. Vernon Paris fight predictions
~
CLICK PLAYER TO LISTEN

EXCLUSIVE INTERVIEW!
Be sure to join us for two exclusive interviews:
Antoinio Tarver
• Has an upcoming bout with Lateef Kayode on May 26th
• Is coming off a TKO9 win over Danny Green
• Is best known for defeating Roy Jones Jr. twice
• Will be making his third guest appearance "On the Ropes"
Ronnie Shields:
• Has worked with fromer champions Mike Tyson, Evander Holyfield & Juan Diaz
• Currently trains Edwin Rodrigeuz would fought this past weekend
• Former World Title Challenger with a career record of 26-6-1 with 19 KO'S
• Will be making forth guest appearance "On the Ropes"
BE SURE TO TUNE IN!
***
On the Ropes Boxing Radio would like to give a special thanks to Alex Sherpakovski!
***
To learn more about On the Ropes Boxing Radio:
Visit our official Website:
http://www.ontheropesboxingradio.com
Subscribe to our show on i-tunes:
http://itunes.apple.com/us/podcast/on-the-ropes/id427474189
Join our Facebook Group:
http://www.facebook.com/group.php?gid=231954175413&ref=ts
Or Follow us on Twitter:
http://twitter.com/JennaOnTheRopes
To contact Geoffrey Ciani or Jenna J:
ontheropes@boxing247.com
To read more by Ciani or Jenna please visit The Mushroom Mag:
http://www.eatthemushroom.com/mag