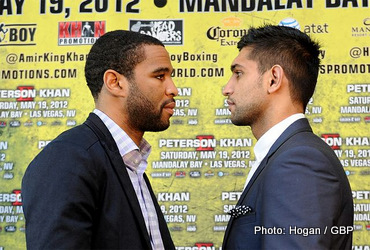 Lamont Peterson, Unified Super Lightweight World Champion
"I am happy the rematch is happening. Too many times the fans want to see a rematch and you don't see it until five or six years later when the fighters are past their prime. This will be a great fight for the sport of boxing.
"I had other fights on the table that were interesting to me, but the fans seemed disappointed [with those fights]. I like to think I am the people's champion and the fans wanted to see this fight and I wanted to do it for them.
"Since I stepped out of the ring, I have wanted to get back in there with Amir..
"I'm feeling very confident that the fight is in Vegas. I don't want to leave any doubt that I'm the better fighter. I know there wasn't any cheating going on [in the first fight] and I want to prove that.
"Amir Khan believes he won the last fight, and I believe that I won, so we're both going in this with something to prove. This will be an exciting fight. I am confident I will win again."
"The only difference [in my life] since I won the belts is sometimes I forget that my name is Lamont Peterson because everyone is calling me 'champ.'
"I felt like everything was going my way in the first fight, so I am not going to change much in my preparation."
Amir Khan, Former Unified Super Lightweight World Champion
"I really believe I won the first fight and it brought a fire back inside me which I haven't felt in a long time.
"I know I made mistakes, so we're going back to the drawing board to fix them. I'll be a different fighter in this fight because I'm hungrier and more focused than ever. Sometimes when things don't go your way it makes you work harder.
"We had a great fight the first time. I want those titles back and that is the reason I wanted this rematch. This is a fight that the world wants to see.
"Bernard Hopkins said to me, 'Whenever you walk into someone's backyard it's harder to win the fight,' and he was right.
"May 19th is going to be explosive and the best fighter is going to win. This could be one of the best fights of 2012.
"In every fight there are adjustments to be made, so we are going to change a few things and bring some new moves to the ring to be prepared for Lamont Peterson on May 19th.
"Peterson is a good fighter. He's tough and he's strong and that is what makes me want to get in the gym and work harder…so I can win on May 19th.
"I am glad this fight is in Vegas. All I want is a fair and neutral fight. We want to make sure the referees and judges are neutral so that there is no doubt who is the best fighter.
"I walk the streets and people still call me the champ and I can't wait until May 19th to win the championships back and make my fans proud."
Barry Hunter, Peterson's Manager and Trainer
"We had a choice and took our time to make the right one for this particular time in Lamont's career.
"They [Team Khan] are good guys. They treated us well in the U.K., but like they say, 'The British are coming.' We have to hold it down and get [our fans] to Vegas.
"If you miss this fight, you are going to miss a legendary one. I have "No Doubt" in my mind that the second fight is going to be better than the first."
Freddie Roach, Khan's Trainer
"We had a great fight last time. This time, we are going to make some new moves. We will make small adjustments with Khan but they will make a big difference.
"I am a fight fan and I am looking forward to this fight."
"Where going to the Philippines so he'll be training with Manny Pacquiao. It helps him prepare mentally, because if he can do it with Pacquiao, then he can with Lamont Peterson
Oscar de la Hoya, President of Golden Boy Promotions (Khan's Promoter)
"Will Amir Khan prove to everyone there was a "Doubt" or will Lamont Peterson show there is 'No Doubt' in May?
"With 'No Doubt,' I feel that this fight will be the 'Fight of the Year' because their styles are perfect for each other."
David Itskowitch, COO of Golden Boy Promotions (Khan's Promoter)
"Each one of these young men is looking to leave "No Doubt" as to who the champion really is.
"It is going to be a fight that will be very similar to the first fight in terms of action in the ring.
"Making rematches often isn't easy. Both of these guys agreed to concessions in order to make this fight happen and they should be commended for getting it done.
"Lamont Peterson has a great story. Not far from where he was wandering the streets homeless as a little kid, he wins a world title. That is a pretty amazing."
"Amir Khan is not only well known for his in ring abilities, but he is also known for his charity work in the U.K. and Pakistan. He is a great guy. On May 19th he will be looking to regain the titles that he feels are rightfully his.
Asif Vali, Khan Promotions
"Without a doubt this is what people want. This is what the fans want. This is what the media wants and this is what the public wants.
"May 19th, you will see a great fight. The first fight was great no matter what happened inside and outside of the ring. The second fight is going to be even better."
"We're ready to go and as the title says leave 'No Doubt.' In the last fight I have "No Doubt" that Amir won and I have "No Doubt" that Amir is going to take his titles home on May 19th for himself and the fans.
"We'll make sure it's fair and we'll make sure the two boxers will have the chance to do what they do best inside the ring."
Jeff Fried, Headbangers Promotions Attorney (Peterson's Promoter)
"I see what the secret to the Petersons' success is. It's family and their values.
"I want to let you know that there is true professionalism up here and may the better man win on May 19th.
"We're not much for talking. We're about backing up our words with actions and that's what Lamont will do May 19th.
"Our view of 'No Doubt' is not so much to erase a controversy, it's to put an exclamation point on what happens May 19th. You have not seen Lamont at his best."
# # #
"Peterson vs. Khan II: No Doubt," a 12-round Unified Super Lightweight World Title Fight for Peterson's WBA World Super Championship and IBF World Championship taking place Saturday, May 19 at the Mandalay Bay Events Center in Las Vegas, Nev. is presented by Golden Boy Promotions in association with Khan Promotions and Headbangers Promotions and sponsored by Corona and AT&T. The fight will be telecast live on HBO World Championship Boxing at 10:45 p.m. ET/7:45 p.m. PT in the United States and live on Sky Sports 1 HD in the United Kingdom at 11:00 p.m. GMT (beginning with David Price vs. Sam Sexton for the British Heavyweight title from Liverpool, followed by Peterson vs. Khan II).
Tickets priced at $300, $200, $150, $100 and $50, not including applicable service charges, are available for purchase at the Mandalay Bay box office and all Las Vegas Ticketmaster locations (select Smith's Food and Drug Centers and Ritmo Latino). To charge by phone with a major credit card, call Ticketmaster at (800) 745-3000. Tickets also are available for purchase at www.mandaylaybay.com or www.ticketmaster.com. Tickets for fans traveling from the United Kingdom are available for purchase online at www.sportscorporation.comor by calling +44 (0)845 163 0845.