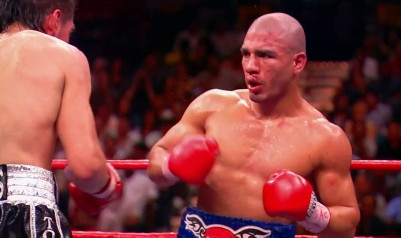 NEW YORK (November 29, 2011) — Three-division world champion and the Pride of Puerto Rico MIGUEL COTTO and professional rival and three-time welterweight world champion ANTONIO "The Tijuana Tornado" MARGARITO, of México, will step on the scale for their Official Weigh-In for their long-awaited world championship rematch, This Friday! December 2 in the Theater at Madison Square Garden.
Limited tickets will be made available to the public for the official weigh-in. Fight fans can pick-up free weigh-in tickets (Limit One Pair Per Person), which are required for admittance, at the Madison Square Garden box office, during normal business hours, starting Tomorrow! Wednesday, November 30, beginning at 9 a.m. ET, through Noon ET on Friday, December 2. Tickets are available on a first come, first-served basis. Doors to the Theater at Madison Square Garden will open Friday at 4 p.m. ET with the weigh-in beginning at 5 p.m. ET.
Cotto will defend his World Boxing Association (WBA) super welterweight title in this high-tension showdown against Margarito, Saturday, December 3, at "The Mecca of Boxing," Madison Square Garden. With approximately 500 tickets remaining, Cotto-Margarito II is projected to sellout in advance of fight night. Cotto has sold more tickets to The Garden in this millennium than any other fighter.
Promoted by Top Rank, in association with Cotto Promotions, Tornado Promotions, AT&T, Tecate and Madison Square Garden, Cotto-Margarito II will be produced and distributed Live by HBO Pay-Per-View®, beginning at 9 p.m. ET / 6 p.m. PT
The previous encounter between Cotto and Margarito took place on July 26, 2008 and was a battle of epic proportion and arguably the Fight of the Year. Cotto and Margarito boast a combined record of 74-9 (56 KOs) – a winning percentage of 89% and a victory by knockout ratio of 76% — not to mention seven world titles between them.
******************************
Remaining tickets to Cotto-Margarito II, priced at $600, $400, $300, $200, $100, and $50, can be purchased at the Madison Square Garden box office, online at www.thegarden.com and all Ticketmaster outlets, which charges an additional fee.
HBO will present the back-to-back replay of both episodes of 24/7 COTTO/MARGARITO on Friday, Dec. 2 at 8:00 p.m. ET/PT, the half-hour special "24/7 Overtime: Cotto/Margarito" will be seen at 9:00 p.m. ET/PT.
Jose Estrella Looks to Close Out Year Strong
Hard hitting twenty-one year old Jose Estrella (9-2-1, 8KOs) looks to close out his 2011 in spectacular fashion Saturday, December 10th, as he faces Victor "Ranita" Godinez (4-2-1, 3KOs) of San Felipe, Mexico, in a six round flyweight contest. The bout will be in support of the Pedro "Pedrin" Guevara (14-0-1, 11KOs) vs. Manuel "Menny" Jimenez (11-1-1, 7KOs) twelve round clash for the NABF light flyweight tilt set for the newly renovated Plaza Calafia in Mexicali, Mexico. The fight card is presented by Erik "Terrible" Morales' Box Latino with the main event broadcast live in Mexico by Televisa.
After suffering only his second loss to a much bigger Luis "Chupacabras" Gomez in a bantamweight war last December, Estrella has fought with a vengeance in 2011 with three consecutive wins, all ending before the distance. In March, Estrella stopped Juan Manuel Armendariz, a month later he stopped Manuel Valdez, both in the first round. In his last bout last July, Estrella traveled to Mazatlan, Mexico, and stopped previously undefeated and local favorite Juan Jimenez in the third round of a scheduled six.
"At this point, it doesn't matter who my promoter Box Latino puts in front of me, I want to prove to them that I am ready for bigger and better things," Estrella said recently during a training session. "I want to step up to eight rounders next year so I have to prove that I am ready by giving a great performance on December 10th."
Estrella, the younger brother of top Tijuana prospect featherweight Omar Estrella, is trained by two time world champion Raul "Jibaro" Perez at the Gaspar "Indio" Ortega gym in the Zona Norte of Tijuana, Mexico.
Adrian Corral, Estrella's manager, looks to turn a successful 2011 into an even more successful 2012, "We don't want to get ahead of ourselves but we know that Jose is ready for some type of regional title early next year. I think with a spectacular win here, it will show that he is ready. That is our goal for the New Year but first we must get past Godinez."
Also featured on the multi-bout night is the Morales' clan youngest fighter, Ivan "Niño Morales (14-0, 9KOs) as he takes on the vastly more experienced Ricardo "Rocky" Armenta (15-12-1, 7KOs) in a super flyweight bout, former lightweight champion Jose Luis Castillo's younger brother Ricardo "Piolo" Castillo (39-10-1, 26KOs) as he faces the tough Daniel "Cañerito" Ruiz (24-4, 18KOs) in a featherweight ten rounder, Ramon "Niño de Oro" Ayala (21-2-1, 14KOs) as he takes on Manuel "Zurdo" Aguilar (17-4, 12KOs) in a eight round lightweight bout, world ranked light flyweight Javier "Cobrita" Mendoza (14-2, 11KOs) against the always dangerous TBA and in a special attraction, Khabir "Crazy Russian" Suleymanov (11-1, 6KOs) as he makes his Mexico debut versus Jorge Guerrero (6-8, 5KOs) in a super bantamweight eight rounder.