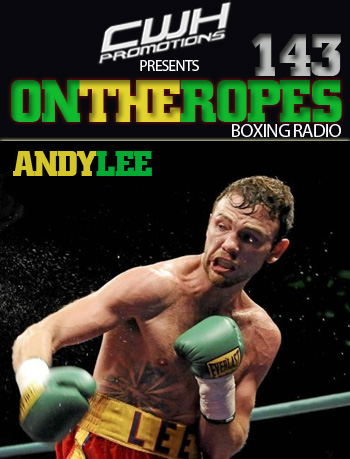 by Geoffrey Ciani (Exclusive Interview by Jenna J & Geoffrey Ciani) – The 143rd edition of On the Ropes Boxing Radio (brought to you by CWH Promotions) featured an exclusive interview with middleweight contender Andy Lee (26-1, 19 KOs) who is looking to avenge his only career loss in a long awaited rematch against rival Brian Vera (19-5, 12 KOs). Lee spoke about the fight, and talked about the impact their first fight had on his career. He also touched on a variety of other topics including Sergio Martinez's upcoming fight with Darren Barker, Floyd Mayweather Junior's controversial KO victory against Victor Ortiz, Felix Sturm's highly disputed victory against Matthew Macklin, Manny Pacquiao, fighting in Germany, and more! Here is a complete transcript of that interview:
JENNA J: Let's move things to our second guest of this week's show. He is making his sixth appearance to On the Ropes and he's on the cusp of getting a title shot. We are joined by "Irish" Andy Lee. How's everything going today, Andy?
ANDY LEE: Everything is going good. Thank you, Jenna. Thanks for having me on the show. Everything is going good. I'm here in Detroit in the final week of training. So I'm just finishing up sparring. I did ten good rounds yesterday and I'm looking forward to the week ahead, and then on to the fight!
JENNA: Alright well you mention the fight. It's been three years in the making, that's a rematch with Brian Vera. Now that you're less than two weeks away from it, how do you feel about the matchup?
LEE: I'm feeling very good. Like you said, it's been over three years waiting for this fight. It's been a long, long road. Obviously losing the fight was a big upset to me. It really stalled my career, but I've had a lot of fights since then and improved myself in other areas. I always wanted this rematch and I finally get the chance for redemption, and it's going to be on HBO so there is no better stage for it. I'm feeling really good. I'm only a week and a half away now from getting what I wanted for three and a half years. So I'm feeling good about the fight.
JENNA: Now you mentioned how the loss stalled your career. Do you think it is for the better in the sense that you improved and you're more ready for a title shot if you are to win this fight?
LEE: Yeah I feel like now, when I look back then I was so young and immature in the way I boxed. Physically I wasn't even mature, but now I'm 27 years of age, I'm feeling good, and I'm seasoned. I think now is the time I'm ready. I've been on the road. I've fought all over. I've fought different types of guys and been in a lot of training camps. So now I'm ready! The loss sent me back a long way and it hurt me emotionally and physically, but probably in the future when I look back I will say it's a blessing in disguise because I've changed so much, I've reevaluated everything, and since that fight my training has been at a different level. With every fight I've stepped up and learned and improved in camps with the way I'm training. It's a hard thing to take a loss, especially your first one, and hopefully my last one. But I've learned from it and I'm stronger for it, and not just stronger as a boxer but stronger as a person. My resolve is better and I know what to expect out there now. I'm not going to say it's a good thing. Of course I would never want to lose, but it had its upsides as well as its downsides.
JENNA: Well your opponent Brian Vera has had a long road since that fight, too. He's had a lot of downs and a few ups. He's recently coming off of an upset win over Sergio Mora. What do you think about the road he has taken since his upset win over you?
LEE: Well since he beat me, that was a great victory for him and well deserved because he hung there. I gave him everything I had and he hung in there and weathered the storm, and came back firing and stopped me. After that he fought Kirkland. He fought Kirkland at 154 and most of the time Brian Vera was fighting at 168 so I never gave him much of a chance because I can see in the fight he was physically weak. His biggest strength is his physical strength. So then he lost to McEwan. I watched that fight quite a bit, and McEwan did a great job of outboxing him and really schooled him. But at that time I could see when I watched him, he didn't fight McEwan with the same intensity that he fought me with. I think maybe after that loss to Kirkland he was maybe down. He lost to a young guy, Isaac Rodrigues or something. So that was three in a row, and then he turned it around and beat Sebastian Demers. He had another fight which he lost over in the Ukraine, and then he beat Sergio Mora. He's been on a good run lately. It seems he's working with his trainer and he's got new management now, so he seems to be spiritually in a good place. So I hope he brings his best. I know he will, because he always comes to fight and so do I. I don't want any excuses from him. I have no excuses. My training camp has been great. I couldn't ask for a better training camp. It's going to be a good fight. We both went our ways. I followed his career and whenever he won, it was like almost I won because he was the guy that beat me. So I would always root for him in his fights. I don't think he ever ducked me even though it's taken three years to get this rematch. It's just that after he beat me he was on such a high end and in such demand that he wanted to capitalize on that and get some fights. He almost got a fight with Pavlik but that never happened. Right now he like almost has to beat me to get another big fight, and I have to beat him to step on and move on with my career. So this is a pivotal fight for both of us. It means everything to us.
JENNA: Alright now most people say that the biggest mistake you made in the first fight was getting dragged into the type of fight that gave him an advantage. Do you think the most important thing for you in the rematch is to fight your fight?
LEE: Yeah, exactly! Like I said earlier, I was immature at that time in my career. After that fight I hardly ever lost a round in a fight, never mind lost the fight. I can remember being in the fight and worrying about losing a round. Like, I just don't want to lose any rounds, and not thinking about the greater good of the fight. When he landed good shots I just retaliated straight away instead of boxing and re-gathering myself, and eventually it turned into a slugging match. There was a bit of macho-ism there, playing to the crowd. There was a big Irish crowd there over in Connecticut. With all of those things and many of the mistakes were made in the preparation and my own attitude going into the fight. So this time there is a different approach. Everyone is on board. Everyone is 100% focused here. Emanuel has been in the gym with me every day. He turned down actually, he didn't want to go to train Chad Dawson in Connecticut because he wanted to be here with me because these are important fights for us both, and I appreciate that from Emanuel. We've all put in time. My brother Roger is here, Joey Gamache, Sugar Hill, and we're all just 100% focused on the fight. We're giving this fight 100% priority, and if I don't win this fight with Vera then there is no tomorrow. So everything comes down to Saturday.
JENNA: Okay. Well Andy, we're also on the line with my Co-Host Geoff Ciani.
GEOFFREY CIANI: Hey Andy. It's a great pleasure to have you back on the show.
LEE: Yeah, it's good to be on Geoff. How are you doing?
CIANI: I'm doing very well, thank you. Andy one of the biggest criticisms in your fight with Craig McEwan, where you showed tremendous heart and you came back from being down on the cards, was your defense. Are fans going to see a more elusive, a more difficult to hit version of Andy Lee in the rematch with Brian Vera than we saw that night with McEwan?
LEE: I hope so! (laughs) I've been working on it. The McEwan fight was a crazy fight. I know what happened in that fight. It's hard to explain and I don't want to be out here making excuses. McEwan fought a great fight and deserves a lot of credit for winning those rounds. A lot of things I was doing weren't right. I know with the back story in the preparation that different things were going on. I don't really want to touch on it right now, but I know what happened in the fight. But as well, I have to give McEwan credit because a lot of the things that he did were factoring in me having a bad defense. He boxed a very good fight and I just to dig it out really. That's what happened. I couldn't really box him so I just had to grind it out and put it on him. It was a bad performance for all those middle rounds. I started off well, and again got dragged into banging, was looking to bang and I thought I could take him out, and all the time he was boxing. Eventually I ended coming out on top. As I said I had to drag it out, but this is a different fight. I'm fighting a totally different boxer, a smaller fighter in Vera. I know my role, which will be to box and his role will be to be aggressive and try to get inside. Hopefully you won't see the same thing. I hope it's not as dramatic. You know I hope for the fans it will be a good fight, but for me I wouldn't mind if it was a ten round shutout. (laughs) That's the way I'd like it to go, so we'll see what happens.
CIANI: Now just two months after your fight with McEwan, you went back in the ring and you scored a shutout on all three judges' scorecards in your victory over Alex Bunema. Can you tell the fans (A) how you felt in that fight and (B) also what you thought of your performance that night?
LEE: I thought I boxed very well against Bunema, but well within myself. If I had extended myself a bit more maybe I would have stopped him, but I was in control of every round and I think he only landed maybe three punches in the whole fight. But he was always strong and although he's older now, he still had a lot of punch, and he still had his coordination and good legs under him. So he was crafty. He was basically waiting on the ropes trying to bait me in and then throwing big shots. I was just controlling him with the jab, and taking my time, and placing my punches. I boxed within myself but it was a win, and with it I won the NABF title and NABA title. So I was happy to get the titles and finally win two belts.
CIANI: Andy once again you're going to be on the same card as middleweight king Sergio Martinez. I'm just curious, what do you think of his fight with Darren Barker?
LEE: I think it will be a decent fight. A lot of people are underestimating Barker, but I know him pretty well. He's a good boxer, a classy boxer and good technician. I don't know. Martinez is strong and he's been very impressive in recent fights. So it's hard to bet against him, but I think Barker will hold up and hold his own in there. I know he's an honest fellow and he wants it bad and has a lot of desire. So he's not going to go out there and fall over. He's going to give him a decent fight, but I think Sergio is the favorite and rightly so. Obviously hopefully I come through and beat Vera and then I'll be sitting down ringside to watch the fight with an eye on fighting the winner of that fight. So I'll be watching it with an interest to fight the winner.
CIANI: So that is the fight you would most want should you be successful in your rematch with Vera. You'd want Sergio Martinez assuming he beats Barker?
LEE: Well I turned pro in 2006 and I turned pro to become world champion. I've had this upset loss, and once I avenge that there will be nothing more for me to do really than fight the best, and that will be Sergio or Barker. Whoever wins the fight, that's who I want to fight. But really, that's in the back of my mind. My full focus is on Vera and once I win that fight I'll see where the land lays, but I have no fear of Martinez. I have no fear of anybody in the middleweight division.
CIANI: Andy changing things up here a tiny bit, one of the biggest stars in boxing had a fight last weekend and it's caused a lot of controversy amongst boxing fans with the way it ended. That was of course Floyd Mayweather Junior's knockout victory against Victor Ortiz. What were your thoughts on that fight and everything that went down there at the ending?
LEE: First of all, I was very impressed with Floyd Mayweather and how he just went about totally outclassing Ortiz. I think as the fight went on Victor Ortiz had to realize who he was in there with and what he was in the ring with, and I think that's why he lashed out with that head-butt, which was a dirty thing to do. He really jumped into it. I had no problems with what Floyd Mayweather did. I thought it was actually a good thing. I thought it was a good ending to the fight and it kind of adds to his legend almost. It was actually clever quick thinking by him. Ortiz, like they say, protect yourself at all times. He should have kept his hands up. When he got hit with the first punch he like got hit and turned with the punch and looked at the referee, and Floyd took advantage and hit him again. The referee said time in. They already touched gloves twice and Ortiz tried to kiss him. He was trying to be too friendly to me. It's a fight! I think I was happy with what Mayweather did. There was no problem with it to me. I thought he did the right things.
JENNA: Okay Andy, some people in boxing say that if Floyd Mayweather Junior can't get a fight with Manny Pacquiao that he should actually move up in weight and take on Sergio Martinez at a catch weight. From your perspective being a middleweight, how do you think Floyd Mayweather Junior could do against someone of that size?
LEE: No, to be honest I don't ever see that fight happening unless Sergio can get down in weight. I don't know. Floyd doesn't need to fight Sergio Martinez really. The problem Sergio has is that he's good and he's big, and maybe too big for those guys. Unless he can really get down in weight, which probably will affect his performance, I just don't see those fights happening. There is not a huge public demand for those fights. Amongst boxing fans, yeah, we'd all love to see that fight. But the greater public who buys pay-per-views? I don't think so. That's really the main problem Martinez has is that he's a great fighter, he's big, and he's dangerous for a lot of those bigger names down at the lower weights. He might have to move up and maybe fight like an Andre Ward in order to get a big fight, or somebody like that. I don't really see him fighting Floyd Mayweather. I don't know. If it did happen, you would have to give Sergio a chance because he's so big, he's quick, he's strong, and he's a southpaw. So I don't know, but if the fight was made the fight would still be hard to call.
JENNA: Okay Andy, well of course the talk of boxing right now is whether or not a potential fight between Manny Pacquiao and Floyd Mayweather Junior could actually happen. I myself believe it can potentially next year, because there are really not too many roads these guys can choose that don't involve each other. I'm wondering what your view on it is? Do you think this fight will actually happen?
LEE: I hope so for boxing, for the fans, for everyone. You know everybody wants to see the fight. I think it will happen, and if it does happen I think I'd go with Floyd Mayweather to win. I am a big fan of Manny Pacquiao's and up until recently I thought that he would beat Mayweather or give Mayweather a lot of trouble. But I think Mayweather is too smart, too good defensively, and too quick. Right now I believe he is the best fighter in the world.
JENNA: Well Andy, back in June there was a fight between Felix Sturm and Matthew Macklin. Most people thought Matthew Macklin should have won and should have gotten the title. How disappointed were you that he didn't get the decision and overall what did you think about the fight?
LEE: I thought Macklin fought a very great fight and I thought he won it! I watched the fight. I was actually in Austria watching the fight when I was in Wladimir Klitschko's training camp when he was getting ready to fight David Haye. I sat there and we were actually in a public area in the lobby, and there were a lot of German people there and they thought Macklin won the fight. They were actually embarrassed that Sturm got the decision. It would have been nice if Macklin won the fight. It could have set up a good fight between the two of us. He was really unlucky, but he came out looking good from that fight. Although he lost, he takes a lot of credit from it and now he's moved to America I think and he's planning on fighting here to build on that. I wish him well. He's a good friend of mine and he's got a good future, I think. He needs a couple of big fights. He needs to fight in America, and once he does that there are big fights down the line between me and him, him and Sergio, me and Sergio. We're all under Lou DiBella now. Ronald Hearns is there, Manfredo. So there is a good mix of middleweights under Lou DiBella's promotion that could fight each other. So we'll see what happens. I thought he won the fight. Being in Germany you always know there is a chance of that happening, but he couldn't do much more than what he did so he was unlucky.
JENNA: Does seeing a decision like that ever make you have doubts about wanting to go overseas to fight for a title?
LEE: Of course! I was actually offered to go over there before and fight two different places in Europe against two different people. It's not worth it. Why go over there knowing that you have to knock him out just to get a fair fight? No. Most fighters know when they go overseas , especially to Germany, that you have to knock the guys out or be very confident of winning easy to go over there. Unless they're paying you crazy money, there is no point in going over there.
JENNA: Okay well Andy, I have just two more questions before I let you off the line and I want to get your official prediction for your rematch with Brian Vera on October 1?
LEE: I'm going to win! That's first and foremost, and how that win comes about will be decided when we're in the ring. I'm going out there to box, and if I have to box ten hard rounds at a hard pace that's what I can do. I've been doing it every day in the gym so far. I guarantee the win. If there is a chance for a stoppage or a knockout I'm definitely going to take it, but my plan is to go out there and box and win the rounds and build up a lead. I'll take it from there. So we'll see. I'll win for sure.
JENNA: Okay and finally, is there anything you want to say to all the "Irish" Andy Lee fans out there?
LEE: I'd like to just say thank you for all of your support. I've been getting a lot of messages in email and on Twitter with people wishing me luck and saying they're behind me at home and here in America. I'd like to thank you all. I'd like to thank a couple of good friends of mine who have done a lot to promote me as well: Darryl Doyle, who is a big fan of East Side Boxing and is always on there, and James Moore the ex-light heavyweight fighter has done a lot to promote me in New York. So I'd like to say thank you to those guys, and all of the fans who have been behind me. Thank you very much. This is a big chance, a big fight, and after this we're going for the world title. So thank you all.
JENNA: Alright well Andy, it's been a pleasure having you back on the show and I'm looking forward to this fight October 1.
LEE: Thank you guys. Thanks for having me on. Thanks Geoff.
CIANI: Thanks Andy, best of luck in the fight coming up.
LEE: Thank you very much.
***
For those interested in listening to the Andy Lee interview in its entirety, it begins approximately forty-one minutes into the program.
RIGHT CLICK and 'SAVE AS' TO DOWNLOAD EPISODE #143
***
To learn more about "On the Ropes Boxing Radio:
Visit our official Website:
http://www.ontheropesboxingradio.com
Subscribe to our show on i-tunes:
http://itunes.apple.com/us/podcast/on-the-ropes/id427474189
Join our Facebook Group:
http://www.facebook.com/group.php?gid=231954175413&ref=ts
Or Follow us on Twitter:
http://twitter.com/JennaOnTheRopes
http://twitter.com/CianiOnTheRopes
To contact Geoffrey Ciani or Jenna J:
ontheropes@boxing247.com
To read more by Ciani or Jenna please visit The Mushroom Mag:
http://www.eatthemushroom.com/mag