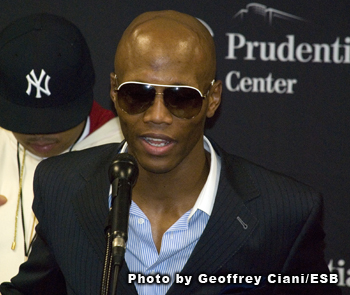 by Geoffrey Ciani – The 140 pound weight class is arguably the deepest division in boxing. With talented fighters like Timothy Bradley, Amir Khan, Marcos Maidana, Victor Ortiz, Devon Alexander, Lamont Peterson, Lucas Matthysse, Juan Urango, Andriy Kotelnik, Tim Coleman, and Kendall Holt all competing in the weight class, there are a slew of potentially great match-ups to be made. In fact, several of these fighters have already paired off. Khan versus Maidana, for instance, was a barnburner. The highly anticipated unification showdown between Bradley and Alexander, however, did not quite live up to expectations.
Right now Timothy Bradley is widely viewed as the best of the bunch with Amir Khan finishing a close second. One name that may be getting overlooked is former undisputed welterweight champion of the world Zab Judah (40-6, 27 KOs) who is scheduled to face Kaizer Mabuza (23-6-3, 14 KOs) for the vacant IBF title on March 5 at The Prudential Center AmeriHealth Pavilion in Newark, New Jersey. Since moving back down to 140 pounds, Judah has looked comfortable and appears to have maintained his speed and strength. This was apparent when he made quick work of Jose Armando Santa Cruz stopping him in three rounds last July (although, this fight actually wound up being at a tad over 140).
Judah would receive harsher scores from critics following his difficult fight against Lucas Matthysse in November. Judah used his superior skills to outbox the Argentine foe throughout the early portions of a very tactical fight. The rounds were close and competitive and many of them could have probably gone either way. Matthysse came on strong in round ten and sent Judah crumbling to the canvas. Judah was hurt, but he persevered and hung on to win a razor thin split decision (114-113 for Matthysse on one card, and 114-113 for Judah on the other two).
Many of the criticisms levied at Judah seem unfair to say the least. For starters, Lucas Matthyssse has proven that he is one of the toughest and strongest at 140. Matthysse rebounded from the Judah loss by defeating former champion 'Chop Chop' Corley in an eighth round stoppage, knocking him down eight times in the process. Corley was only two fights removed from a good showing against Marcos Maidana, who in turn holds a major victory over Victor Ortiz and lost a super effort against Amir Khan back in December. Lucas Matthysse is no pushover. He is a talented fighter with good skills and a big punch.
The fight between Judah and Mabuza has the potential to be very entertaining. While Judah is on the heels of a tough fight with Matthysse in his IBF eliminator, Mabuza scored an upset victory over Kendall Holt in the other. Mabuza administered a severe beating on Holt prompting some observers to start referring to him as Mabuza 'The Bruiser'. Judah has the speed and the skills to outbox Mabuza, but Zab is also known to lose focus at times. Opponents usually do not find it difficult to lure Judah into a fight, and this is what Mabuza is counting on. If he can press the action and properly gauge Zab's rhythm, this one could be very exciting. I believe Mazuba will have his fair share of moments, but I expect Zab Judah to win this fight impressively. I think his hand speed and great timing will be too much for Mabuza to overcome. Zab will work his jab effectively from a distance, and when in close quarters he should be able to find the mark and control the action Ywith short hooks and uppercuts on the inside. This will earn Mabuza's respect and enable Judah to comfortably outbox Mabuza for a points victory, or perhas even a mid-late round stoppage if Judah can disguise his shots well.
A lot of fans were writing Judah off after he lost a technical decision to Joshua Clottey. At that point Judah had only two wins in his previous six fights. It appeared he was a boxer in decline who had seen his best days pass. What got lost in all of this is the fact that Judah has always been an A-level talent. He has all of the physical tools any great fighter could hope for. He has tremendous hand speed, good pop on his punches, and outstanding textbook fundamentals. The main problem with Judah has always surrounded his focus, or lack thereof at times. The move back down to 140 was probably the best thing in the world for Judah, who was always a little on the small side for welter, as evidenced by the fact he has no trouble making 140 at 33 years of age. Now that he is working with new trainer, Hall of Fame boxer Pernell "Sweet Pea" Whitaker, Judah appears more focused than ever and if Judah is focused, he has what it takes to beat anybody at 140 pounds including Bradley and Khan.
***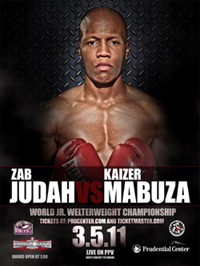 The March 5th card featuring Zab "Super" Judah vs. Kaizer Mabuza for the IBF World Jr. Welterweight title is promoted by Main Events and Super Judah Promotions. An exciting undercard also features Sadam "Worldkid" Ali, as well as Tarvis Simms and 5 other local standouts. The fights will take place at Prudential Center's AmeriHealth Pavilion, Newark, NJ.
Doors open at 7:30pm; first fight 8:00pm. Tickets priced at $253 Ringside, $103 Reserved seating on floor, $88 General Admission in Bleachers and $53 GA Standing Room on floor. Tickets are available at Prudential Center Box Office, by calling TicketMaster at 800-745-3000 or www.Prucenter.com
Judah vs. Mabuza will be distributed in North America by Integrated Sports Media for live viewing at 9 PM/ET 6 PM/PT on both cable and satellite pay per view via iN Demand, DIRECTV, Avail-TVN and DISH Network in the United States, as well as Viewer's Choice, Shaw and Bell TV in Canada, for a suggested retail price of only $29.95
***
To learn more about "On the Ropes Boxing Radio:
Visit our official Website:
http://www.ontheropesboxingradio.com
Join our Facebook Group:
http://www.facebook.com/group.php?gid=231954175413&ref=ts
Or Follow us on Twitter:
http://twitter.com/JennaOnTheRopes
To contact Geoffrey Ciani or Jenna J:
ontheropes@boxing247.com
To read more by Ciani or Jenna please visit The Mushroom Mag:
http://www.eatthemushroom.com/mag