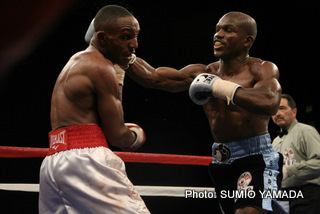 Charles H. (Miami, FL): I saw the comments you posted on your Facebook page about your thoughts on the Bradley/Alexander fight and how it impacts the sport overall. I know you could only say so much in that section. Can you elaborate more?
Vivek W. (ESB): To be very frank, I thought this was one of the worst nights of action the sport has seen in quite some time. Fight fans always question, "why are they [media] always talking about Mayweather and Pacquiao when there are so many other great talents out there to share the spotlight"? Well…..to be honest…..I'd have to steal a quote from Timothy Bradley himself to address my sentiments on the fight itself….and I quote: "If that's the best in the world, that's weak"!
A month ago people cringed about a title contested telecast with a 46 year old guy facing a man in his prime. When you look at the 4 boxers involved in that fight and this one, (Hopkins/Pascal and Alexander/Bradley), the only person amongst the group that left me impressed and wanting to see more of him was the eldest of them all (Hopkins).. This was supposed to be a matchup which boasted two of the best talents in the sports deepest division, and they were undefeated, yet by the end of the night, few felt inspired, as evidenced by Top Rank promoter Bob Arum, who spoke of the HBO telecast crew seeming "less than pumped up"!
Yes, I would agree that the names Mayweather and Pacquiao remain on the headlines more than they probably need to, but to quickly clarify that, Pacquiao has remained busy, so most of what is said about him should be. Mayweather is less active, but his personal life and the testing debate keep him relevant.
Bottomline, whether people like it and agree or not, these two men (Mayweather and Pacquiao) are the 'book-ends' of the sport which hold it up. To be quite frank, I've become pleased that the Pacquiao/Mayweather and Klitschko/Haye fights haven't happened, because after they do, I'm truly beginning to wonder where in the hell will the sport find an act to follow them? Right now, boxing is nothing less than a stick of dynamite, in the sense that it packs the power to give a big bang, but without a big 'spark' it won't mean a damn thang!
Roman N. (Houston, TX): What do you see next for Bradley and Alexander after Saturday nights performance?
Vivek W. (ESB): It's a bit tough to say. I know what SHOULD be next, but what we often get in this sport I'm afraid is another story. Of the two, I think Alexander saw his stock drop far more, but not for the reasons most suggest. Some feel that Alexander found the "easy way out", choosing to play up to the constant headbutts, ultimately finding his way out of the fight. I don't buy that, particularly not when you consider that he did it late in the fight when it would go to the score cards, rather than earlier in the fight when he received a butt and could have simply taken a no-contest at that time – a strong alternative to losing your "O", might I add.
So, I don't look at him funny because of the way it unfolded like many others…….but the flip-side comes in the fact that rather than using the Kotelnik fight as fuel to elevate himself, I just really felt as if he fought nervous and did very little to adjust and regroup, from a strategy standpoint. This is the second fight in a row that he has failed to adjust, and I'm beginning to think he's reached his peak. The question is whether it's personally, or as a result of the man who trains him which is all he knows. This is a guy with a ton of experience as an amateur and a pro, great pedigree, yet he looked like the amateur against a man whose pedigree was far less. So, I truly think Alexander appears to be an arrested development, and his next bout should probably be more of the 'confidence boosting' variety than against a world class contender.
The outlook on Bradley is a bit different. I don't think he did anything specifically to increase his stock in the sport, either, but what impressed me most with him was that he showed progress by removing a lot of the flaws he had in the past. The looping punches were gone, which was an excellent adjustment against a precision puncher. The bad footwork…..not completely gone, but better, far better! I liked his pressure, and I liked the fact that he covered himself up when he was on the hunt, as this same aggression in the past resulted in him getting tagged far more than necessary.
Considering the progression of his talent, I think a bout with Amir Khan would be the best available step for his personal evolution. A fight with Maidana wouldn't be a bad move either. At this point, I think Alexander and Bradley's other opponents have done very little to prepare him for more. Mayweather and Pacquiao remain in a league of their own. Bradley will one day get there, but I'm afraid today isn't that day…..and I'm sure he'd agree!
Hamel R. (London, UK): As a huge Amir Khan fan, the recent issues between he and Alex Ariza and an inflating ego seem to make him look less than appealing. What are your thoughts about the recent headlines with his name attached?
Vivek W. (ESB): To be quite frank, I don't generally get into the personal affairs the various men and women of the sport. What happens int he ring in fair game, but what happens outside of it is between them and the other party involved. I have no specific contact with anyone from the Khan or Ariza camps, but based on what I've read it all sounds and seems to be quite foul to say the least.
I don't know if we should credit Khan's recent resurgence to Freddie Roach, Alex Ariza, or the tandem collectively, but what has disappointed me about Khan is that he somewhat (In my opinion) disrespected Pacquiao by talking about sparring sessions, and who's faster, or how he can hold his on if they ever fought, and so forth. Pacquiao opened the door to his camp and its members, (which included Ariza)……so to hear some of the things that he chose to go public with tells me we're dealing with a man who's still juvenile on many levels.
I think you have to pay your dues and show a certain level of respect to anyone who gives you an opportunity that ultimately catapults you to a level you may not have otherwise seen. I can't say who's right or wrong in the Khan/Ariza scenario, but on the surface, I just think Khan has done nothing positive to carry a reputation which is slowly evolving from a high note to a low-crawl! The kid has an amazing level of talent, but the sudden demands of would-be-opponents which boldly states "I'm bigger than you so take this (amount of money) or take a hike" is gettin' old!
For the record, I don't think he rates any more money than Bradley if they meet, because Bradley has done just as much in the sport, and without suffering a loss en route like he has. If Khan's money demands prevent this fight from happening, as much as I've touted his talent, I'd be ready to tell him to step to hell, too!
(Vivek Wallace can be reached at vivexemail@yahoo.com, 954-292-7346, Youtube (VIVEK1251), Twitter (VIVEKWALLACE747), Skype (VITO-BOXING), and FaceBook).