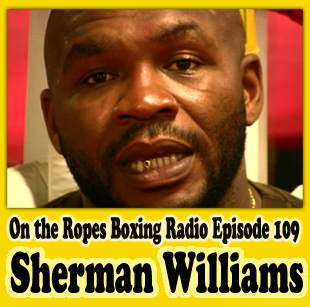 by Geoffrey Ciani – This week's 108th edition of On the Ropes Boxing Radio featured an exclusive interview with heavyweight boxer Sherman 'The Tank' Williams (34-11-2, 19 KOs) who is coming off of a bout against Evander 'The Real Deal' Holyfield (43-10-2, 28 KOs). The fight was stopped because of an accidental headbutt that resulted in a small cut over Holyfield's eye. Williams spoke to us about that fight, talked about his career and future, and shared opinions on other matters pertaining to the current boxing landscape. Here is some of what he had to say:
His views on his fight against Evander Holyfield which was ruled a no contest as the result of an accidental headbutt:
"I mean the fight was originally scheduled for November 5 and they moved it to the 9th and it became a circus, but I was mentally and spiritually strong and prepared and I had endured a lot in the fourteen months I had off. So to wait for a fight with a legend like Evander Holyfield was pretty much not a big deal for me. I was determined and I knew getting a victory over Evander would do a lot of good things for my career. The fight went as anticipated. I spent a lot of time training with John David David Jackson down in Fort Lauderdale, Florida. We had pretty much a good bullet proof strategy on how to beat Evander Holyfield, and not just beat him but put a beating on him and knock him out. As everybody in the boxing world saw, Holyfield was pretty much out on his feet and he quit on his stool."
On whether he feels the cut on Holyfield was caused by a headbutt or a punch:
"Yeah well tell you as a fact, not what I think, but what is evident and everybody can log on right now on YouTube and look at the fight. In the second round, with ten seconds left in the second round, I threw a short Jersey Joe overhand right that glanced him on the left side of his head and that's what caused the cut. Immediately after I threw that punch he wobbled and he stood up and he touched his face with his gloves, because a cut, before it bleeds it burns. You will see that he touched his face to check to see if there was blood. At that point, the bell rang. He went into the corner. They started to work on that left eye and when he came back out in the third round, I continued to punish him and he hit him with about six overhand rights that all did damage to him, and then he started to bleed profusely. Then Mr. Holyfield reverted to his old tactics of coming in with his head and trying to create an excuse that it was a headbutt, but it was actually a punch that caused that cut. I hope through the grace of God, the commission and the WBF review those tapes carefully and reverse that decision to TKO, because that was a TKO. That should have never been a no contest."
On whether he believes his success in the third round had more to good timing on his part or poor vision on Holyfield's part due to the blood from the cut on his eye:
"No, I was hitting him because I had a strategy. Holyfield is somewhat of a counterpuncher. I'm a boxer/brawler and normally I can fight in a phonebook. He usually takes a hop or a jump before he throws his punch so I used his momentum. Every time he started to bounce I shot the jab up and down and then I came over the top. That was a punch he was basically never able to readjust so he never saw the punch coming. I mean I just was able to land at will. I hit him to the body with several vicious body shots and every time I hit him to the body he was like a fence post just getting ready to fall. So I knew that the end was very near and it was eminent and I think Mr. Holyfield realized that as well."
On what he was thinking immediately after the fight had been stopped:
"I got concerned from the beginning of the third round when the referee said timeout. Holyfield sat down for an additional thirty seconds and the referee called a timeout and I think the commentators said this was very unusual what was going on in his corner. At that point Holyfield had doubts about whether he wanted to continue. After the third round it started the same way. He took awhile to answer the bell after the end of the third round. When the referee called a timeout and he went over there, they had a convention in the corner for about 35 seconds. Then he came back and said, 'Okay, the fight is over, no contest draw.' I've been fighting for awhile and I never heard a referee make that decision before. Especially how? No doctor, no ringside physician came up to the mat and looked at Holyfield. No doctor's advice was given. It was Holyfield, his trainer, and the referee that made a decision that he could not continue, and it should have been a TKO. I felt like I dealt bad cards and I'm just hoping that it's overturned."
On whether he believes Holyfield would have come back out for the next round if he was told not resuming would result in a TKO loss:
"Yeah, I think at that point because of the wicked body shots that I put on Evander, he had no legs to stand on and I think I might have fractured his ribs a couple of times because I hit him with a couple of right crosses where he basically almost fell over. Then I connected with an overhand right and left hand and he barely was able to walk back to his corner. I was absolutely, positively sure without a doubt, and Holyfield knows it too, that the fourth round would have been the last round. So he took the coward's way out. He stayed on his stool and tried to rely on that it was because of an accidental butt then the fight is stopped and it's a draw. But that should have been left up to the ringside physician. No doctor looked at Holyfield after the third round. This was something that was negotiated between him, Tommy Brooks, and the referee."
On whether or not he would be interested in having a fight in his home country in The Bahamas:
"Yeah, I mean most definitely. I'm a Bahamian living in America so I see myself as an ambassador for my small island country. I want to do the people proud. They had a big party in Freeport and Nassau on Saturday night regardless of what the referee and Holyfield's corner decided. In The Bahamas, they got me as a unanimous winner, bar none. That was a KO in their eyes and they would love nothing more than to have me bring a big fight to the island. It would be two-fold. It would be good not only for the sport of boxing but it would be good for the promotion of the country and it will at least show that we're willing to take boxing, not just in the continental US, but throughout the Caribbean where you also have a lot of up and coming fighters and a lot of Olympic hopefuls."
On whether his scheduled fight with Hasim Rahman falling through helped him slip the mind of boxing fans:
"I mean yes and no. I mean I would have loved to fight Hasim Rahman but that fight fell through for reasons that were out of my control. At that time I had a fractured arm and I was willing to fight with a fractured arm, and then two weeks before that I end up with strep throat and a bad cold. That was the only reason why I didn't fight Hasim Rahman, but if you look at my resume I was ready, willing, and able to fight every and anybody. My first contract was with Cedric Kushner on 'Heavyweight Explosion' where he just threw everybody in and figured the cream of the crop would rise to the top and that's the ones he would focus on, the Jameel McClines, the Obed Sullivans. I fought all of those guys and unfortunately for me, I was figured it was because I was a short heavyweight and I was not recognized as an American. With me being from The Bahamas, I was never on the top of their list to be the guy that they wanted to push.
I fought Alfred 'Ice' Cole at Madison Square Garden on the undercard of Shane Mosley and Vernon Forrest, God bless Vernon Forrest's soul. May he rest in peace. I totally destroyed Al Cole, former cruiserweight champion. They said well he's finished. He's 30-something, he's finished. After that fight Al Cole went on and beat Kirk Johnson who was a contender from Canada. Obed Sullivan was another great fighter. There was a scenario where they said okay, the winner of Sherman Williams and Jameel McCline will fight Michael Grant. I fought Jameel McCline. They called it a draw in New York. Then they said okay, now we gave him the Michael Grant shot with Jameel so they put me in another tough fight with Obed Sullivan who was a very tough American fighter. I fought Obed on Fox Sports. We went twelve rounds for the NABF title that would put me at #10 for the IBF, and I beat Obed Sullivan from pillar to post. As fate would have it, I was robbed. They called it a split decision and gave it to him. However, on the scorecard that was Sean O'Grady and Al Bernstein, I led the fight 90% of the time on the unofficial cards yet they found a way to give it to Obed Sullivan. He went on two months later after he was already busted up and bruised up like Holyfield was Saturday, he fought Fres Oquendo and he had no legs to stand on. I think he got stopped in six.
So I was thrown in the middle. I was in the position where I was with managers who were looking for bread and butter and not moving me the right way and just throwing me in fights so they could make some money. That made my journey a little harder, but with age I became wiser and I started to govern my own affairs and look out for myself first. Like the old saying goes, 'You have to look out for numero uno'. That's number one and that was me. Through my ups and downs and the close losses on split decisions; I got losses on my record that I guarantee you, if you look at a lot of those fights I was robbed. But it didn't dampen my spirits. I just kept on pushing and I got a lot wiser and that's why I think at 38 I can still do what I'm doing. I mean I've had losses, but I ain't never taken no beating. I ain't never been stopped. I ain't never been dropped."
His views on Manny Pacquiao as a fighter in the sport:
"Manny Pacquiao is a resilient fighter. He's an extraordinary athlete and the way he carries himself inside the ring and outside of the ring makes him a really good ambassador, not just for his homeland country, but for the sport of boxing. He's a great ambassador for the sport and I think the guy's heart is like fire right now, and I think that anybody that goes in the ring with Manny Pacquiao should be prepared for a long night or a good beating."
On whether he sees himself having a rematch with Holyfield or if he instead sees himself going in a new direction:
"Well right now I'm a man of great faith and I am an optimist. Putting first things first, my manager and his team and his lawyer, we put in an objection to that ruling and we're looking to have that overturned. A no contest means that the four months that they had me on again/off again was a waste of my time. A no contest doesn't count for anything. I think it's an embarrassment and it's a disgrace and a black eye to the sport. The first thing I want to see is, if not by West Virginia, definitely that the WBF president to have that overturned and make that a KO the way it really was and give me the title or the interim title, and I'll fight whoever they got next in The Bahamas. I'm pretty sure a promoter in The Bahamas or my promoter in Key West would be delighted to go and put on a great show in The Bahamas, in the sunshine not in the snow."
***
For those interested in listening to the Sherman Williams interview in its entirety, it begins right at the beginning of the program.
***
To learn more about "On the Ropes Boxing Radio:
Visit our official Website:
http://www.ontheropesboxingradio.com
Join our Facebook Group:
http://www.facebook.com/group.php?gid=231954175413&ref=ts
Or Follow us on Twitter:
http://twitter.com/JennaOnTheRopes
To contact Geoffrey Ciani or Jenna J:
ontheropes@boxing247.com
To read more by Ciani or Jenna please visit The Mushroom Mag:
http://www.eatthemushroom.com/mag