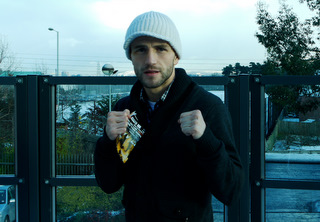 By Brendan Galbraith – At today's press conference in the Balmoral Hotel, Belfast, promoter Frank Maloney outlined that he was intent on "making Martin 'Mac man' Lindsay a superstar of boxing" and confirmed that, provided Lindsay keeps winning, his next three fights will all be at the Kings Hall in Belfast, culminating in a world title shot at the end of 2011."
Standing in the way is former Commonwealth and British Champion, John Simpson (21-7). However, Lindsay is in confident mood ahead of his upcoming British Featherweight Title clash at the Kings Hall on Wednesday 15th December and commenting on his Scottish opponent, Lindsay said:
"What you see is what you get. He is a rugged customer, he comes forward, he is tough and aggressive. As far as boxing ability goes I am a class above.."
And Lindsay (17-0) has prepared to either box or go toe-to-toe with Simpson:
"To be honest I have prepared for both ways", said the Mac Man. "If it goes toe-to-toe for 12 rounds or it does end up a boxing match I am ready for both of them. I have prepared for everything that he is going to throw at me so I just have to do it all in the night."
"I have been doing a lot of sparring with Eamon O'Kane (2010 Commonwealth Gold Champion) in the club – he is a strong, tough middleweight – quite similar to Simpson only a lot bigger. So everything has went to plan and the weight in fine."
Lindsay briefly paused when asked if Simpson his toughest opponent to date?
"I don't know. Different styles make different fights. On paper he is a former Commonwealth and British Champion but it just depends on the night. But, it could possibly be my hardest fight so far. We will just have to wait and see next Wednesday."
This will be Maloney's first show in Belfast since the days of Damaen Kelly and Maloney said:
"It is my first time to work in Belfast as a promoter since the days of Damaen Kelly and working with Brian Magee, so I look forward to building up a relationship with the Belfast boxing fans and the Belfast boxers that we are now working with.
"Martin Lindsay was a great capture for Frank Maloney Promotions and one of the promises was that we would promote him in Belfast, but it has taken us about nine months to get here and I can confirm his next three fights will be in Belfast and they will all be at the Kings Hall. We are looking to make him the superstar of boxing and build our base around him.
The card that also features a British Flyweight Title clash between Shinny Bayaar and Paul Edwards will take place on a Wednesday night in the famous Kings Hall fight venue:
"We have tried to price the arena quite fair, we are going at £25, and checking our records is probably one of the cheapest Championship shows for a long, long time."
Maloney also confirmed that the competitive £25 ticket price will be the same for Lindsay's British Title defence in February/March 2011:
"We will keep the prices the same for the next show – which will be a British Title defence (providing Lindsay beats Simpson). We don't want to go too far down the road as strange things happen in boxing. But, my plans are to do another defence of the British Title (in February or March 2011) and I have already started negotiations with another opponent, and then to do a European Title fight, and then deliver a world title fight to Belfast."
"If I do my job right and Martin does his job right, I would expect to see Martin Lindsay to fight for the World Title by the end of 2011. That is what our plan is and also to produce another couple of champions on the way."
So, a world title path has been laid out for Lindsay and the Belfast man is fully aware that he needs to make sure that he takes care of business against Simpson, but he appeared to be quietly confident that he can deliver the required performance:
"As Frank says, after next week, if everything goes well, the next three shows are in Belfast. So, that is my future mapped out and I need to put on the performances as he is willing to bring the fights to Belfast. So it gives everyone an opportunity to get exposure and the younger fighters a chance to get out in there hometown. So, I am ready for it."
Lindsay has had a frustrating end to 2010 with a potential co-feature bout on the Haymaker show in October and Maloney revealed that contractually he couldn't make the last title defence against Jamie Arthur in Belfast.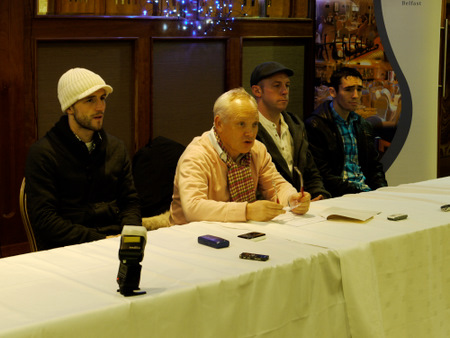 "One of the reasons why Martin signed for us was that we did promise to deliver regular fights in Belfast. Unfortunately when we done the agreement with Jamie Arthur (British Title defence) the deal was that Arthur wouldn't come to Belfast and to get the fight on – we agreed to a neutral venue."
"I also believe that the way Sky are going, they are looking to build stars and to become a star in boxing you have got to fight in your home town and build your base and then you have to go over to Britain and fight and build some more base in Britain because it is a big base."
"The future of boxing is the PPV market and to do that you have got to get the boxing fans behind you everywhere. I think he has done his work on the road and now he needs to build a big following here in the Kings Hall and to take him out of leisure centres and put him into a big venue. That's why I gambled with the Kings Hall. We are set up for 2500 and we are around 1800 tickets that have sold and I would hope to touch at least 2000 at the prices that we are charging."
Maloney finished by expressing the qualities that he saw in Lindsay and why he believes the Belfast man has a great future ahead of him:
"He is an exciting fighter, he brings to the table what fans want to see – he guarantees excitement. He has got a great fanbase as well that will turn up everywhere and he is skillful. So, he has got the commitment and that is what you need."
"The featherweight division is tough, you have got some good world champions there. So, it about timing and judgement. If we keep to our plan and we get a quick defence and we get the European Title we are two-thirds of the way there."
Wednesday 15th December 2010 at the Kings Hall, Belfast:
Martin Lindsay v John Simpson (British Featherweight Title) & Shinny Bayaar v Paul Edwards (British Flyweight Title).
Prices: £55 (Ringside) £35 and £25
Doors Open: 18:15
Sky Sports Telecast starting at 8pm.
Further information: Call FTM-Sports 020 84677647 or log onto www.frankmaloney.com
The Full Card is:
12 x3 British Featherweight Title
Martin Lindsay v John Simpson
12 x 3 British Flyweight Title
Shinny Bayaar v Paul Edwards
8 x 3 Light Heavyweight
Tony Jeffries v Tommy Tolan
6 x 3 Flyweight
Jamie Conlan v Francis Croes
6 x 3 Flyweight
Luke Wilton v Usman Ahmed
4 x 3 Welterweight
Steven Jevons v TBA
4 x 3 Light Middleweight
Ryan Greene v Curtis Valentine
4 x 3 Light welterweight
Tony Nellins v TBA
4 x 3 Featherweight
Mike Harvey v Dann Darr
Weigh in will take place in The Balmoral Hotel, Blacks Road, Belfast 14th December 2010 at 3pm.