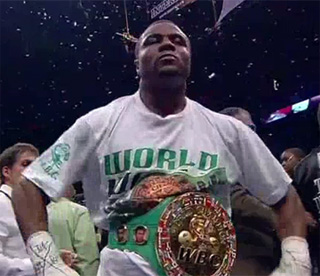 by Geoffrey Ciani – This week's 103rd edition of On the Ropes Boxing Radio featured an exclusive interview with WBC light heavyweight champion Jean Pascal (26-1, 16 KOs), who is scheduled to defend his title on December 18 against the ageless warrior Bernard Hopkins (51-5, 32 KOs). In his last fight, Pascal became the first man to defeat highly regarded American fighter Chad Dawson. Pascal spoke about his upcoming fight with Bernard, his friendship with Carl Froch, his victory against Chad Dawson, and more. Here is what he had to say:
On how he feels about stepping into the ring against Bernard Hopkins:
"I'm really proud. I'm really, really excited to fight Bernard Hopkins. He's a living legend and that's why I'm training really, really hard for this fight. Right now I'm in the best training camp that I ever had."
On what he is doing in camp to prepare for Bernard Hopkins' cagey style:
"I don't really do something specific because with me I'm a perfectionist. I would like to improve everything. So I'm working on my speed, on my footwork, on my power, on my skills, on my technique, everything. My main goal is not just to beat Bernard Hopkins but it's to become one day the best boxer pound-for-pound in the world."
On whether he is worried that Bernard Hopkins has a little magic left in his tank given his history of big upset victories:
"Honestly, I really don't know about that because I'm not Hopkins. I'm not in Hopkins Team, but one thing that I know is never underestimate a boxer because you never know what he can bring to the table. Bernard still has many tricks. A lot of people have doubted him but all the time he proved them wrong. That's why I'm taking this fight really, really seriously. He said he's the teacher, I'm the student, but I love to learn the art of the game. I love to learn everything. He said he wants to bring me to school, so on December 18 I'm going to school with Bernard but I just hope for him he's a great teacher, because I'm a great student."
His views on Hopkins' career accomplishments and where he ranks him:
"Hopkins is a living legend. He's going to go in the Hall of Fame. I think for me, Bernard is one of the top six or seven boxers ever. He won twenty defenses straight, so that's a big accomplishment. He beat up Antonio Tarver when he was at 160 and went straight up to 175 pounds and that was great because Antonio Tarver had just beaten Roy Jones Junior. He also fought Kelly Pavlik when Pavlik was at the top. So he has really, really great things on his resume so it's really hard to tell."
On why he is taking a fight with Hopkins given the fact many view this as a high risk/low reward situation considering Hopkins' age:
"Because I like to roll the dice. I am a high roller. I love to take risks in the ring and outside of the ring. Bernard Hopkins is a living legend so it would be a good start. To beat a legend is to become a legend myself some day."
His opinion on the fact that Bernard Hopkins and Nazim Richardson both seemed to suggest that the reason Pascal was able to beat Chad Dawson had more to do with what Dawson didn't do than what Pascal did do:
"No, they are both completely right about that because Dawson, he didn't do a lot of things during my fight, but the thing they have to understand is that I made him look bad. You see, he didn't do a lot of things because of me. It's not because it was a bad night for Chad Dawson. He was off. He was off, but he was off because of Jean Pascal. I made him look that way and I just exposed Chad Dawson, so of course Chad Dawson didn't do this and that. The reason why he didn't wasn't because he was off, it was because of me."
On whether he believes Chad Dawson can rebound and come back from the loss:
"Honestly, that's really hard to judge because I'm not in his mind. If Chad Dawson has a strong mind and a strong head and he has a lot of confidence, then of course he will have the ability to bounce back. But if he has a poor mentality and I took away his confidence, it's going to be really, really hard for him to bounce back, especially if he wants to fight me because next time I'm going to knock him out."
On whether he believes Bernard Hopkins showed signs of decline in his last two fights against Roy Jones and Enrique Ornelas, or whether those two presented difficult style match-ups which made it hard to look good:
"Exactly, styles make fights and also I think that Bernard didn't have the same motivation that he has right now for his last two fights. Of course against Roy Jones he had something, but that was seventeen years ago. I think he still wants to upset the world. He still wants to shock the world. So I am a good target for that and because of that, I'm giving him a lot of energy and motivation to train hard and to get the discipline that he used to have. That's why I'm expecting Bernard Hopkins to be in great shape and bring his A-game."
On whether he ever imagined he would someday fight Bernard Hopkins after first turning pro:
"When I turned pro in 2005, of course not because I was telling myself at the time when I reach the top he will be gone. I figured I would be fighting Jermain Taylor. So right now that I'm fighting Bernard Hopkins and Taylor is gone, it's kind of a shock for me. It's kind of weird, but I like that because Bernard Hopkins is a really good name compared to Jermain Taylor. I do have a lot of respect for Jermain Taylor, but in terms of accomplishments Bernard Hopkins is a way bigger name for me. So to have Bernard Hopkins on my resume will be awesome. Like I said, it will be a good start to become a legend myself some day."
On how him and Carl Froch came to share such a high level of mutual respect for each other:
"Because Carl is a great boxer, but he also is a great man. I think he has the same way to see myself. After the fight we talked a little bit, not that much. In the ring is in the ring. Outside of the ring is outside of the ring, and after he beat me in December 2008, he called me up in 2010 to give him help against Jermain Taylor. So I went to spar with him and we've become good friends after that."
His views on Carl Froch's one-sided victory against Arthur Abraham:
"Of course I saw the fight against Arthur Abraham. It was quite an impressive fight. Carl Froch fought the perfect fight against that type of boxer, and I'm really glad that he won the fight. He has a good chance to win the whole tournament now, but right now I don't think about Carl Froch. I'm thinking about Bernard Hopkins and this is the opponent I'm going to have in front of me on December 18, so all of my focus is on Bernard Hopkins."
His views on the fact that Roy Jones Junior has picked him to beat Bernard Hopkins:
"Well he knows what I can bring up on the table and he knows I'm willing to die in the ring to win a fight. He knows that I'm young. I have skills, but I also have a lot of ambition and dreams so he knows that no one can stop me right now."
On whether he can ever envision a scenario where he moves up to a higher weight class:
"You know right now I'm focusing on B-Hops, but of course I see myself in the future to fight Carl. I see myself going up to cruiserweight, even heavyweight. Right now those things are far ahead and I'm focusing on Bernard Hopkins."
On what a win against Hopkins would mean to him in terms of accomplishments in his career:
"It means everything. It means everything to me and it means a lot for the fans, because it's going to mean it's a time for a new era. I'm going to start my own dynasty and when I fight Bernard and beat Bernard, it's going to be time for a new era. There is going to be a new face on boxing for the light heavyweight division and I think the fans are going to love that and I'm going to start to build my legacy as well."
On how he sees this bout between him and Hopkins playing out from the opening bell to the finish:
"Listen, this fight is going to be an awesome fight. That's why you guys have a must-see on December 18 on Showtime. I'm going to match up with everything that Bernard Hopkins brings to the table. If he wants to fight dirty, we'll fight dirty. If he wants to fight respectfully and clean, it's going to be a clean fight. But one thing is for sure, it's going to be a great fight. I'm going to bring my A-game, and if Bernard wants to brawl we can brawl, but I don't think we're going to brawl for a long time. If he wants to be technical, we're going to be technical as well, too."
His official prediction for his upcoming fight against Bernard Hopkins:
"The result is going to be a great, great fight. I'm about to make history on December 18 and like I said to Bernard, 'What time is it?'—it's about time for a new era. So this is going to be the beginning of a new era on Showtime on December 18."
***
For those interested in listening to the Jean Pascal interview in its entirety, it begins approximately twenty-four minutes into the program.
***
To learn more about "On the Ropes Boxing Radio:
Visit our official Website:
http://www.ontheropesboxingradio.com
Join our Facebook Group:
http://www.facebook.com/group.php?gid=231954175413&ref=ts
Or Follow us on Twitter:
http://twitter.com/JennaOnTheRopes
To contact Geoffrey Ciani or Jenna J:
ontheropes@boxing247.com
To read more by Ciani or Jenna please visit The Mushroom Mag:
http://www.eatthemushroom.com/mag