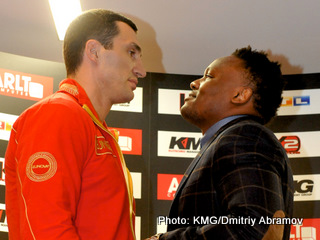 By Joseph Herron – Wladimir Klitschko is the undisputed, Ring Magazine recognized Heavyweight Champion of the world. The 33 year old pugilist has also successfully defended the IBF and WBO titles since unifying both titles in 2008. He has defeated 13 straight opponents in decisive manner and is having a hard time finding a worthy opponent to face him in the squared circle. Alexander Povetkin's trainer , Teddy Atlas, has gone on record stating that his fighter is not ready to face a champion as seasoned as Wladimir Klitschko. The number one contender's trainer is afraid that a fight with Klitskcho at the present time could do more harm than good to the young Povetkin. It seems that Wladimir Klitschko has accomplished everything there is to gain in the sport of boxing. One elusive enemy continues to evade the 6' 6" former Olympic Champion: Universal Respect.
History would tell us that the universally recognized Heavyweight Champion should have the respect and admiration of the masses. Especially in the USA, where throughout American history, the Heavyweight Championship has been considered to be the most important title in all of sports. It's funny how tradition has been trivialized and disregarded in America.
This Saturday, Wladimir Klitschko defends his titles against a dangerous and undefeated opponent named Derek Chisora. Will America be watching? Boxing die-hards aside, absolutely not.. Casual fight fans won't even realize that this fight is taking place. It's not being shown on HBO or Showtime, but the forgettable ESPN360. The biggest title in boxing is being offered for viewing online exclusively in the United States. This is a sad day in American sports. ESPN and Fox Sports Net offers the American viewer the best in female billiards, college lacrosse, and little league baseball, but refuses to broadcast the live heavyweight championship of the world?
HBO and Showtime has shown its share of stinkers this past year and cannot, in my eyes, justify not offering the heavyweight championship fight to its viewers. No one wants to hear the politics behind this move. Ross Greenburg and the HBO brass should be ashamed of themselves. Wladimir Klitschko and the Heavyweight division deserve much more respect than this. If the age-old adage is correct, and boxing is only as healthy as its heavyweight division, then this sport that we all love so much is in serious trouble.
Thanks a lot, HBO, for making a fighter who makes fewer appearances than Punxsutawney Phil the face of American boxing, and completely abandoning the Heavyweight division.
Other Happenings:
Carl Froch looked great last week in his shut-out performance against former Middleweight king, Arthur Abraham. Froch showed his detractors that he could indeed fight a disciplined and intelligent fight. With Andre Ward showing very little in an ugly fight against Sakio Bika, Froch has done enough to surpass Ward and earn a spot as the favorite going into the semifinals. By the way, how can Showtime justify having all three of Wards fights in Oakland? I'm surprised that the network and the opposing promoters have been ok with this. Oh well, we'll see how the Messy Six turns out next year.
Once again, JMM turns back the clock and puts on a terrific performance. He did his best to lobby for a 2011 fight with his nemesis, Manny Pacquiao. Although he was winning the fight, I though Kenny Bayless stopped the fight prematurely. Katsidis had just thrown and landed a left hook before the veteran ref stepped in and stopped the fight. Maybe it was a moot point, but one can't assume that a conclusion is inevitable when a combatant is still throwing punches. It is after all the "theater of the unexpected". If I had my way, we would be watching the Pac-man fight Andre Berto or the winner of this weekend's Maidana/Kahn match-up. If anyone continues to bring up a potential match-up with Floyd Mayweather as a genuine possibility, I will pay the "Ding-a-Ling Man" Darnell Wilson to come pay you a visit and slap some sense into you!!
Predictions
Let's hope this goes better than last week!! I just can't see Derek Chisora having any real success against the Heavyweight Champ. Don't look for a big upset this weekend in Germany.
Prediction: Wlad Klitschko TKO in 7.
Also, There's no doubt that Amir Kahn is much improved since hiring Freddie Roach as his Zen master and trainer. But, should we even consider his dominant performance against Paulie Malignaggi when analyzing his fight with Maidana this Saturday? Paulie wasn't a big puncher and didn't apply the kind of pressure he will receive from Maidana. I refuse to be sold on Amir Kahn until he's able to have his way with a legitimate puncher with solid whiskers. In my opinion, this fight will define both fighters. I can see Amir Kahn using his jab en route to an easy unanimous victory, but I can also see Marcos Maidana's pressure getting to Kahn in the mid to late rounds. OK…I 'll stop waffling!!
Prediciton: Marcos Maidana TKO in 10.
In other action this weekend, I like Perez over Agbeko in a SD, Mares over Darchinyan in a SD, Ortiz over Peterson by way of KO in 6, Mijares over Rosas in a wide UD, Montiel over Garcia via KO in the 3rd.
Oh…almost forgot…Adamek over Maddelone in a slugfest via UD.
Does anyone really think that Jerry Jones will hire a real coach for the Dallas Cowboys? Or is Opie Taylor Garrett really the future of Big D? Does anyone really think that the Chicago White Sox can win with Adam Dunn as designated hitter? Does anyone care? Who gets the feeling that Chicago Bears are for real? Nah, didn't think so. Is it just a coincidence that the Mavericks are off to their best start in franchise history when the Spurs are having their best start in franchise history? Doesn't anyone still wait until Christmas morning to open their presents?
I'm sorry, Dunkin Donuts is still better than Krispy Kreme!!
More Next Week…