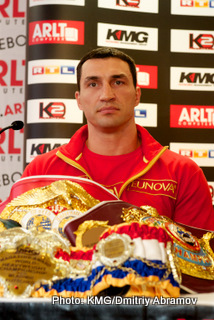 By James Slater – Ring magazine, IBF, WBO and IBO heavyweight king Wladimir Klitschko, who faces unbeaten but untested Brit Derek Chisora on Saturday night in Germany, has had enough of David Haye. So much so that he says he is tired of even talking about the WBA heavyweight champ, and that he can no longer take Haye seriously.
And why does Wladimir feel the way he does? Because, as we all know, it has now been well over two years since Haye began calling out the two Klitschko brothers, and insisting they face him in the ring. Yet all this time later, after all those Haye insults, we are still waiting for the Londoner to step into the ring with either brother. It depends on whose side you are on as to who is "ducking" who, but "Dr Steel Hammer" refers to Haye as "a liar" and reminds us of how Haye signed to fight him (seemingly way back, in June of 2009); only to pull out at the last minute.
Klitschko, probably at his peak right now at age 34, was forced to move on and find other opposition, and he is still waiting on Haye now – with 2011 almost upon us. This situation has led not only to both brothers holding Haye in disdain, but to a well known, well respected and knowledgeable U.S writer constantly referring to Haye as "Ducker."
As we know, Wladimir had to settle for Derek Chisora as his next challenger, when ideally he would have liked to have met belt-holder Haye. But Klitschko is full of praise for the way "Del Boy" has agreed to the fight Haye has not thus far taken, and Wladimir has even gone as far as to say the 14-0 relative novice is a better fighter than Haye..
"Chisora has good skills," Wladimir said to The Guardian. "I honestly think he's much tougher than Haye. Chisora's much stronger, much better. He's also a natural heavyweight and he's now in the world top ten – why shouldn't I give him his chance?"
In terms of who is around and who is willing to sign the contract, why not indeed. Of course, as skilful and as strong as Chisora is, Wladimir is totally confident he will beat him and retain his belts on Saturday. But the interview Wladimir gave to the UK paper then shifted back to the subject of Haye – a fighter whose name always seems to be associated with the Klitschkos despite his never having fought either sibling.
Wladimir is of the belief that Haye needs he and Vitali more than they need him, and that unless Haye agrees to take the fight soon he will run out of options.
"I can't take this guy seriously – he might never show up," Klitschko said of Haye. "We can't even rely on a signed contract with Haye. Yes, I do want to fight Haye and it would be very personal. But, right now, I'm more focused on Chisora because he is much more dangerous than Haye."
And if Haye never agrees to fight Wladimir or Vitali?
"He needs us more than we need him," he said. "He can't fight in the U.S because Golden Boy will be on his neck. He can't fight in Germany because Kalle Sauerland will be on his back. So he is sitting alone in London, trying to be smart, but, little by little, he's putting himself in a corner. It's enjoyable to see.
"The man lies a lot. He and his manager (Adam Booth) are trying to be super smart but their options are running out."
It is a legitimate questions: just who will Haye fight if he doesn't get it on with a Klitschko? Mandatory challenger with the WBA, Ruslan Chagaev, has that Hepatitis problem and may not be allowed to fight in the U.K as a result, while Tomasz Adamek, though a possibility, is aiming at the Klitschkos himself (and he has to get by Vinny Maddalone this week before he can think about fighting anyone). And if what Klitschko says about Haye having problems fighting in the U.S or in Germany is true, it seems the WBA champ might be about to be stuck in a corner.
Will Haye continue fighting in (and selling out) venues like Manchester's M.E.N Arena for the rest of his career? Time it seems, could be running out on "The Hayemaker." It all used to be much easier when it came to making a fight in the old days, that's for sure.
As for Chisora (who says he will not fight Haye after he wins the upset on Saturday), will he forever put an end to a Wladimir Klitschko-David Haye clash by stunning the world and beating the world's number-one in four day's time?!