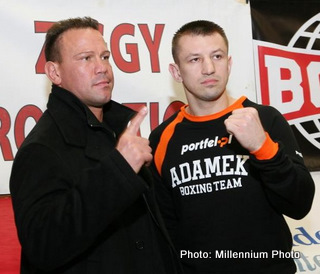 Newark – Just two days before their heavyweight showdown, Poland's Tomasz Adamek and American Vinnie Maddalone spoke about their preparation for their big fight this Thursday which can be seen in most countries around the world on www.NESportsTV.com online PPV.
"I'm excited to be returning to the Prudential Center. I have been training really hard with Roger (Bloodworth) and I feel like I'm getting better and better and learning more every day. I know that Vinny and I are going to make a really great fight and I invite everyone to come out and enjoy it with us this Thursday night." Adamek said.
For Adamek, this will be his 6th time headlining at the Prudential Center in Newark, New Jersey. The venue has become home court for the popular Polish fighter who attracts thousands of Polish immigrants and fight fans every time he competes. Previously, he's defeated Steve Cunningham for the cruiserweight championship at that venue. He successfully defended his title there against Johnathon Banks and Bobby Gunn. Since moving up to the heavyweight division, he's beaten former United States Olympian Jason Estrada and former world title challenger Michael Grant in Newark..
Despite Adamek's world class status and success at the Prudential Center, his opponent Maddalone seems completely unfazed.
"I'm ready to go and really just looking forward to putting on a great show come Thursday night. I have put a lot of work in at the gym, approximately fourteen weeks of training for this fight. As I always do I am going to give everything I have and leave it all in the ring come fight night. Tomasz is a great champion and I know that he is going to be coming ready to fight and ready to go to war. For everyone in attendance and for everyone else watching at home on TV, I promise you that you are going to see one heck of a fight come December 9th. " Maddalone said.
Maddalone has a habit of being in all out action packed wars. His fights against Brian Minto and Shannon Miller still get played on ESPN Classic from time to time due to the entertainment value of those bouts. Maddalone has also fought former heavyweight champion Evander Holyfield and former cruiserweight champion Jean Marc Mormeck.
Remember to watch the fights on www.NESportsTV.com. The bout will not be available at the website in the USA, Canada or Poland.