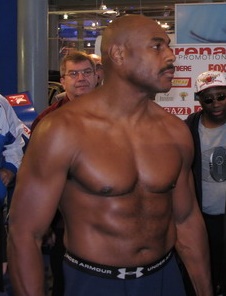 by Geoffrey Ciani – This week's 103rd edition of On the Ropes Boxing Radio featured an exclusive interview with former WBC heavyweight champion Oliver McCall (54-10, 37 KOs) who is scheduled to face Fres Oquendo (32-6, 21 KOs) later today at the Seminole Hard Rock Hotel and Casino in Hollywood, Florida. McCall talked to us about his fight immediately after the weigh-in, and also discussed his views on the Klitschko brothers, David Haye, Manny Pacquiao, and more! Here is what he had to say:
On what he expects from his opponent Fres Oquendo:
"What I expect from him is to think that he can out-quick me, but I think he will underestimate my speed and the pressure is just going to be too much for him. I'm a veteran and I've fought quicker fighters. He's a quicker older fighter. I shouldn't have a problem. I've been studying his last fight and he fights in spurts and whatnot and those little punches that he throws, I'm going to walk right through those."
On what a win against Fres Oquendo can do for his career:
"Well I really don't know what's going to come or what they have set up for me next. Right now I just want to focus on winning this fight and then move forward and see what they have available for me after this fight. But right now my concentration is on winning this fight—winning this fight and winning this fight big."
His views on Fres Oquendo's fighting style:
"Well he's a bit awkward, but see to me, by me being a veteran certain things that he does he's not really going to be able to get away with and my jab is going to offset a lot of his awkwardness. He's thinking that I'm going to load up with power right hands all the time. When he thinks I'm going to throw the power right hands, I'm going to be throwing double jabs and left uppercuts and things of that nature. So the way he thinks I'm going to come, I'm going to come the exact opposite using a lot of quick jabs."
On his loss against Timur Ibragimov last time out and where he thinks he can improve this time:
"Well first of all, my whole training regiment was kind of just out of whack and whatnot. I wasn't as focused. You know he used to be my sparring partner. I really didn't take the fight seriously because I was used to boxing with him in the gym everyday and things of that nature, so it was more like systematic for me. A fight like this is different. The magnitude of this fight especially with him being in Chicago, Illinois and me being the only Chicago heavyweight in the history of boxing, this fight is very important for me especially for all my fans back in Chicago."
His views on the Klitschko brothers as champions:
"Well I think they're good champions for what they bring to the table. I wouldn't say they're great champions in the fact that being their size, with the size that they have, to be able to take up boxing and be 6'7" or 6'8", and to be in great shape and things of their nature, they're able to dominate the division basically because of their height and strength. If the Klitschkos were back in the days of Larry Holmes, back in his heyday, or even back when I first started with me, and Riddick Bowe, and Lennox Lewis—we would have whopped those guys back then, but now the heavyweights as far as the American heavyweights, there aren't any of them like the heavyweights back in the 90s and 80s."
His views on pound-for-pound king Manny Pacquiao as a fighter:
"Manny Pacquiao is awesome, man! I mean, hey! I still want to see him fight Mosley or Floyd Mayweather Junior. I mean I think those would be the marquee fights that would make him, I think a good deal for the greatest fighter in the history of boxing right above my best right now which is Sugar Ray Robinson. Right now Manny Pacquiao is devastating the boxing world doing the things that he's doing in and out of the ring. He is the man to beat, but I still think Floyd Mayweather would get him and I think Sugar Shane Mosley will give him a run for his money."
On whether he gives Shane Mosley a chance against Mann Pacquiao given Shane's age and his recent efforts:
"To be honest with you, he'll have a chance but just the way you're saying it, at his age right now. The old 'Sugar' Shane I think would put a whopping on him, but right now if he loses it would be because he's slowing down because of his age. But if the 'Sugar' Shane Mosley shows up that fought Margarito? See, he destroyed Margarito. Although Pacquiao beat him badly, he did not whop him like 'Sugar' Shane did. 'Sugar' Shane destroyed Margarito and I think if that 'Sugar' Shane Mosley shows up, I think that we got a fight on our hands. I think it's one of the fights of the century right there."
His views on whether Manny Pacquiao and Floyd Mayweather Jr. will ever reach an agreement:
"Well you know, I've been pondering that for awhile. I've come to the conclusion that we have two Hall of Fame great fighters that don't want to lose and somebody's got to lose. I believe that's really what's going on. They both have made a lot of money. They say if I quit undefeated I will go down in history as one of the best in boxing and they don't want to risk losing. When you get to that point where nobody wants to lose it's hard to put up. You can give them a billion dollars and they will say, 'I don't know, he won't do that or he won't do that'. They really got to put it and say somebody's got to lose, and whoever wins gets the glory and move on. Whoever loses, just be a gracious loser and say, 'Hey, I took it to this height and this is where I came up short' but right now they both don't want to lose the fight."
His ultimate goal at this late stage in his career:
"Well my ultimate goal right about now is hopefully after Fres Oquendo, to have the opportunity to fight some of these Russians and some of these brawlers. At 45 where I'm at now, it's like I can't pick my fights. I can't do like George Foreman did. George Foreman picked his fights until he fought for the title. I can't do that. I have to fight guys that more or less the fans or the media says. 'He can beat Oliver. Why? Because he's going to run, he's going to hit, and he's going to get them to fight'. But if I actually fight the Klitschkos or David Haye or these guys that stand up and bang, oh I think I'll become champ. So right now it's a personal hurdle that I have to accomplish by beating a runner, because my last three losses over t he last thirteen years were against guys that run and punch, run and hit, and hold. So hopefully I can solve that problem with Fres Oquendo and then they'll say, 'You know what, Oliver conquered this here what we put on him and as far as guys running or running and holding and winning fights. Now let's give Oliver an opportunity to fight the bangers, because he can punch and he can take a punch and let's give him a try and an opportunity to bring those titles back to America."
On which of the current champions he believes he has the best chance to beat:
"With me, I really think the big Klitschko. The reason why the big Klitschko is because he likes to be offensive and he will try and go toe-to-toe with me, and think that he can stand and bang with me, and I'm an older fighter, too. I think I'd knock Vitali Klitschko right out. See, with David Haye he's going to try and do a lot of movement but he still will bang, and Wladimir is slimmer. He's going to try and outbox me and use angles, but he still will bang. But I think the one I think I can get if I had the opportunity to really have a chance to win the title is the big Klitschko—the biggest of the brothers, the one that's 6'8"."
On what he believes he needs to do in order to be successful against Fres Oquendo:
"Well basically, let my hands go. I can't be holding. I can't be waiting. Another thing is that I just can't let him be holding and just trying to hit and run and things of that nature. I believe that using my jab often, keeping my jab in his face, and hitting him with a lot of jabs, and ripping him with right hands to the body, and I think the right uppercut's going to get him, too. I'm going to knock him out. I told him at the weigh in I'm going to knock him out, though. I'm knocking him out. I don't think it's going to go twelve."
His views on some of the older heavyweights still competing such as Evander Holyfield:
"Well I wish Holyfield well. We're talking about two warriors here. We're talking about a warrior who fought everybody who came his way with the heart of a lion. So I really wish Holyfield well and I wish, especially all of the heavyweight champions that have proven themselves by getting in there and being gladiators and fighting and really putting on some heck of a fights in their career and really entertaining the fans. I think he should have an opportunity. Personally I thought when he fought Valuev he won the title. I think he should have been crowned as the oldest heavyweight champion in the history of boxing because I thought that he beat Valuev."
On why fans and members of the media should remain focused on what he does:
"I can punch and I can take a punch and the thing is, when they hit me they know Oliver's going to punch back. So that's the thing with me I think that kind of excites some of the fans out there that really keep their eye on me and say, 'You know what, no matter what's going on with Oliver he seems to always hang in there, and overcome, and just endure'. My endurance, I thank God for blessing me with my health and strength to where I can still perform and still endure and handle and keep up with these younger guys."
On what helps keep the fire burning and helps him want to continue fighting:
"One major thing, I want to beat the guy who fought Lennox Lewis. I want to fight one of the Klitschkos. I really want to fight one of them Klitschkos. I was going to fight David Haye a couple of years ago but the fight never did come through, but it was close. We were going to fight about four years ago or so but the fight didn't come through. These are guys where if I feel I can't compete or I can't really hold my own with the elite, I'm going to hang up the gloves. If any point comes, even in this fight tomorrow, where I won't be able to put out what I know I was able to put out—I'm going to hang it up. I'm going to hang it up. I mean God has blessed me to become champion and to overcome a lot of other things and continue to survive to where I can be productive after boxing. If I don't look up to part in this fight, I will not feel ashamed to say I'm going to hang up the gloves. I had a great and I'll train some fighters or something of that nature."
His views on whether David Haye is avoiding the Klitschko brothers:
"I think it's backwards. I think the Klitschkos' are avoiding him just as much as he's avoiding. I think they're just trying to play games now trying to make that money and just hold the titles putting a lot of propaganda saying that I'm the beat heavyweight out there. Of course, the two brothers don't have to do that against one another because they are family. So they can come and just share and thrive off of each other's accomplishments on becoming heavyweight champions of the world and being brothers. That's an accomplishment in itself. David Haye, on the other hand, he's saying to himself, 'Wait up! Now that I am the heavyweight champion, I can make all of this money and why risk messing around with these brothers'. So there's a lot of politicking going on out there with the belts. They're trying to hold on to them belts instead of unifying the titles."
His official prediction on his upcoming fight against Fres Oquendo:
"Knockout. 8th round."
On what he wants to say to his fans and the fans of 'On the Ropes Boxing Radio':
"Well I just want to say to my fans, I thank you for hanging in there with me through the ups and the downs, because you all know I have had some downs. I just thank my fans for hanging in there with me. I'm looking forward to putting on a spectacular fight, and God Bless you, and Happy New Year and Merry Christmas."
***
For those interested in listening to the Oliver McCall interview in its entirety, it begins approximately one hour and thirty-five minutes into the program.
***
To learn more about "On the Ropes Boxing Radio:
Visit our official Website:
http://www.ontheropesboxingradio.com
Join our Facebook Group:
http://www.facebook.com/group.php?gid=231954175413&ref=ts
Or Follow us on Twitter:
http://twitter.com/JennaOnTheRopes
To contact Geoffrey Ciani or Jenna J:
ontheropes@boxing247.com
To read more by Ciani or Jenna please visit The Mushroom Mag:
http://www.eatthemushroom.com/mag