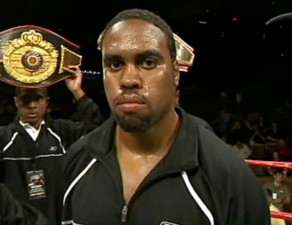 By James Slater – Philly heavyweight "Fast" Eddie Chambers has not been seen in action since his March, 12th-round KO loss at the hands of heavyweight king Wladimir Klitschko. However, the 28-year-old with the 35-2(18) record has been active in the gym.
Possibly on the verge of coming back to the ring this year some time, Chambers is also looking at working with Hall of Fame trainer Emanuel Steward. Wanting a second go at "Dr. Steel Hammer," although he says he knows such a fight is unlikely "because of how the first fight went," Eddie believes he can do better next time.
Always a great guy to speak with, here is what Eddie had to say earlier today:
James Slater: Thanks so much for your time, Eddie. Firstly, is there any word on your next fight?
Eddie Chambers: I'm actually on my way to the gym now, to work on my strength and conditioning. It was going to be November, but that doesn't look likely now. We're looking at a few possibilities, but we don't have any names yet. But it's an interesting time for me; I'm training like I said, so I'll be fully focused and 100-precent ready when I do fight..
J.S: I read you and Emanuel Steward will be hooking up? Is that still happening?
E.C: Yeah, definitely. We were talking about when we should get this started. We had a meeting, and we're going to have another meeting. He will definitely be a great addition for me and me becoming heavyweight champion. He'll improve my chances greatly, with all his knowledge; whether he's a consultant or in the corner.
J.S: What went wrong against Wladimir Klitschko in March? Did he just fight a perfect fight or did you get your tactics wrong?
E.C: Put it this way, he's a great champion, he's been champion for a long time. Honestly, he did what he's great at against guys of my size, and I didn't execute my game-plan at the highest level. I was in great condition, I was strong – he'll probably tell you that – but being in great shape means nothing if you don't have the right plan. He was too strong and he was more focused and ready for that moment; that's why he won.
J.S: You want a rematch with him?
E.C: Yes, I want him because he's the best. The way I think about it is, if I go down, at least I'll go down fighting the best. And If I win, I'll be the best. I'm not looking at facing all the other guys – don't get me wrong, I will fight them – but I want to fight THE MAN. I have the mindset of the older fighters, from when there was just one belt, and he [Wladimir] is the best, he is the man. Of course, from his standpoint, a rematch would be a waste of time for him. But I would love another opportunity down the road.
J.S: Would you prefer a tune-up fight first, or would you go right back I with him?
E.C: I would like another fight first. Of course, I need a little-type fight, just to get back, to be able to say' 'that fight's over with and now I can move on.' It would be kind of like sparring, really. I wouldn't be real happy with winning that fight, but I'd know I needed it. It wouldn't be real smart to go right back in with a big fight.
J.S: Fans want to see you back in there, Eddie. Can we expect to see you this year, or early next?
E.C: It will be either late this year, that's in the next two months, or it will be at the start of next year. My conditioning is not that far off what it was for the [Klitschko] fight. I want it to be ten-times
what it was, and my mental strength has to be much better – I man much better than it's ever been.

J.S: Thanks so much for your time, Eddie. We look forward to your next fight.
E.C: Oh, thank you. I'm pleased people are interested in what I'm doing. I actually enjoy talking like this, because it lets me know I have to get on with getting ready to get back in the ring.