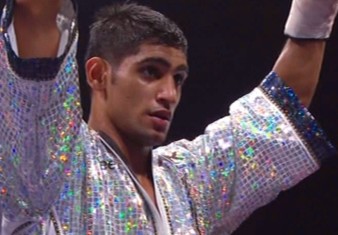 By James Slater: An interesting interview piece appears in a recent edition of the popular Manchester Evening News web site, in which Amir Khan talks about potential domestic rival John Murray. Murray, the European lightweight champion, has been talking about his desire to get it on with "King Khan" for a number of months now, and such a fight would undoubtedly do great business in the U.K – a genuine clash of styles/clash of personalities match-up as it would be.
However, even though Khan watched the 25-year-old Manchester warrior go to 30-0 last Friday, the longest unbeaten record in British boxing today, he is still of the opinion that Murray is not in his class.
Khan gave his opinion on the European boss live on Sky Sports last Friday (after leaving the studio, Khan found his car had been "keyed," so reports The M.E.News), and in the interview piece he goes on the verbal attack with more venom; saying he has had tougher sparring partners than Murray!
Murray has been offered a fight with 140-pound star "Vicious" Victor Ortiz, the fight to take place on the under-card of Khan's risky defence against Argentine banger Marcos Maidana, and Khan says only if Murray beats Ortiz will he agree to meet him.
"John Murray has to prove himself against better opponents," Khan said. "I'd take that fight for a quick payday. It would be an easy fight, a walk in the park. He's dominant at the British and European level, but to fight at world class level you need more brains. He doesn't have the X factor. He's not proven.
"We will offer him the Victor Ortiz fight on the under-card of my fight with Maidana. If he beats Ortiz, I will fight him. Right now he would be an easy fight for me – I'm not coming down to John Murray."
But will Murray, smallish even for the 135-pound limit, take that big risk of a fight with the heavy-handed Ortiz? Murray did say, last Friday on Sky, that he is interested in the fight, but his best bet may be to stick around at lightweight; the division in which he is really beginning to make his mark. For as much as he may love the chance to make Khan pay for his words, a 135-pound world title shot is very possibly just around the corner for Murray.
If he were to take the Ortiz fight and lose, and lose badly, what then? Khan may or may not be right when he says he is a class above Murray, but for my money he IS too big for Murray. If Khan-Murray did happen, it would doubtless be a big night at a venue such as The M.E.N Arena in Manchester, with hundreds if not thousands of Murray's fans in attendance to see their hero knock Khan down a peg or two.
However, due to his sheer size, to say nothing of his speed and power, Khan would, I feel, leave the Murray faithful feeling disappointed. The British and European champ's world title glory will come in the lightweight division if it comes anywhere.