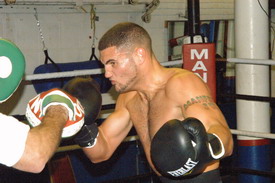 By James Slater – 29-year-old Peter Manfredo Junior became a world champion for the first time in his ten-year, 35-6(19) career back in May, as he stopped the tough Angel Hernandez in the 10th-round. Soon after that important win, "The Pride of Providence" signed a deal with top promoter Lou DiBella. Now, with his name being put out there as a possible rival for the likes of former king Kelly Pavlik and the other belt-holders at 160-pounds, Manfredo is feeling hugely excited.
Calling Peter up to find out firsthand what the latest news is regarding who he will face next, I was given the following answers today.
The always-accommodating IBO middleweight champion had the following things to say:
James Slater: It's always great to be able to speak with you, Peter. I've been reading quite a bit about you on the boxing sites. There is talk of a fight between you and Kelly Pavlik – can you tell us what's the latest with you and your next fight?
Peter Manfredo: I'm supposed to fight the former middleweight champion of the world William Joppy next, in October.. I'm looking to stay busy, and I want to beat all the top dogs out there. As I said, I want all the titles, and I want to prove to the world that I'm the best middleweight out there.
J.S: Is the fight with Joppy a done deal, or is it in the works?
P.M: It's in the works for October 8th. I haven't signed anything yet. But I'm training, I'm working, so I'll be ready for that fight.
J.S: The talk of you facing Pavlik suggested it would be on November 13th, on the Pacquiao-Margarito card. Would that be too soon for you to box again if you did get the fight with Joppy first?
P.M: If I got him [Pavlik], no, it wouldn't be too soon – I'd fight again right away. But it's not up to me. But I'm a fighter and that's what I do is fight. So as long as I didn't get cut or pick up any other injury, I would go right back in there for a fight with Pavlik. I want all the big guns, like I said. I first read about it [the Pavlik fight] yesterday, so I called my manager, and he said Lou DiBella, who I've just inked with, put my name out there. We'll see what happens, but it's not up to me.
J.S: Just talking about your deal with DiBella, how long a deal have you signed with him?
P.M: It's a three-year deal, a minimum of three fights a year. I'm very excited. I've never been in this position before, with the best possible promoter out there, and now I'm a world champion for the first time too, so I'll get the best fights out there.
J.S: What do you expect from Joppy if you do face him? I thought he'd retired, but he has been in with all the best and the big names. Will you look to jump right on him, to show him you are the younger, fresher fighter, and convince him he has had his time?
P.M: Right. He has all that experience obviously, and I want to get in there with guys like that – who have been in with the best; guys like Felix Trinidad and Bernard Hopkins. I want to be the best myself and I can't think of a better fighter than William Joppy to help me do that. I want to beat him up, to make it convincing.
J.S: Would you look for a KO in that fight?
P.M: I always wanna stop 'em. But I don't go looking for the stoppage when I'm in there. But it would be a big thing for to get him outta there. As long as I win clearly and convincingly that's the main thing.
J.S: You had a great win in your last fight back in May. The 10th-round TKO over Angel Hernandez. You got good reviews for that win; would you rate that victory as perhaps your best-ever performance?
P.M: No, I wouldn't say it was my best ever; but it was a great performance I thought. I was a little shaky after the first round. I started thinking back to the Sakio Bika and Joe Calzaghe fights, like the same thing was happening again. I went back to my corner and apologised to my father and I kind of woke up after that and started boxing real good. It was a tough fight, he came to win the title the same as me, and I stopped a guy who has also been in there with everyone, and he'd only been stopped one other time before. So it was a great win for me. I'd put it in my top-three best wins.
J.S: The possible Pavlik fight: needless to say it would have to be at 160? There has been some discussions of Pavlik maybe going up to 168.
P.M: Yeah, I'm definitely staying at 160. At 168 there was nowhere for me to go, the guys are much bigger and stronger up there. I put the work in and I make 160 and I want to show I'm the best at that weight.
J.S: Can I just get your take on this Saturday's Felix Sturm-Giovanni Lorenzo fight for the WBA middleweight title? You must have Sturm in your sights, seeing as how he has that big belt?
P.M: I see a Felix Sturm win. He's still one of the best out there. I can still remember the De La Hoya fight from whenever it was, four years or so ago. I thought he won that. Giovanni Lorenzo's a good fighter, but I'm not sure he's on Sturm's level.
J.S: It's been great talking with you, Peter. Your big fight is coming, isn't it? Your on a roll, and with the best promoter out there you figure you'll get that fight with Pavlik or a big title fight really soon? You've earned it, with all the hard work you've done.
P.M: Yeah, my fight is right around the corner. As long as I keep winning my big shot will come.