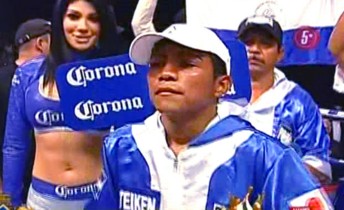 By Matt McGrain: Roman Gonzalez is 22 years old and undefeated. He has won twenty-one of his twenty-five fights by way of knockout, has fought in three different weight divisions, has an exciting and aggressive style and yet he still is rarely mentioned as a contender for the top pound-for-pound honours in this next decade. With Manny Pacquiao and Floyd Mayweather flirting with retirement almost as keenly as they flirt with one another, and with a pound-for-pound set dominated by fighters yet to establish themselves at the very highest level (Williams, Dawson) and those who have seemingly been exposed at the very highest level (Marquez, Mosley), speculation is rife as to who will step up from the next generation to dominate the sport. Featherweight Yuriorkis Gamboa seems to be a favourite whilst Devon Alexander and Abner Mares have caused ripples very recently. But barely a whisper is heard about Roman Gonzalez in spite of raw data that some of these other fighters can only dream of. Gonzalez has a higher knockout percentage than Gamboa for example, and although the two men have the same number of title defences, Gonzalez is the younger man by some six years.
Time is on his side. What are the chances that Gonzalez can use this time to become the pound-for-pound #1, the best fighter in the world?
THE EARLY DAYS
Gonzalez was carefully matched on his way up, dispatching a series of journeymen and professional losers throughout 2005 and 2006, men like Oscar Murillo (11-10) and Francisco Meza (2-9-2), but it is worth noting that none of these men extended Gonzalez. Every single one was dispatched within the distance and his manager, Silvio Conrado, encountered a familiar problem for a handler attempting to move on a dominant prospect – Gonzalez was struggling to get rounds. Consequently, he was moved on in 2007, against Jose Valera (14-2). The step up in class went totally unnoticed by Gonzalez. Boxing his way in behind a high guard, he turned in a confident performance of the highest professionalism on a ring surface that was probably more suited to high-school wrestling than boxing. Valera's corner rescued him in 2:28 of the first round, as Gonzalez beat and hustled his overmatched but game opponent all over the ring with an impressive array of sickening shots. Next was Miguel Tellez, dispatched in 3 rounds for the Nicaraguan light-flyweight title. In November Gonzalez left Nicaragua for the first time, and travelled all the way to Japan where he was awaited by Elberto Gejon (23-2-1). Gejon was taller by some four inches and had a similar advantage in reach. He was a natural light-flyweight but had just extended WBA minimumweight world champion Yutuka Niida the full twelve rounds. In a performance of breath-taking maturity, Gonzalez destroyed the former-title challenger in a single round. The physical disadvantages, the distant location, the step up in class all made literally no difference to the teenager, who dispatched Gejon with a single left-hook to the body after carefully boxing his way in behind his jab and high guard. It was November of 2007 and Gonzalez had arrived.
STYLE
This is the single most underrated facet of Gonzalez's game. He boxes with no one style. If forced to peg him, he would be named a pressure-fight, an aggressive swarmer, and Gonzalez certainly can bring that heat when the time is right, but he is also a fine technical boxer with serious counter-punching abilities at the right range. Gonzalez's best performances tend to be against fighters that either live on the backfoot, such as Murillo, or that can be forced onto the backfoot, as was the case with Niida and Matsumoto. In these circumstances he can show his full range of boxing. Driving a retreating opponent back with a beautiful one-two before closing and altering his punch output to suit the new distance, suddenly the aggressive swarmer we named him above. Matsumuto was the first fighter to extend Gonzalez the full distance, in January of 2008, but the fight became little more than a showcase for Gonzalez's stylistic adaptability as the Nicaraguan romped home without dropping a round. Round three of this fight is a summary of the fighter in microcosm, as he spends the first half minute of the round out boxing his man behind a jab before Matsumuto closes the distance to try to work inside. When Gonzalez dominates here also, he goes back on the move, and Gonzalez follows him, boxing him to standstill once more before closing with him again to punish him to the body and head. Most impressive of all, Gonzalez moves between these two styles with real grace, and by the time of the Niida fight, the transition was seamless.
Pressure fighters often fall in love with their pressure, just as punchers tend to fall in love with their power. So far, Gonzalez has neatly side-stepped this trap and every fight that I have seen him in showcases his boxing skills to one degree or another. If Gonzalez is to one day reach the heights of pound-for-pound #1, he will likely need to hold multiple titles at a higher weight class, so these more careful boxing skills will be crucial.
TEMPERAMENT AND MENTAL STRENGTH
It is often that case that a young fighter who is protected coming up will leave question marks concerning this area. Doubts will remain into even his title reign as to whether or not the youngster can "take it". As a prospect with money behind him, and later, a strap-holder who doesn't have to face the other top men in his division to hang onto his belt, it can be some time before he is really tested. And to a degree, this is the case with Gonzalez. However, his unique career path has given us valuable clues as to how he stacks up in the crucial department of temperament.
As noted, Gonzalez was utterly dominant over his early competition as demonstrated by his fifteen fight knockout streak. Gonzalez proved his fortitude during his first visit to Japan, where, as noted, he turned in a great performance miles from home. His second trip to Japan was his sixteenth fight, and also the first time he was extended the distance. This can always be a difficult fight for a punching prospect, and the frustration can cause mistakes to be made. Iron Mike Tyson, who racked up an even longer KO streak than Gonzalez, appeared anxious from around the 8th round on against Quick Tillis, the first man to extend him the distance, and he began to loop shots in against an opponent that perhaps would have buckled had Tyson stuck to his boxing. Indeed this was arguably the pre-cursor to Tyson's later failings in seeking out the single punch stoppage in his post-prison comeback. For Gonzalez, there was no hint of this frustration against Matsumoto, nor against Murillo who somehow extended him in his very next fight in February of 2008. Murillo showed incredible levels of toughness as Gonzalez drilled him to the canvas again and again. Boxing firmly on the backfoot, Murillo failed to win a single round and indeed was being badly hurt in even the first round. But every time Gonzalez dropped his man, he immediately went back to his pressure boxing, showing a wide variety of punches in executing knockdowns, including a triple left-uppercut, double left-hook to the body and a right-hand lead. Sent to the canvas seven times in ten rounds, Murillo would have been pulled if the fight had been fought in the UK or US, but Gonzalez seemed totally unconcerned at his inability to get his man out of there. This calm would be echoed in his title shot against Niida. With the champion apparently in trouble in the fourth, Gonzalez really put the pressure on, but when Niida desperately fired back, he covered up, stayed inside, counterpunched his way back to dominance and forced the stoppage less than two minutes later. Such maturity in a young fighter is rare.
Furthermore, Gonzalez has been hurt, if not badly, by Francisco Rosas, who tagged him with rabbit punches in the seventh round of Roman's first title-defence in February of 2009. Rosas was warned, but poured the pressure on. Again, Gonzalez calmly weathered the storm and was back in control of the fight, centre ring, before the end of the round. His closest fight to date would be a majority decision, but of the three cards, Judge Robles 116-112 seemed best, with the 114-114 offering from Judge Garcia stretching credulity.
We won't know until we know, but Gonzalez's temperament is about as proven as a young fighter's can be in 2010.
FOOTWORK AND BALANCE
This is the area where Gonzalez has shown the most dramatic improvement, and is his major hope for retaining his status as a puncher into the world class. Gonzalez has shortened his stance considerably, and although it is still deep, he has no difficulty in moving laterally or straight back. His boxing has betrayed no balance issue between his first round technical knockout out of Valera in summer of 2007 and a momentary stumble in his last title defence in January of this year. Hasegawa retained, and indeed increased his punching power when he stepped up to world class, possibly by correcting his own small balance issues, and although Gonzalez is not so proven as a high end puncher, perfected balance can only help him.
This balance facilitates excellent and organised footwork, Gonzalez excels at cutting off the ring and looks every inch a destroyer against mobile boxer types for this very reason.
TECHNIQUE ON OFFENCE
Just as Gonzalez shows great variety in terms of style, so he shows great variety in his offence. He can be seen at world title level leading with a left-hook up or downstairs, a left uppercut up or downstairs, a right uppercut, usually to the gut, and often the straight-right. Of course, he most often leads with his jab, which is excellent. Gonzalez punches through the target with this punch consistently, often doubling it up. The right-hand is rather maligned by some, but I think this is unfair. Gonzalez stays very busy with this hand, and whilst much of his power is locked up in his left hand side, he is a less one-handed fighter than Joe Frazier or Ruben Olivares whilst staying busier with his weaker appendage than both of those men.
His overall technique was beautifully underlined in his last outing against Meneses, a fight where things really came together for Gonzales in terms of his composite punching. Again he forced his man to retreat to survive, and this allowed him to box him back before unleashing his best from the front foot. Almost every punch he threw was well formed and fired through rather than at his man. This is something Gonzalez could perhaps learn to do more consistently. He often satisfies himself with finding the target when he punches in combination, and whilst these are still hurtful punches, he was genuinely devastating from the second round on against Meneses specifically because he was sitting down on his blows. Gonzalez must also be careful about straying south. He has been warned multiple times in multiple fights for hitting below the belt, and as he moves up in weight he will want to avoid handing away hard-earned rounds on fouls.
TECHNIQUE ON DEFENCE
On the face of things, Gonzalez has great defensive technique. He can be seen slipping jabs with head movement, showing great awareness concerning how and when to retreat and has an excellent technical guard which he wears consistently and high on his head, and he also parries well – when fresh. When tired, he can come to rely a little to much upon the technical side of his guard, meaning that a really good boxer with excellent stamina could possibly box around it. Also, whilst he employs head movement to slip individual shots, he doesn't show much in the way natural movement, he tends to present a stationary target, relying upon his reactions to ditch punches. Finally, when he leads with his left, he keeps his right hand glued to his jaw, but when he leads with the right, his left can stray a little bit. The first fighter to take Gonzalez the distance was a southpaw, and I don't think this will be an isolated case of a lefty causing more issues than a righty – he may be vulnerable to a right hook in a way he isn't vulnerable to a left.
Gonzalez can take it when he has to though, and is rarely phased by a punch. Nor does he mark up, or cut, emerging from hard fights versus Takayama and Rosas without a blemish on his face.
RING GENERALSHIP
In essence, Gonzalez's style solves a lot of generalship problems almost by default. Because he's a pressure-fighter who boxes his way in, the style of the opponent can dictate how he will enforce his fight plan. If a fighter needs to be boxed, Gonzalez can accommodate him. If he needs to be fought, that is his game. But Gonzalez still has to make decisions about when to do each, and Katsunari Takayama provided a real conundrum when he challenged for the title in July of 2009. Out-sped in in both the hand and foot department, Gonzalez had to balance being out-flurried whilst bringing fast pressure, and outrun whilst boxing behind the jab and guard. His solution was messy, and led to him missing often, but it was with a violent combination of boxing and aggression that Gonzalez finally brought Takayama under control. By the 8th he was back on familiar ground against an opponent who was tired, bleeding, clinching and forced to duel it out in the pocket by relentless pressure, a fight the Nicaraguan was never going to lose. Gonzalez labels this his hardest fight. A look at the judges cards (all 118-110 for Gonzalez) seems to undermine his claims, especially given how close the Rosas fight appeared to be, but just as that one was wider than the judges indicated, so this one was closer. Every round was closely contested and difficult. A speedster with the ability to make Gonzalez miss will likely remain a keen problem for him.
SPEED AND POWER
Gonzalez was firmly out-sped by Takayama, and although his punches are sharp, they are not lightning fast. This is tempered by the fact that he does not sell them, throwing disguised punches from a variety of distances and angles in flurries and combinations. In terms of foot-speed, again, he is not lightning fast, but he doesn't waste steps, meaning that he excels at cutting off the ring on faster opponents. He may find himself out-sped in fights again, but it is unlikely this will be the cause of his downfall.
As for power, Gonzalez does not count himself a puncher, as he revealed in an interview with ESB in January of this year.
"My favourite punch is my left-hook to the body, but I don't think I'm a huge puncher with one shot. I like to place my shots well and also land, say, eight to twelve shots in a combination – this can make any opponent fall, especially when I go to the body,"
He is a very hurtful puncher though, and Niida and Meneses were both broken down by consistent hitting. Mixing full-blooded blows with testing, stinging punches is a sure-fire way to disorientate an opponent, and Gonzalez seems to have mastered this.
THE ONLY WAY IS UP
In terms of both weight and class, Gonzalez has to move up soon, but the former is the more urgent of the two. Fighting at the lightest weight in boxing means that there is nowhere else to go, and Gonzalez has spoken this year of fighting only five defences of his Minimumweight strap before leaving the weight division behind. He will fight his fourth later this month, against an unnamed opponent, making it likely that 2010 will be his last year at 105lbs. In spite of his diminutive frame, Gonzalez is no longer comfortable at the weight and talks openly of moving up to challenge Giovanni Segura at light-flyweight for his WBA title. Even more intriguingly, he has spoken of meeting Ivan Calderon. Gonzalez doesn't do smack talk, but he has indicated that he doesn't particularly care for the WBO light-flyweight champion, and Calderon is a rare small man with name recognition. This is not a fight that Gonzalez should shy away from. I think it likely that Gonzalez would break the Iron Boy down over 12 intriguing rounds – but Gonzalez certainly cannot fight Calderon if he is retired.
Gonzalez has actually boxed in both the light-fly and flyweight divisions already, but not at the kind of level where we can expect it to tell us much about his prospects there. Achievement at multiple weights is a staple of the type of success expected from a pound-for-pound #1. Can Gonzalez reach those lofty heights? I think he can. I don't see that he has the gifts of a fighter like Floyd Mayweather, but as we've seen he has an awful lot going for him. El Chocolatito is going to have to work hard to get there, possibly dragging his 5'3 inch frame as high up as super-flyweight in pursuit of the highest accolade in boxing. Time and talent, however, are on his side.