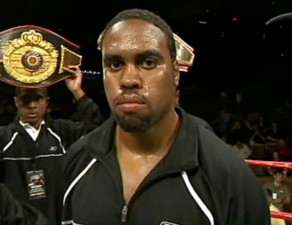 by James Slater – "Fast" Eddie Chambers and Kevin "KingPin" Johnson, two of America's better prospects when it came to winning a version of the heavyweight title in 2009/2010. Yet both men fell heavily at the hands of the all-conquering Klitschko brothers when they last boxed. Chambers was crushed by Ring magazine, IBF and WBO king Wladimir Klitschko back in March; when he was iced in the dying seconds of the 12th and final round. Johnson lost every single round of his fight with reigning WBC champion Vitali Klitschko last December; falling to a monstrously heavy points defeat. The question is: can either guy come back from defeat and bounce back into title contention?
Let's look at Philly's 28-year-old Chambers first.
At 35-2(18), Chambers has already bounced back from a pro defeat, albeit not as heavy as the one he succumbed to against "Dr. Steel Hammer." Losing in disappointing fashion to Alexander Povetkin, in a fight he had been winning with his fine boxing skills before appearing to either lose heart or run out of gas, Chambers refocused and came back from this January 2008 UD loss very well.. Back in the ring five months later, Chambers, who had weighed-in at a somewhat hefty 219.5-pounds against the Russian hope, eventually worked his way down to a far more encouraging 208.
Now, over two months on from his 12th-round KO loss to Wladimir, fans are wondering if "Fast" Eddie can come back to prominence a second time. The good news is, Chambers told members of the media immediately after the March defeat that he was fine despite the brutal KO he had suffered, and Chambers recently reassured his fans of his well-being for a second time. If, then, there are no still to be detected physical ill effects on the 28-year-old's part, the chances are he will have retained his skills, his speed and his overall ability.
The bad news is, his confidence may never recover. Chambers was unable to get anything going against Klitschko, despite what he tried, and this time he could not blame his weight or conditioning for the loss. Beaten soundly, the likeable nice guy has to know he will never be able to get the better of Wladimir in any rematch. As being the best is what Chambers always aspired to, it may prove mightily tough for him putting the work in in an effort at becoming merely ONE of the best. Sure, Chambers, with his slickness, could still beat a lot of fighters out there – maybe even current WBA heavyweight champ David Haye. But will aiming for that be enough for him?
Bottom line: Confidence-wise, Chambers may never be the same again. A clue or two to how Eddie's future pans out will be how long it takes him to get back into the ring, and at what weight he comes in at when he does return.
30-year-old Kevin Johnson of Atlanta, talked a great fight ahead of his challenge of "Dr. Iron Fist," yet he failed to back up any of his confident-sounding words. Suffering the first loss of his pro career (Johnson does have an early draw also), "KingPin" is, like Chambers, almost certain to have felt his self-confidence suffer as a result. Shortly after the shutout loss, Johnson did announce over the internet that he would be back soon. That was a while ago, however, and we have yet to hear any further news.
Like Chambers, Johnson has natural talent and good boxing skills; also like Chambers, he suffered no severe and prolonged beating in his losing fight with a Klitschko. Physically, then, the 30-year-old who is 22-1-1(9) should be fine (he was hit with no shot the likes of which Wladimir Klitschko took Chambers out with in their fight). But will the fast-talking boxer's mental attitude be the same cocksure thing it was pre-December 2009? Also, with his known lack of punching power, Johnson will likely have a hard time with any of the world's top-ten if the self belief he had in his boxing skills has diminished. Chambers is no banger, but, as he showed against Alexander Dimitrenko, he CAN punch. Johnson claims he can too; and that he will when he has to. It is to be hoped he does so as soon as he returns to action.
One big difference in attitude between these two beaten fighters, is the way Chambers admitted to what he did wrong, how he admitted he was beaten by the better man in March and how he made no excuses for his loss. Johnson, on the other hand, seemed to be somehow pleased at how he had performed against Vitali, because of how he lasted the full 12-rounds. Is Johnson humble enough to admit to even himself that he has to go back to the drawing board, and that he should have tried harder when his big chance came?
Bottom line: Johnson's chances of ever getting near to the top again appear worse than do Chambers' chances. Yes, there are some name fighters out there that "KingPin" could possibly out-jab and out-point, but there are no dead-certs for him. His ego may not like the idea, but Johnson's one and only title shot has very possibly come and gone.