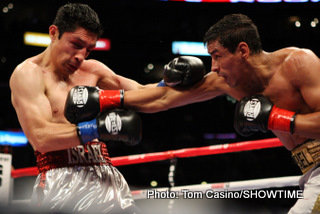 By Paul Strauss: Two a piece, that's the score between Rafael Marquez and Israel Vasquez. This fourth fight was preceeded with feelings similiar to the previous three. Those feelings caused queasiness in the faint of heart, and anxiety in the more stout hearted. Everyone knew a battle between these two was fraught with danger. The matchup was between two great fighters, each capable of stopping the other. Would the champion retain his title and close out the series for good? Or, would the embittered Marquez, who lost by a paper thin margin in the rubber match gain revenge and even things up?
Both fighters looked very calm, focused and determined while Showtime's ring announcer Jimmy Lennon, Jr. performed his duties. The preliminary twelve rounder between Yonnhy Perez and Abner Mares gave the fans a taste of what they hoped was to come. There was lots of action in that close fight, which ended in a majority draw, but everyone knew it was "niggling" in comparison to what was to soon transpire. (Ask Carl Froch what "niggling" means.)
A prophetic conversation took place between announcers Al Bernstein, Gus Johnson and Antonio Tarver prior to the beginning of the contest.. All three commented about the susceptibility of Vasquez to cuts, and all three also mentioned how pink and tender the area looked above Vasquez' left eye. It didn't take long for that foretelling to develope into reality, as a serious cut was opened up in the very first round.
The cut was so bad that it's likely some in the viewing audience gagged or became faint when the camera moved in for a close up. Ooh no, Ugh! Immediately thoughts had to enter everyone's mind that Israel couldn't continue long with that gapping wound.
Boxing is a tough, brutal, and cruel busines, and Marquez knows that as Sun Tzu says, "Opportunities mulitiply as they are seized." That's exactly what he did. He aimed multiple hard shots at the cut, and soon had even veteran former champ Antonio Tarver saying, It was the worst cut he had ever seen!"
It was "ginormous" or gigantically humongous if you prefer. Okay, it was extremely large.
Soon Israel was also cut over the right eye, and blood poured from that big cut as well. But, the little warrior wasn't about to be passive. He pressed forward, and managed to land several hard short shots, two at a time, on a couple of different occasions. In the meantime, Marquez was beating a resounding rhythm on his eyes. Israel couldn't see, and soon Marquez landed a good right hand shot in the third round that put Vasquez down. Normally, that punch wouldn't have been considered one of his best, but it was one that Vasquez didn't see, and therefore it ended up being one of Marquez' best.
When he rose to his feet, Marquez swarmed all over him, and even the stout hearted were getting queasy now. Thankfully Referee Raul Caiz, Jr. stepped in and stopped the scourging. The official time was 1:33 of the third round.
Afterwards there were no excuses by either fighter. Vasquez admitted he got hit with a good shot that opened the cut, and Marquez admitted that Vasquez had caught him with several good hard punches.
Jim Gray managed to illicit some talk of a fifth fight, but most at hand probably didn't want to think about Israel Vasquez risking permanent damage to his vision.
Marquez mentioned possibly fighting Victor Darchinyan, which would be an interesting matchup, especially since Vic has been spouting off for a long time about wanting to fight either of these two greats. Regardless, Vic has his hands full trying to redeem himself in a rematch with Nonito Donaire over his knockout loss.
The truth is this loss has to be the nadir, or lowest point of Vasquez' career. Not only did he suffer a tough loss in their series and lose his title, but there's a good chance this fight might be the end of his great career. Hopefully, he will listen to and follow the advice of the medical experts, and not let his fighting heart sway any decision he makes about his future. Thanks for the memories to both of these greats.